SUBCONTINENT:
Afghan Engagement: The Indian Agenda


Despite Taliban attacks and Pakistani protests, India's $2 billion-a-year engagement with rebuilding Afghanistan is likely to continue, writes Siddharth Srivastava.

---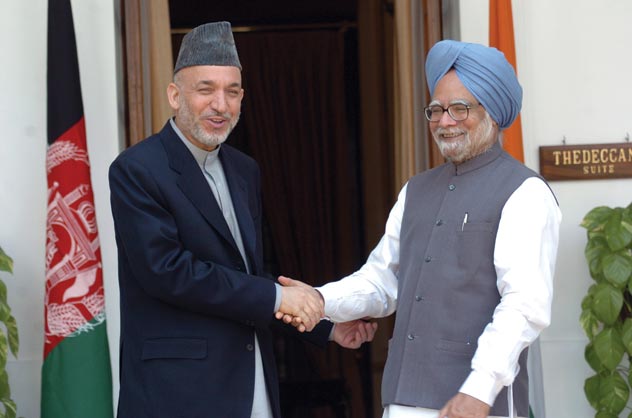 (Above): Indian Prime Minister Manmohan Singh (r) with Afghan President Hamid Karzai.
---
India has long seen a role for itself in Afghanistan, especially in reconstruction and ensuring peace, without direct military involvement.

A strong Kabul not only keeps the Taliban and by extension al-Qaeda in check, but also ensures that jehadi forces in Pakistan do not turn Afghanistan into a backyard assembly line for militants who can be used against India and wrest of the world, at will.

India has been a victim of repeated terror attacks on its cities by the Pakistan based Lashkar-e-Toiba, that has killed and maimed thousands.

However, New Delhi is not finding its Afghan sojourn easy.

Earlier this month the Indian embassy in Kabul was attacked for the second time in 15 months.

Last year, in July, 58 people, including two diplomats, died and nearly 150 were injured, in the deadliest suicide bombing since the fall of the Taliban in 2001.

The second attack could have been as devastating, but enhanced security meant reduced casualties, though at least 17 died and over 60 were injured.

The Taliban has quickly claimed responsibility for the attack, even though both Kabul and New Delhi see a role of Pakistan, particularly non-state players, possibly backed by rogue elements in the Inter-Services Intelligence or the ISI, in orchestrating the strike.

A statement released by India's Foreign Ministry said, "The attack was carried out by elements from outside Afghanistan seeking to damage the excellent India-Afghan relations."

The Afghan Foreign Ministry said that the blast was "planned and implemented from outside Afghanistan."

Indian foreign secretary Nirupama Rao, who air-dashed to Kabul immediately after the attack, said: "Whoever is responsible for this attack is against the people of Afghanistan and against the people of India."

Rao called on Afghanistan President Hamid Karzai, the foreign minister and national security advisor.

---


(Above): A delegation led by Er. Raz Mohammed Alami (2nd from r), the deputy minister, technical & operations in the Ministry of Transport & Civil Aviation of Afghanistan, meeting the Minister of State for Road Transport and Highways R.P.N. Singh (r), in New Delhi July 8. [PRESS INFORMATION BUREAU photo]
---
Ironically, the latest attack against India is a time when there have been confusing, almost schizophrenic, signals from America about New Delhi's role in Afghanistan.

General Stanley McChrystal, commander of the U.S. and NATO forces in Afghanistan, in a recent report to the Pentagon, said that India's increasing influence in Afghanistan could "exacerbate" regional tensions and lead to Pakistani 'countermeasures' in Afghanistan or even India.

The general said, "The current Afghan government is perceived by Islamabad to be pro-Indian." At the same time, he admitted that India's activities largely benefited the Afghan people.

The attack in Kabul almost followed on cue, prompting analysts to link it to McChrystal's comments, underlining the strategic interests of many nations in the Afghanistan cauldron.

Indeed, there are clear indications that Washington is under pressure from Pakistan to factor in the latter's resistance to India's role in Afghanistan in its Af-Pak policy.

There are reports about the Obama administration reluctance to deploy more troops in Afghanistan and plan a Pakistan-brokered exit, with possibly the Taliban at the helm.

---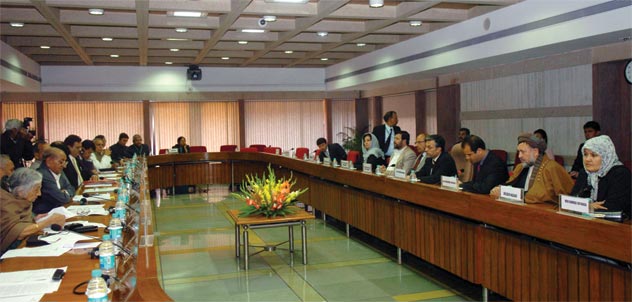 (Above): The Afghan parliamentary delegation led by the president of Afghanistan's Wolesi Jirga (Lower House of Parliament), Mohammad Younus Qanooni meeting the chairman of the Standing Committee on Ministry of External Affairs Laxmi Narayan Pandey in New Delhi Feb. 18. [PRESS INFORMATION BUREAU photo]
---
Islamabad also sees a security risk in being buffeted by any Indian presence on its western front, apart from the borders it shares on the east.

America, meanwhile, needs Pakistan as an ally to flush out al Qaeda terrorists holed up in the north-west tribal regions and Afghanistan.

New Delhi, however, believes that most of the military assistance extended to Pakistan by Washington to fight terror has only helped build an arsenal that can be used against India.

Obama recently signed into law a $7.5 billion aid program to Pakistan over the next five years under the Kerry-Lugar Bill and 18 more F-16 fighter jets

Thus, there is every indication that India is not going to cede its Afghan position to Pakistan and perhaps even America so easily, with New Delhi's presence growing dramatically since the end of Taliban rule.

India also cannot forget or forgive the dubious role of the then Taliban regime in ensuring the release of militants who had hijacked an Indian Airlines plane IC 814 to Kandahar, in Afghanistan, in December 1999.

While direct military involvement in Afghanistan is not feasible due to domestic political repercussion of soldiers being killed in battle and a possible opening of a war front with Pakistan, India's civilian involvement, estimated at over $2 billion is only expected to grow.

Indian Prime Minister Manmohan Singh recently said that the people of Afghanistan, Europe and American leaders overall favor India's role in Afghanistan.

"We have not supplied any arms, we are also helping them in construction and financing of projects in power, health and education sectors", Manmohan said.

Apart from checking the extremists, India's imprint on Western Afghanistan opens a window of opportunity with hydrocarbon rich Iran, Iraq and the Middle East.

India imports the bulk of its gas from Qatar and has been looking at sourcing the energy resource from Iran, though such attempts so far via the Iran-Pakistan-India gas pipeline been stymied due to America's problems with Tehran's supposed independent nuclear program.

India has also been looking at the prospects of an undersea pipeline from Qatar, which could loop through Iran at some future date. Indian firms have chalked out big plans to invest in Iran's gas-rich South Pars fields.

Given the security and transit issues that India has with Pakistan, particularly the volatile Baluchistan, Afghanistan could prove to be a good landing point for New Delhi to keep an eye on its main energy sources, while limiting the influence of Islamabad to a much smaller pocket.

With an Indian air base already existing at neighboring Tajikistan, India could look at the option of beefing up its military presence in the region at some future date. Pakistan, of course, does not want any of this to happen.

---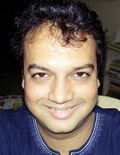 Siddharth Srivastava is India correspondent for Siliconeer. He lives in New Delhi.
---