SUBCONTINENT
Looking for Julia: Hollywood Star Visits india


Like many Indians, Priyanka Bhardwaj also grew up admiring Hollywood star Julia Roberts, and writes about her misadventures in trying to track her during her recent trip to the U.S.
---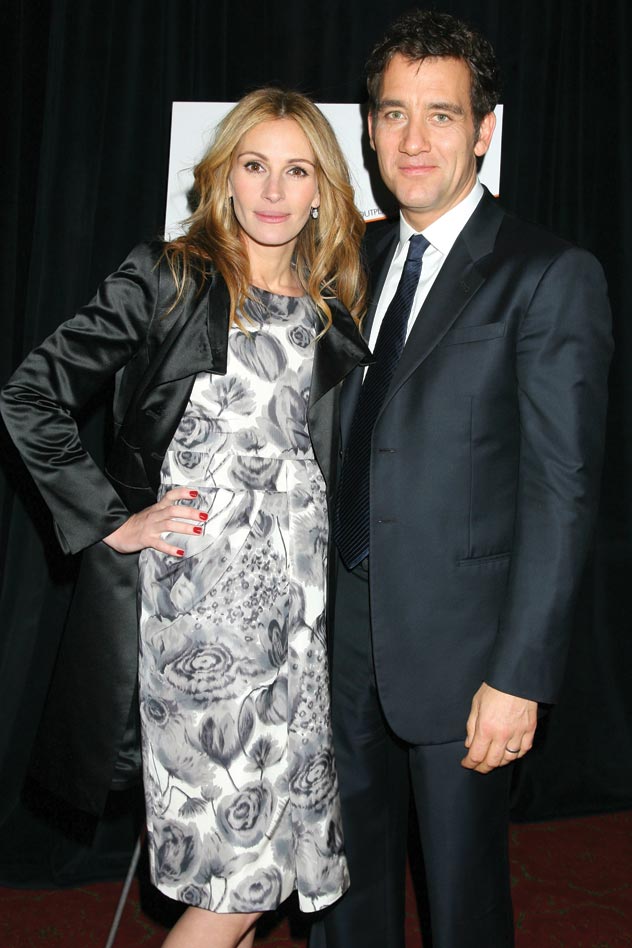 (Above): Julia Roberts seen here with Clive Owen.
---
Like many Indians and perhaps many more Americans, I too have grown up admiring Pretty Woman Julia Roberts and her trademark toothy smile.

As luck would have it, "America's Sweetheart" has recently come calling on Indian shores for a film shoot.

Julia was accompanied by her three kids; four-and-a-half-year-old twins Hazel and Phinnaeus and two-year-old son Henry, film director Ryan Murphy, and co-actors Billy Crudup, Javier Bardem and Richard Jenkins.

Eat, Love, Pray, based on Pushcart Prize-winning author Elizabeth Gilbert's spirituality-travel memoirs, will have the 41-year-old Julia playing a 35-year Gilbert who travels to Italy, India and Indonesia in search of peace.

While in India, some Indian fans, otherwise known for maniacal hero worship of cricketers and Bollywood stars, have been congregating for a peek at her place of stay, the Pataudi Palace Hotel, 60 km from New Delhi.

They have also followed her at the site of her shoots in the nearby Mirzapur village. Being an A list Hollywood star, she is also a media event, and has been dominating the front pages of national daily supplements.

I ,too, joined other media-wallahs to Pataudi that is cloistered in the kikar (Acacia nilotica) littered dusty fringes of the Aravalli Hills, one of the oldest in the planet.

The hotel is run by the well known Neemrana Group, leased out by the royal family of Pataudi, whose lineage today comprises former cricketer "Tiger" Pataudi, his wife Sharmila Tagore, son Saif Ali Khan and daughter Soha Ali, the last three very successful Bollywood actors.

I stopped my car on a dusty gully (lane) flanked by a row of modest houses on either side in Mirzapur village, to speak to two women, clad in bright saris, who were passing by. They seemed all too familiar with the new hubbub that has enlivened their quiet existence.

They called out to a small boy who in turn fetched a wiry old man, Ishwar Singh (name changed), a former employee at the Palace Hotel supposedly with enough sources of information on the goings on inside the hotel.

Soon, settled on a charpoy and occasionally flicking the tips of his ears with his lathi, perhaps to assist his hearing, the old man pointed towards the Palace and said: "Gori memsaheb (White Madam) has a tight security provided by helicopters, 350 armed bodyguards, snipers, area-wide curfews, 50-car processions and bouncers, among others."

Despite claiming countless relatives who worked in the hotel, he expressed his helplessness in procuring me permission for a brief entry. "The security cover is too good and even the unusual September heat cannot wilt their vigilance."

Sure enough, the Palace Hotel remained out of bounds for visitors till Oct. 19 and was occupied until then entirely by a large group of American and Indian cast and crew.

Yet, when compared to the brouhaha that accompanies Indian stars, Julia's visit has been played down even as the media got a whiff only after her arrival.

---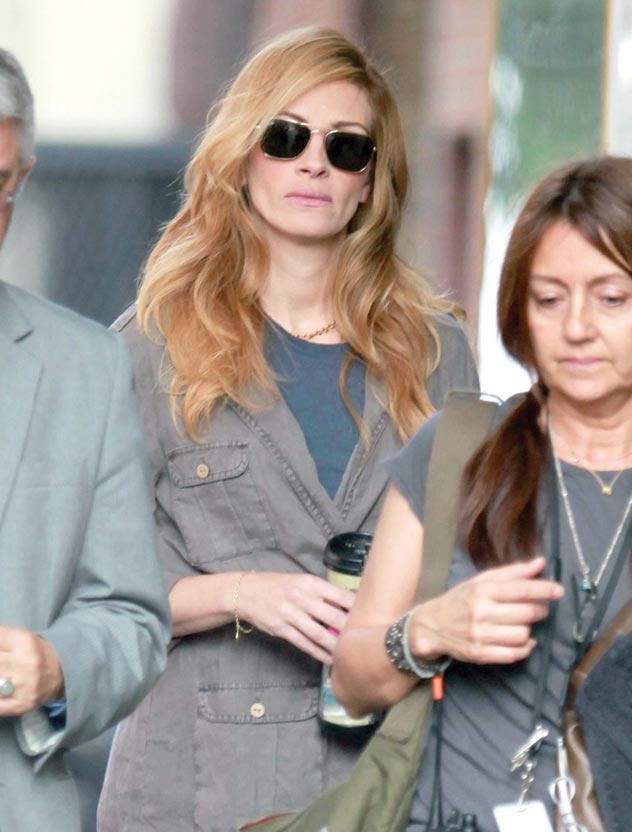 (Above): Julia Roberts
---
One reason is that the Hollywood marketing brigade is content catering to the niche segment of the Indian multiplex viewership who are not given to pouring out on the streets to glimpse their favorite star, and would perhaps watch her movie on word of mouth or critical reviews on international Web sites.

This is in contrast to the janta who go into a frenzy when it comes to cricketers and Hindi movie stars, the demigod celebrities of the Indian masses and classes, and who are followed regardless.

Indeed, Julia's India sojourn, even with its security trappings, is low key compared to the razzmatazz that accompanies the overseas sojourns of Bollywood counterparts, who have become master craftsmen in capturing eyeballs and wooing newer segments of the audience.

Indian cinema has been keen to target the 20-million-strong Indian diaspora, estimated to be worth over $350 billion and mad about movies from the old country. For example, the worldwide release of Om Shanti Om in the recent past fetched a whopping Rs 1 billion on the first three days of its release.

The Indian movie business is valued more than $5 billion, churning out more than 400 pictures every year.

Thus, there has also been considerable speculation about the "frisking and routine questioning" of Shah Rukh Khan at Newark airport recently.

Shah Rukh has alleged that he was "held" by security as he is a Muslim and his surname is "Khan."

The event turned into a national obsession in India, eliciting passionate responses, including calls for similar security checks of recent American visitors to India that have included U.S. Secretary of State Hillary Clinton.

Others have hinted at a publicity stunt by Shah Rukh for his forthcoming movie, coincidentally called My Name Is Khan. This is of course a very touchy subject.

Meanwhile, a recent Oprah Winfrey episode hosted Bollywood-power couple, Aishwarya Rai Bachchan and Abhishek, son of iconic Indian star Amitabh Bachchan, who in Oprah's words, "stopped production on eight major movies and flew eight thousand miles to be here for their first ever television interview together."

Clearly Oprah knows a bit about the rising numbers of the cash-rich Indian American population as Abhishek-Aishwarya were referred by her as the "most famous movie couple," which might have raised the eyebrows of Angelina and Brad Pitt, whose India visit sometime back created quite an uproar.

On Oprah Abhishek kissed Aishwariya, otherwise referred to as ice maiden, surely contributing to the popularity charts, as the hostess happily looked on.

Yet, here's an intriguing twist.

Away from the happenings in America, I got my opportunity to see Julia for real at an event in a New Delhi. Julia arrived without much fanfare a good 20 minutes prior to schedule.

The same event witnessed haughty Bollywood stars turning up late, as they are wont to, accompanied by a huge security entourage and pampered by elaborate welcome ceremonies.

As I write this piece I cannot help smiling at the thought of my brief April vacation at the somewhat unknown Pataudi Hotel then, pictures of which adorn my Facebook photo-section.

I am sure given its recent brush with Hollywood, many more will now eat or pray or love at Pataudi, which will be a little less quiet than usual. Perhaps the management will appoint a Julia room, too, at premium rates.