HINDI FILM REVIEW:
Wacky Caper: All the Best


Rating: **1/2 (Mediocre)
All the Best

Directed by: Rohit Shetty
Music: Pritam
Starring: Sanjay Dutt, Ajay Devgn, Fardeen Khan, Bipasha Basu, Mugdha Godse, Johny Lever, Asrani, Sanjay Mishra, Atul Parachure, Vijay Patkar, Ashwini Kalsekar, and Mukesh Tiwari

---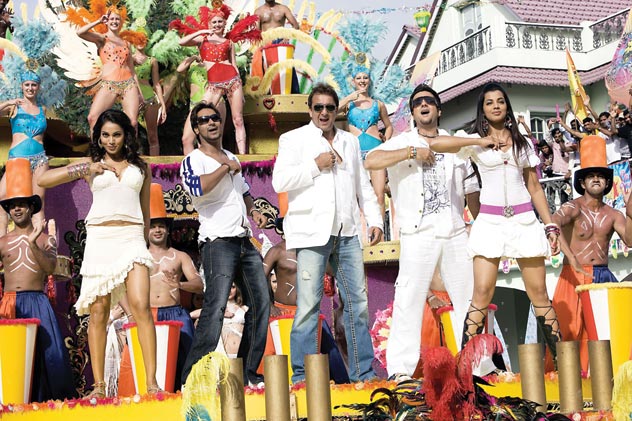 (Above): Bipasha Basu, Ajay Devgn, Sanjay Dutt, Fardeen Khan and Mugdha Godse in "All the Best."

---
Comedy is important in Bollywood potboilers, and in recent years, led by Priyadarshan, zany comedies are all the rage in Bollywood.

All the Best, while certainly not a critical success, has some things going for it.

First, some of the egregious flaws of Bollywood "humor" are avoided.

For a zany comedy, the underlying logic of the plot is remarkably consistent with few loopholes.

Sexist humor or worse, toilet humor is mercifully avoided, making it the rare Bollywood comedy that can be seen comfortably with all the members of the family.

---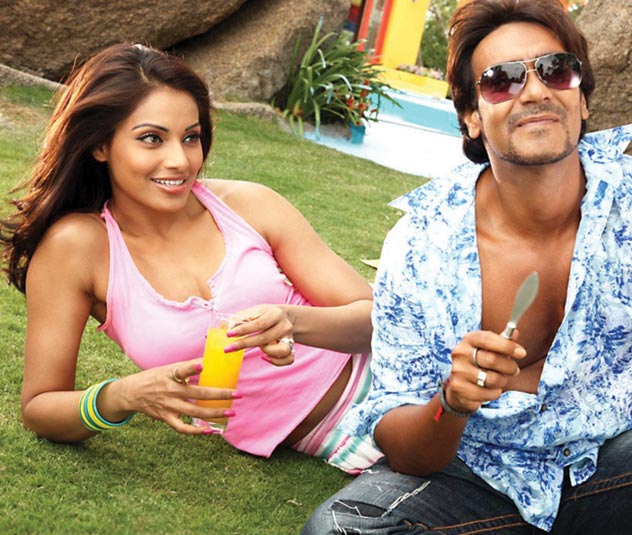 (Above): Bipasha Basu and Ajay Devgn in "All the Best."

---
Filmmaker Rohit Shetty has previously directed two comedy blockbusters, Golmaal—Fun Unlimited and Golmaal Returns.

This film is a remake of a popular play, and at the center are a bunch of amiable charlatans.

Rock star wannabe Veer (Fardeen Khan) lives off expatriate brother Dharam (Sanjay Dutt) with girlfriend and vaastu expert Vidya (Mugdha Godse). Brother Dharam has been told they are married, so the allowance is doubled. A fat allowance of Rs. 100,000 per month (hey, how come we never get to have a brother like that?) is handed over to him each month by Chauthala (Mukesh Tiwari), Dharam's chamcha who also flirts with maid Mary (Ashwini Kalsekar).

Prem Chopra (Ajay Devgn) is Veer's best friend.

Prem and his wife Jhanvi (Bipasha Basu) run a decrepit gym. Veer occasionally helps them.

---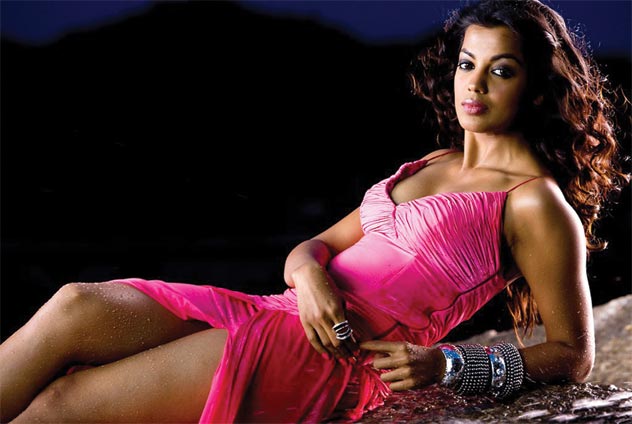 (Above): Mugdha Godse in "All the Best."

---
However, trouble begins when Vidya gets angry and stomps off and Dharam shows up in Goa. Veer has to conjure a wife out of thin air (the allowance, remember?)

By a chance, Jhanvi is taken to be the girl, much to Prem's consternation.

When Dharam's stay is extended, there's another problem: Veer and Prem have rented out his home to RGV (Sanjay Mishra) to pay off a fat debt to don Tobu (the reliably insufferable Johny Lever).

Thus begins a roller-coaster, rollicking comedy—where exaggerated humor and one-liners rule the roost. Superb photography and some good action scenes add some value, but the overall tenor of the humor remains more attuned to the lowest common denominator—though as noted before, outright crassness is avoided. The music, though, is a dreadful cacophony (Shame on you, Pritam.)

If you like your humor to be witty and sharp, then this film may leave you unmoved.

But who cares? The janta apparently love it, if the box office returns are any indication, and Ajay Devgn, the producer, is having the last laugh—all the way to the bank.

---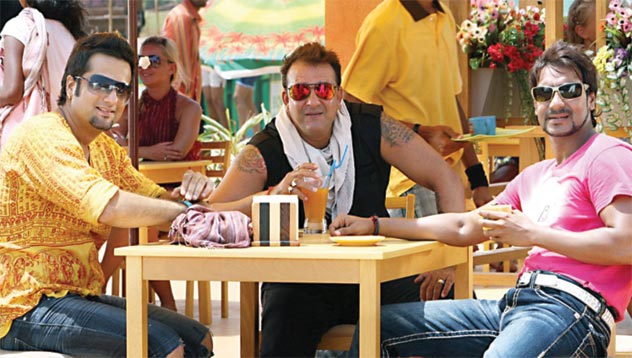 (Above): Fardeen Khan, Sanjay Dutt, and Ajay Devgn in "All the Best."