SUBCONTINENT
Code Pink in Uttar Pradesh: The Gulabi Gang


Fed up with the corrupt and unresponsive law and order machinery, a bunch of women in pink saris are taking action against wayward men folk in the volatile Bundelkhand region of Uttar Pradesh, writes Priyanka Bhardwaj.
---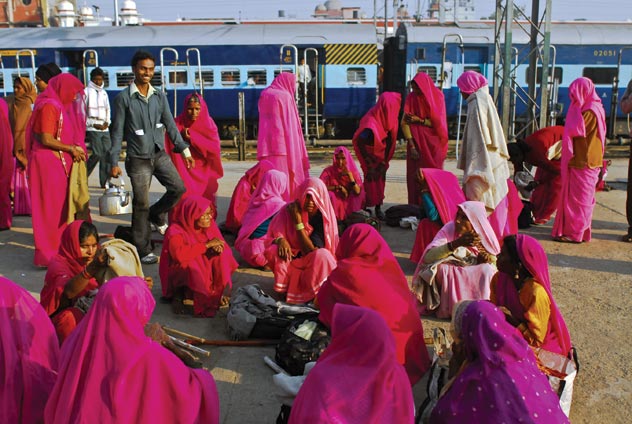 (Above): Members of the "Gulabi Gang" in pink or gulabi saris at a railway station in Bundelkhand region of India's Uttar Pradesh. Led by Sampat Devi Pal, a 55-year-old mother of five, it is a group of about 10,000 female members. All members of the group wear pink saris. Armed with traditional sticks, the gang, based in Banda district, fights for women's rights in the region.
---
Official statistics show that rape is the fastest growing crime in India compared to murder, robbery and kidnapping. Every 60 minutes, two women are raped in this country.

However, in one part of India, women are fighting back to claim their rightful position in society.

A group of women reveling in the title of the gulabi gang — gulabi is pink in Hindi — now has about 10,000 members in India's Bundelkhand region in Uttar Pradesh.

Identified in trademark candy pink saris, these women are making a difference in the impoverished north Indian state.

The gang is taking on profligate officials, corrupt policemen, rapists, men accused of harassing women, with some vengeance.

The method in dealing with rampant dowry cases is simple — the women march to the husband's house and demand an explanation; if the answer is found unsatisfactory they resort to "other measures," strong arm tactics included.

Following warnings, the women claim to have returned girls back to their homes and husbands as they also believe that "women need men to live with."

The Gulabi Gang is led by the feisty Sampat Pal Devi, a 47-year-old mother of five and wife of an ice cream vendor.

Sampat's Robin Hood act has gained some popularity with the people with officials, too, grudgingly recognizing her role.

She has been quoted to say: "We take on the corrupt police and anti poor actions of the government or people. Sometimes we have to take the law in our hands. At other times, we prefer to shame the wrongdoers (for example, by parading them in the village on a donkey, with faces blackened)."

Married off at the age of 9 or being a mother at 13 did not impede Sampat in procuring a job as a government health worker, which she gave up to begin the resistance movement.

As a child she resisted her environment to make it to school.

Now a mother of five, she insists on doing her bit to procure "work for every poor hand." Her aim was to organize women against injustice, make them productive and self reliant.

The pink gang is also looking at teaching self defense skills to women, such as wielding a lathi, the traditional Indian stick.

At one level, such rebellion may be dismissed as illegal or minor blips that do not make a difference to the bigger picture and will soon die out.

But considering the high levels of crime and repression in the country, with women particularly vulnerable, they cannot be ignored either.

---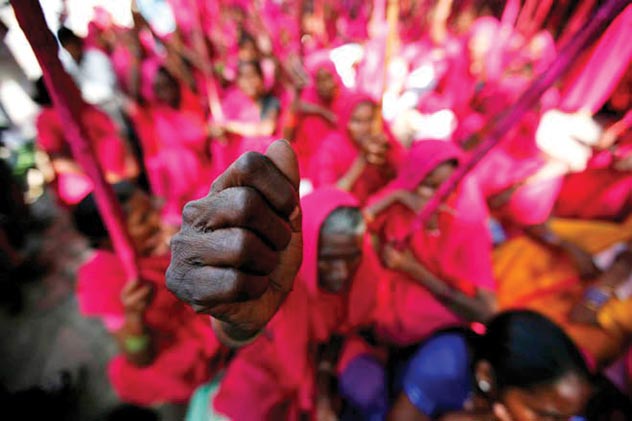 ---
They are a reflection of the simmering discontent, absence of human rights and individual dignity, especially of women, particularly in the rural hinterland.

The gulabi gang is not the only instance of women flocking together to protect themselves.

Sometime back groups of women in Maharashtra had taken to beating alleged rapists to death, even within court premises.

The male perpetrators of heinous crimes would use money and muscle power to secure bail, destroy evidence and continue to harass and rape women.

In southern states such as Andhra Pradesh and Karnataka, women are known to launch movements against the sale of liquor, one of the primary reasons of wife beating by drunken husbands.

Official statistics reveal a big rise since 2006 in the number of applications and procurement of gun licenses by women in the western region (Meerut, Bulandshahr, Muzaffarnagar, Ghaziabad and Saharanpur) in U.P. to protect themselves. Pepper sprays are passé.

Indeed, the overall situation of women in India is far from satisfactory.

India's official National Crime Records Bureau says that 20,737 cases of rape were reported in 2007, registering a 7.2 percent increase over the previous year.

Thousands more are not recorded for fear of retribution and social stigma.

According to a UN report, two out of three of married Indian women are victims of domestic violence. Seventy percent of married Indian women between the age of 15 and 49 are subjected to beating, rape or forced sex, according to the report.

The story is not limited to rural and backward areas only.

Women in metropolitan cities such as Delhi, Bangalore, Pune or service sector hubs such as Gurgaon and Noida (that adjoin the national capital) too are often victims.

Jobs in the software, pharmaceutical and business process outsourcing attract young men and women from all over, with dreams of earn big bucks and international travel.

Yet India remains unsafe for women who choose to step out of their homes.

According to a study released last October by the Associated Chambers of Commerce and Industry in India, more than 50 percent Indian working women in major economic hubs of the country feel insecure.

Then there are the barbs and attacks by right wing activists all too easily offended the perceived immodesty of women, i.e., by what women wear and other issues such as drinking in pubs or smoking in public.

Due to car-jacking incidents and daylight robberies, the new townships and immigrant work population in places such as Gurgaon and Noida are being forced to ensure personal safety through individual initiative instead of depending on the state police. Illegal arms and a fast-spreading and disconcerting gun culture is the reason for the poor state of affairs. Gurgaon registered the highest number of armed robberies in Haryana last year. Noida does not lag far behind.

These crimes are also the flashpoints of a consumerist ethos amid a contrasting milieu of hardship as discontent brews among the local population which has not been part of the India growth story while the migrant populace drive expensive cars and live in state- of-the-art high rise condominiums.

India has a long way to go to ensure a safe environment for its women folk. Until it does, the gulabi gang deserves some credit for doing what the law enforcement agencies should be doing but don't actually do.