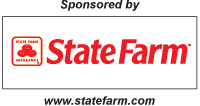 AUTO REVIEW:
Family Size Comfort: 2010 Infiniti QX 56


Ample leg room, and a third row that doesn't deter kids, makes the Infiniti SUV highly desirable for families who take long road trips, writes Sally Miller Wyatt.
---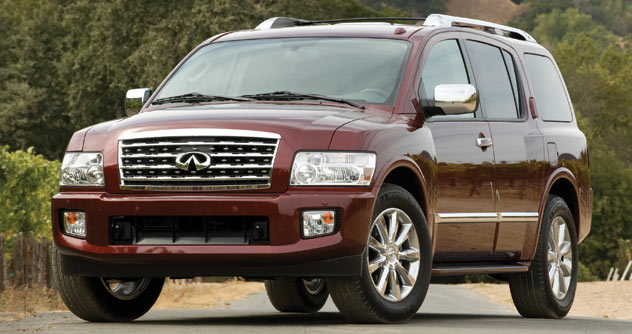 (Above): Exterior view of the 2010 Infiniti QX 56.

---
There are obvious luxuries – such as caviar and expensive champagne – and then there are the not-so-obvious ones. And when you have a large family, luxuries may come packaged differently but are no less appreciated. I say a luxury in this case is a large car with a third row of seats. And we're talking about a third row that is large enough that the children actually will sit in and not view time spent here as banishment for bad behavior. Now, that's luxury!

The 2010 Infiniti QX56 is one such car. It does have a third row of seats, and here even an adult wouldn't mind sitting. Plus, getting into and out of this third row doesn't require the flexibility of a gymnast. The second row captain's seats on our test car flipped and folded out of the way with one movement. A step-side and roof-mounted handles helped us access the rear even more easily.

But that is just one item on the list of family-friendly luxuries to be found on the 2010 Infiniti QX56. It's a stately looking vehicle and if you're just judging this book by its cover, you might assume its sticker price is so large it might spit in the Eye of the Recession. Not entirely true, but it's up there. This is a full-sized luxury SUV, remember, so here you would expect upscale treatment.

---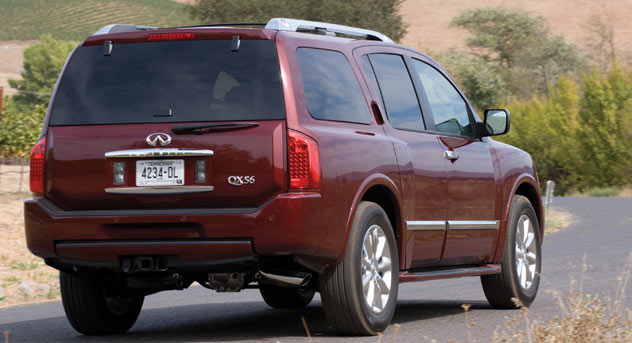 (Above): Exterior view of the 2010 Infiniti QX 56.

---
The Infiniti QX56 is available in two-wheel drive or with the Infiniti All-Mode 4WD system. It has a standard 5.6-liter V8 engine and can seat up to eight passengers, if you choose the optional second row bench seat. Otherwise, you'll seat seven with the second row captain's chairs, which are also a luxury for families with feuding siblings. No one can be fussing about a sibling "touching" them if they're sitting in captain's chairs.

The Infiniti QX56 also has so many standard amenities you would think there couldn't be anything left to offer as options, but there are a couple. On our test car, options included a Technology Package that had Intelligent Cruise Control and a Front Sonar System for parking, and an Infiniti Mobile Entertainment System Package with ceiling mounted eight inch color monitor and DVD player with two wireless headphones and wireless remote. Together the two packages added $2,850 to the total price.

The Infiniti QX56's exterior is built upon on a long wheelbase of 123.2 inches and an overall length of 206.9 inches, and that is why you get so much leg room in here. It has high-density xenon headlamps and halogen fog lamps. Chrome is added to the door handles for a nice touch, and your keyless remote entry includes a button for a power-operated rear lift gate. That, too, is a luxury for busy parents with arms filled with packages, babies and all their stuff.

---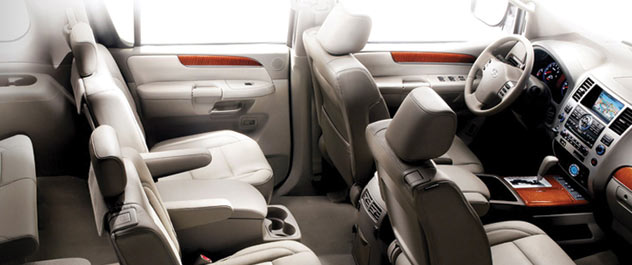 (Above): Interior views of the 2010 Infiniti QX 56.

---
The list of standard interior features is very long, and includes the typical power amenities on windows, door locks, seats and mirrors, as well as such things as a 12-speaker Bose sound system, a power third row seat that folds in a 60/40 split, dual zone automatic climate control and a full-length overhead console with lights for each passenger.

I'm always interested in safety features and here they include dual stage airbags, roof-mounted side impact curtains with rollover sensors, Standard Vehicle Dynamic Control with Traction Control and Active Brake Limited.

---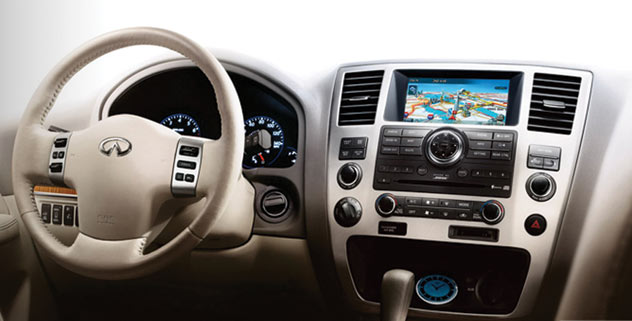 (Above): Interior view of the 2010 Infiniti QX 56.

---
On the road, you won't have driven far before realizing the Infiniti QX56 is a very responsive vehicle that is also easily maneuverable, even for its large size. Visibility is good for all seven passengers and seating is comfortable.

Families of any size aren't really happy being packed into cars, especially for long trips. If yours is constantly on the road, you might consider all the leg and elbow room to be found on the 2010 Infiniti QX56.

Today's Test Drive – 2010 Infiniti QX56

Base Price: $56,050
Price as Tested: $59,765
Engine: 5.8-liter DOHC V8
Horsepower: 320 hp
Torque: 393 lb-ft.
Transmission: Five-speed automatic
Mileage: 12/city, 18/highway