SUBCONTINENT:
Tough Times for Ministers: The Austerity Drive


Spearheaded by the leader of the ruling coalition Sonia Gandhi, the Congress Party is on overdrive in its campaign to cut down on luxurious expenses for its pampered ministers, writes Siddharth Srivastava.

---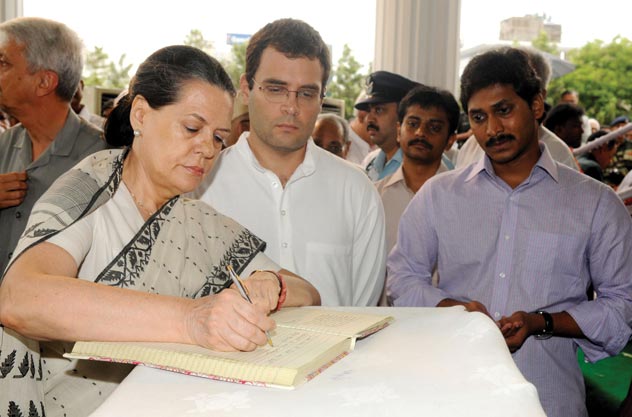 (Above): United Progressive Alliance chairperson Sonia Gandhi writing a condolence message following the death of former Andhra Pradesh Chief Minister Y.S. Rajasekhara Reddy in Hyderabad. Lok Sabha member Rahul Gandhi is also seen. Sonia has been leading a broad-based campaign for austerity which her son Rahul has enthusiastically joined. Cabinet ministers have jumped on the bandwagon as well. [Press Information Bureau photo]
---
It is not often that Indians get to see their political rulers in their midst, except during election time.

Otherwise they are usually visible only on TV; in real life, they are surrounded by heavy handed security personnel and travel in chartered jets, helicopters or first class at least, even as armed convoys of vehicles accompany their presence on road.

Lately, however, in keeping with its signature slogan of being at one with the aam aadmi (common man), the ruling Congress Party and the government are looking to be a bit different in times of drought, recession, layoffs, price rise and lower growth.

The aim is to strike down 10 percent government non-plan expenses so that the money saved can be used to help the needy and the drought stricken.

The cuts cover mainly hotel, travel expenses, lavish banquets, advertising and publicity, seminars and conferences, office and administrative expenses and buying new vehicles.

Leading the austerity charge is Congress Party president Sonia Gandhi, known to set a high moral agenda, who recently traveled economy class on a flight from New Delhi to Mumbai, surprising fellow passengers who lined up for autographs.

The move embarrassed at least one parliamentarian accompanying Sonia, who promptly exchanged his place in the vaunted double-value business class with a lucky economy class traveler, who readily obliged.

The Congress party "high command," as Sonia is referred to, has advised her elected Members of Parliament, ministers and party functionaries to slash nonessential expenditures and accept salary cuts. Prime Minister Manmohan Singh, too, has written to his ministers to show restraint.

Following immediately in his mother's footsteps, Congress Party scion and general secretary Rahul Gandhi traveled by train in a chair car from Delhi to Punjab, when he could have easily got on a first class coach or a helicopter.

A Congress leader has been quoted to say, "In tough times such measures by Congress top leadership will set an example for others and youngsters to lead a simple and austere life, thinking of those who are less fortunate."

While Sonia and Rahul's travel bills are footed by the party as they hold no government position, the message has got through to others, though private airlines are not too happy with a sudden dip in their business class revenue as corporate travel has dwindled due to the economic slowdown.

Meanwhile, Finance Minister Pranab Mukherjee, ever the loyal Congress soldier, flew in a low cost carrier on a recent trip from New Delhi to Kolkata.

Mukherjee has also been instrumental in the exit of at least three ministers housed in expensive five-star hotels, who have been awaiting their official accommodation to be readied to move in.

Foreign Minister S.M. Krishna, Minister of State for External Affairs Shashi Tharoor and the chairman of Unique Identification Authority (a ministerial rank), Nandan Nilekani, have vacated their temporary luxury abodes to move to much more modest government guest houses, not known to be a byword for upkeep and comfort.

Given the proliferation of important people in Delhi, housing is always a scarcity, even as ministers wait for their allotment.

Krishna, meanwhile, has reportedly chosen to fly economy class in a commercial airliner on an official visit to Belarus and Turkmenistan, instead of an exclusive government plane that is usually used by the country's foreign minister. To save on expenses, his entourage has been reduced considerably.

Federal Civil Aviation Minister Praful Patel has taken to economy class air travel, even as Home Minister P. Chidambaram is reported to have cracked down on wasteful expenditure in his ministry.

Everybody, of course, is not happy with the latest turn of events. Important federal ministers such as Sharad Pawar (agriculture), Farooq Abdullah (renewable energy), M.S. Gill (sports), Dayanidhi Maran (textiles) and Anand Sharma (commerce) have reportedly been critical of the Finance Ministry's austerity measures.

At least one minister is supposed to have complained that his girth is such that he cannot fit into economy class seats; one more has spoken about his height being unsuitable for cramped space; another has reportedly said since foreign countries host Indian dignitaries in fine restaurants and hotels, the gesture should be reciprocated in kind.

One prominent Congress leader has been quoted to say: "To be austere should not be reduced to one's line of travel."

A clearly unhappy Tharoor wrote on his social networking Web site Twitter that he would travel "in cattle class out of solidarity with all our holy cows," much to the chagrin of his party higher ups, who see his statement as hurting the sensitivities of the many who travel economy.

The opposition Bharatiya Janata Party has described these latest events as a "ludicrous display to deflect attention from the most unprecedented price rise ever witnessed."

The left parties, meanwhile, have prided themselves by declaring that their leaders travel economy class in any case.

Indeed, the gestures, welcome as they are, are merely symbolic tokens when one looks at the big expenditure of the government. Estimates are that the austerity measures would save at the maximum Rs 2 billion, which is a pittance compared to the overall situation, including the rising fiscal deficit and profligacy of the government.

In 2009-10, the budget projected government spending of over hundreds of billions of rupees in subsidies (in food, power, fuel), farm debt waiver schemes, pensions, wages and defense outlays, where the scope of any cuts is very limited. Then there are immense amounts being spent on new ministries and departments that continue to be created at a fast pace.

There are those who say that pegging down of some perks enjoyed by the high and mighty only bring down their exalted levels of existence to that of the upper middle classes.

On the other hand, there are over 300 million in India, out of a population of 1.2 billion, who continue to eke out a bare existence below poverty levels and lead a life of deprivation --- for them one meal a day and basic shelter are a luxury. No health care exists.

In such circumstances, traveling economy or hosting an event at a lower star hotel should be seen as the norm rather than a sacrifice. Frugal living was preached and followed by the father of the nation, Mahatma Gandhi, given the living conditions of the masses.

Yet most agree that such asceticism by those in power will not continue for long as politicians and bureaucrats in this country are a pampered lot, who cannot change in a hurry.

The self-imposed deprivation, if one can call it that, is expected to peter out soon, even as the rains have picked up and the monsoons have turned near normal.