SUBCONTINENT
Service, Not Greed: The IIT Strike


The IIT faculty strike is a disgraceful commentary on a self-absorbed elite who have no compunction in asking for an even larger paycheck from their countrymen, three out of four of whom live on less than 50 cents a day, writes Sandeep Pandey, who himself taught once at IIT Kanpur.
---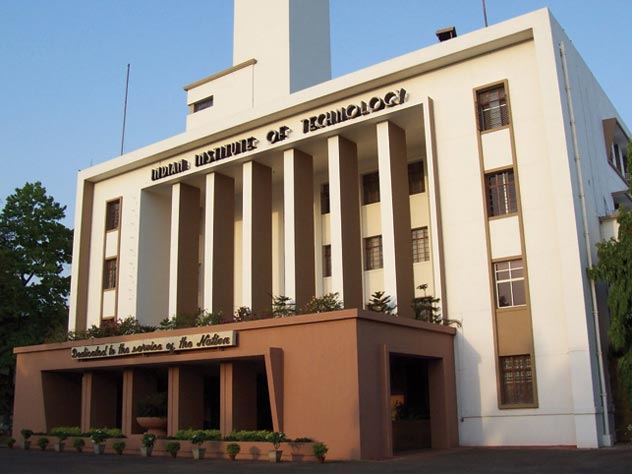 (Above): The main facility at the Indian Institute of Technology in Kharagpur, the first ever IIT. Faculty from all the IITs went on an unprecedented one-day strike to protest government pay policies.
---
I, too, once sat on a fast — for four days on an IIT campus in 1993 — as a faculty member at IIT, Kanpur. And I, too, continued to perform my duties for all the four days while I was on fast and had informed my head of department, the present director of this institute, Sanjay Dhande, about this. But I was told this action was against the code of conduct of a government employee, especially an IIT faculty member, and I should not associate myself with a protest against the IIT administration. I wonder what the IIT director now has to say to his colleagues.

My fast was in support of a construction workers' cooperative which was fighting for the right of full minimum wages to workers and against the contractor system. Workers had decided to organize a fast since the administration was reluctant to take any action. I and a student, Shreesh Jadhav, now a monk at Belur Math, had joined the fast in solidarity. Workers were demanding that a whitewashing contract be given to them because their tender had quoted the minimum price. The IIT administration was inclined to give the contract to a contractor since it found it easier to deal with a single person rather than a workers' cooperative which was beginning to look like a trade union.

I was politely told by Prof. Dhande that I should be like other faculty members on campus — confine myself to just teaching and research and not participate in protest activities. Otherwise, I was free to leave the institute, he suggested. I was given a semester's time to mend my ways but was not invited to the interview for regularization of my job. I had to almost force my way into the interview after writing letters to members of the board of governors. My association with IIT ended soon — partly because IIT didn't want to keep me and partly because I, too, was not happy there.

---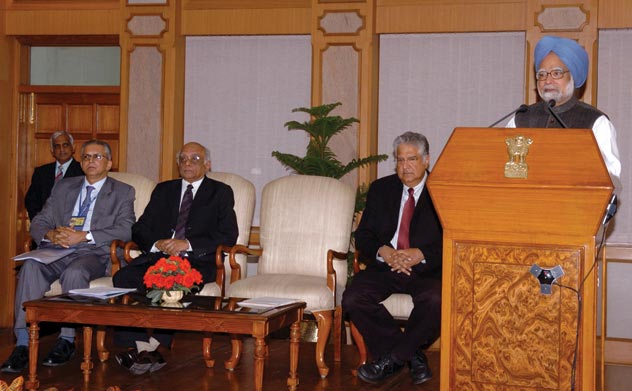 (Above): Prime Minister Manmohan Singh addressing the inauguration of the 6th Annual PAN IIT Global Conference in New Delhi in December last year. The IIT faculty is on the warpath on government pay policy, but Human Resources Development Minister Kapil Sibal is taking a hard line. [Press Information Bureau photo]
---
But now that the IIT professors have participated in a one-day fast to ask for a hike in their salaries, I guess they consider it okay to sit on fasts. Or is it that they consider sitting on fasts for the rights of poorer people wrong and sitting on fasts for their own rights correct? This highlights the elite nature of the IIT faculty. They are probably one of the highest paid employees in the service sector of this country. And yet they are not ashamed of asking for more.

The question that must be asked is this: What have they done for the country or society? They have been mostly busy promoting their own careers, identifying themselves more with U.S. universities than the people of India. A lot of them are engaged in research which is relevant in the U.S. and not in the direction of solving the problems of India. They live in their own make-believe worlds. Even before the Special Economic Zone Act came into existence the IITs have created examples of foreign territory on Indian soil. They like to compare themselves with top U.S. universities and are avowed supporters of the capitalist model. But would they like IITs to become private institutions like most of the U.S. universities? Why don't they struggle to generate their own resources like their counterparts in the U.S. have to do? But they want the best of both worlds. They want a capitalistic model supported by a socialist system. What right have they got to ask for a salary from the taxpayer's money that rightly belongs to the people of India?

When I joined the IITK faculty I was getting a monthly salary of Rs. 6,000 which was less than a sixth or seventh of what I was getting as a research assistantship meant for a graduate student while I was doing my Ph.D. in the U.S. When I moved to IIT from the U.S., I didn't feel any loss in my stature, because the decision to come back to India to teach was my independent decision and the only decision which would make me happy. My satisfaction could certainly not be measured in monetary terms.

There are a number of examples from our society to prove that performance or job satisfaction are things which are unrelated to salary scales. It is criminal to ask for such high salaries, not just for the IIT faculties but for all service sector employees when 77 percent people in India eke out a living on less than Rs. 20 per day. The conditions in city slums and village dalit hamlets have to be seen to be believed: It is a harrowing commentary on how our fellow human beings compromise their self respect merely so that they and their family members can continue to remain alive.

What the IIT faculty gets is many times more than enough for what they need for a decent living. They must stop being greedy and concentrate on making some contribution for the society in which they are located. Without any demonstrable social commitment, they'll lose the support of people of India. They must remember that the movement for transparency and accountability is just beginning to pick up. They'll be asked to justify their existence sooner or later.

(The author did his Ph.D. in mechanical engineering from University of California, Berkeley and taught at IIT Kanpur during 1992-93.)