HINDI FILM REVIEW:
Good, Not Great: My Name is Khan - Review by Priyanka Bhardwaj


Rating: *** (Good)
My Name is Khan

Director: Karan Johar
Music: Shankar Ehsan Loy
Starring: Shah Rukh Khan, Kajol, Jimmy Shergill, Zarina Wahab, Parveen Dabas and Sonia Jehan.

---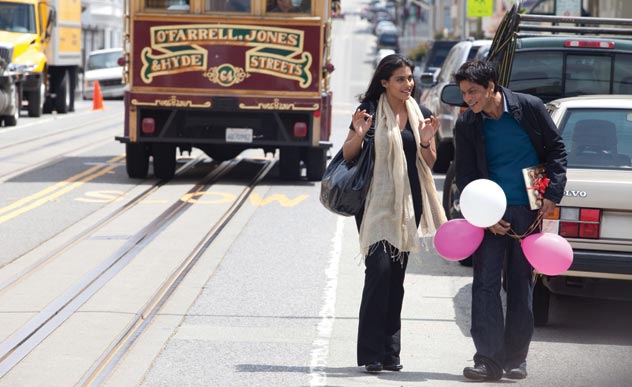 (Above): Kajol and Shah Rukh in "My Name is Khan."

---
Melodrama, autism, death, murder, single mother, September 11, SRK, a hurricane, Obama, Bush, Osama, jihad, terror, good and bad people — My Name Is Khan is Bollywood masala at its most resplendent, strung and spiced together by Karan Johan, the king of Indian melodrama on the big screen.

The Karan Johan directed and produced movie recorded the biggest ever three-day collection worldwide for an Indian film, accumulating Rs. 850 million in its opening weekend starting Feb. 10.

Since then interest in the film has dwindled. This is the stage when word of mouth takes over creating a tipping point that catapults a film to greater glories or otherwise.

---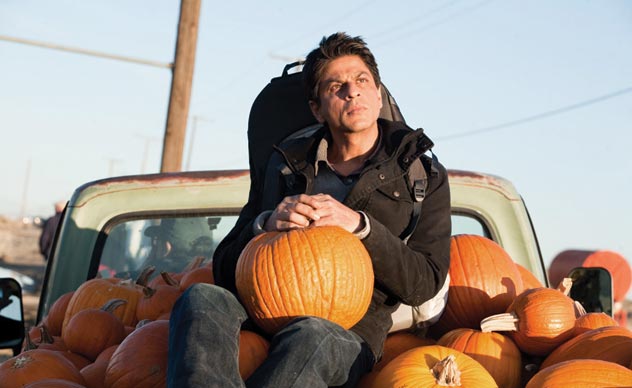 (Above): Shah Rukh in "My Name is Khan."

---
Would MNIK have turned out to be as big as it has without the controversy involving Shiv Sena and Bal Thackeray in Mumbai?

MNIK is good, certainly above average and conveys its message, but it is certainly not outstanding cinema. Perhaps, KJ needs to thank Thackeray for the leg up and adding curiosity value to the film.

KJ, known for his happy glossy approach to movies, has attempted to take on the real issue of terror and victimization of Muslims. Perhaps he needed to shred some of the feel good glossy packaging this time around.

MNIK revolves around autistic Rizwan Khan (played superbly by Shah Rukh Khan) and portrays the supercharged environment, angst and fears in America after the September 9/11 attacks, when being a Muslim can be equated to being a terrorist.

---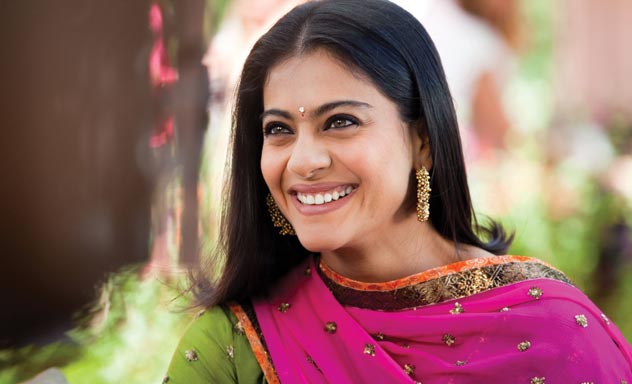 (Above): Kajol in "My Name is Khan."

---
SRK delivers a performance which is in the league of Tom Hanks in Forrest Gump or Dustin Hoffman in Rain man. Afflicted by Asperger's syndrome (a condition of autism) he stands out for his deft, restrained and sensitive portrayal of a person who faces a challenge in expressing himself.

The MNIK storyline follows the quest of SRK to deliver the message "My name is Khan and I am not a terrorist" to the American president. His special condition and being a Muslim makes him vulnerable and a target of security forces and the real jihadis.

Born into a family of meager resources, Rizwan has innate talent for repairing machines but differentiates the world as good and bad, thanks to his mother (Zarina Wahab), despite a communally charged environment.

---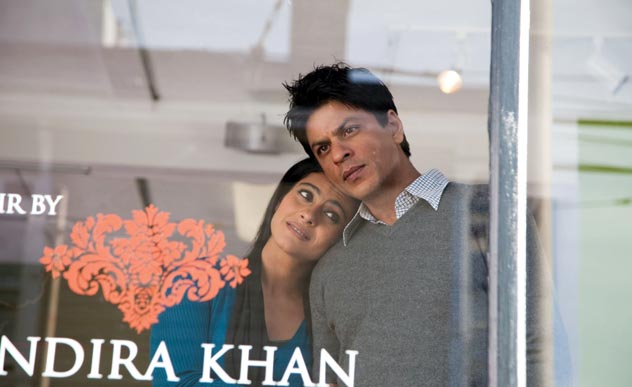 (Above): Kajol and Shah Rukh in "My Name is Khan."

---
Petrified by loud noises and yellow color, Mr. Repair-Man tries hard to adjust to the American way of life where he is translocated.

Rizwan is pushed into the job of a shop-to-shop salesman of a cosmetic-brand run by an unsympathetic younger brother. Yet, with support from his bhabi (sister-in-law played well by Sonia Jehan (grand-daughter of legendary Noor Jehan) who first diagnoses his condition, he survives.

His chance encounter during a sales call with Mandira (Kajol, expressive, effervescent and serious) a single mother, working at a beauty salon, blossoms into an intense liking.

Kajol-SRK crackle, even as Rizwan wins over Mandira and her son Sameer via purity and honesty of feelings. The Rizwan-Mandira chemistry is at its best when SRK repeatedly pleads "Marry me' and wants to have sex for the first time. Mandira finally says ``yes.''

---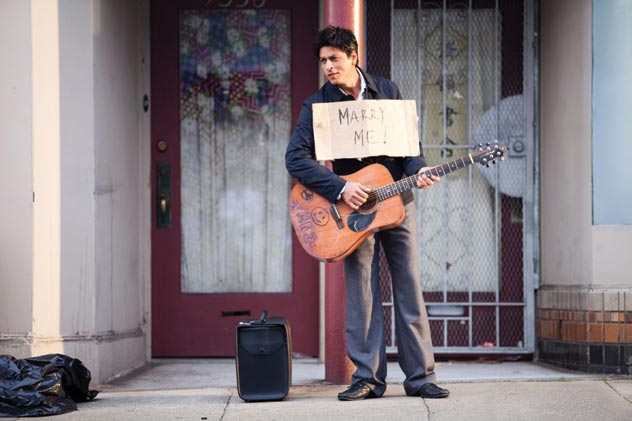 (Above): Shah Rukh in "My Name is Khan."

---
But happiness ever after is elusive as the September 11 terror attacks rob the family of its peace. Sameer is killed due to his identity as a Khan and the hysterical mother blames Rizwan and his surname for the tragedy. The journey of our hero to meet the president of America begins.

Performances of Zarina Wahab as the mother, Parveen Dabas as the Sikh TV reporter and Jimmy Shergill as the younger brother are good, though the characters are truncated.

Interestingly, the role of SRK's younger brother (Jimmy Shergill) was earlier offered to Aamir Bashir who was replaced due to problems in procuring a U.S. Visa. SRK too had his share of problems with airport security in the course of shooting of the movie.

MNIK is not about solutions to a contemporary and socially relevant issue, but seeks to promote goodwill, though at times the attempt is a bit contrived. The sets, emotions, plot is big and loud in KJ style.

---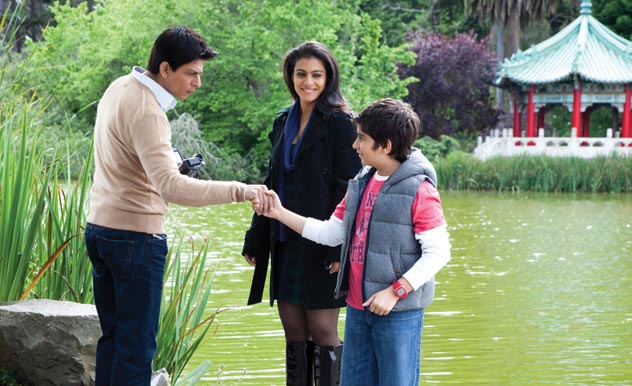 (Above): Kajol and Shah Rukh in "My Name is Khan."

---
The cinematography is great, though music by trio Shankar, Ehsaan, Loy, is average, apart from a couple of songs.

MNIK could also have been shorter without some seemingly irrelevant portions. In the narrative the hero is kamyaab (successful) in helping the hurricane-hit African Americans. An unnecessary addition, one would think.

When factual occurrences were recounted it would have been more appropriate if the fictitious 1983 communal riots had not been added to the storyline.

Overall, a good effort but by no means remarkable cinema.