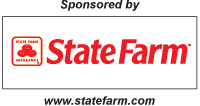 AUTO REVIEW:
Award-winning Sedan: 2010 Ford Fusion SEL


The 2010 Ford Fusion is a nicely packaged mid-sized sedan with some impressive safety features, writes Sally Miller Wyatt.
---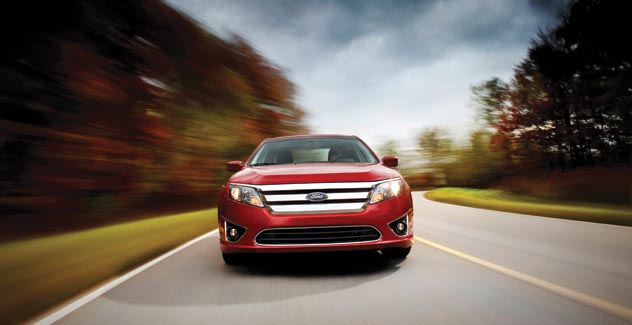 (Above): Exterior view of the 2010 Ford Fusion SEL

---
They don't hand 'em out like candy, you know. Earning a "Motor Trend Car of the Year" designation is a big deal, and Ford's Fusion got the nod for 2010.

The Fusion was already capturing attention before it underwent design enhancements for 2010. And that says something for a vehicle that is competing in a very crowded mid-sized sedan niche.

If you've been thinking about a hybrid car, Ford makes a hybrid Fusion available with this model year. They also have three fuel-efficient gas engines options this year: a Duratec 2.5-liter, a 3.0-liter V-6 and a 3.5-liter V-6 Duratec. With all the power comes an even more fuel-efficient engine, as well as some state-of-the-art safety technology.

---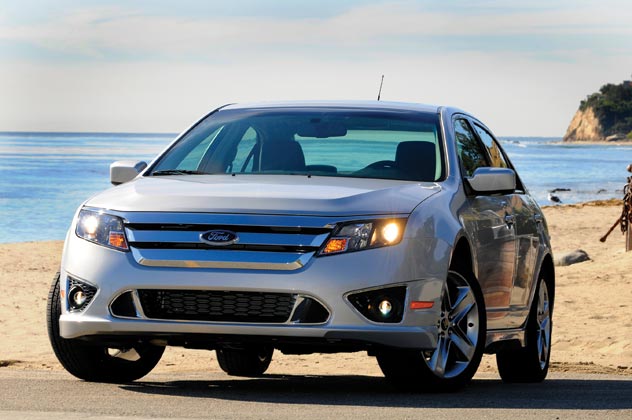 (Above): Exterior view of the 2010 Ford Fusion SEL

---
This model year reveals a new exterior design that takes on a more sporty look while improving its aerodynamics. It has a newly designed front end that includes new shapes to the head lamps and hood, and larger fog lamps. The interior receives contemporary-looking metallic finishes on the instrument panel as well as on the center console, doors and steering wheel, and is now back-lit with an icy blue color. Gauges have daytime backlighting, a black lens and a 3-D look. Seat contours provide more side support and they are enhanced by contrast stitching; in fact, our test car had black leather seats with white stitching.

---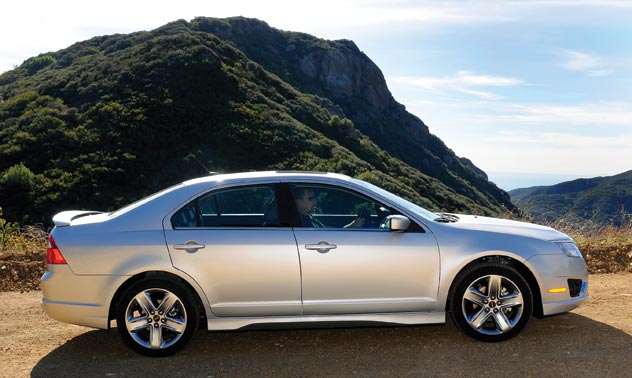 (Above): Exterior view of the 2010 Ford Fusion SEL

---
Some of the technological enhancements are pretty nifty. The Fusion has something called BLISTM (Blind Spot Information System) with Cross Traffic Alert. Using sensors located in the rear quarter panels, this system lets you know if there is traffic or obstacles behind you – within a 65-foot range – as you pull out of parking spaces. The radar sounds a warning that gets more intense as the obstacle nears. The side view mirrors are also equipped with indicator lights that activate when a car traveling in the lane next to you enters your blind spot. Both of these sensors certainly ramp up your sense of security, whether you're in a parking lot or on the freeway.

Our test car also had a Reverse Camera System in the rear view mirror, which we were very impressed with. When you put the Fusion in reverse, you get a very clear view of what is behind you. I liked having this device in the rear view mirror, rather than on the dashboard like it is in those cars that are equipped with navigation systems. Who is in the habit of looking at their dashboard when they move in reverse?

---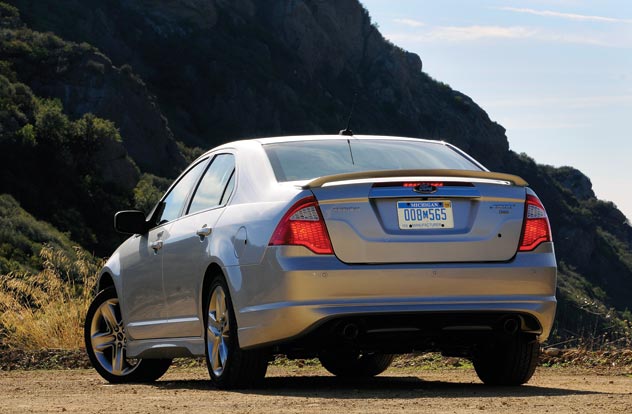 (Above): Exterior view of the 2010 Ford Fusion SEL

---
The 2010 Ford Fusion also has Voice-Activated Navigation, which rolls several technologies into quite a package. It includes voice activated destination, climate control and SIRIUS satellite radio into one system, and displays them on an eight-inch touch screen display. The system calls out street names and even incoming text messages when the system is linked to SYNC. SYNC is a hands-free in-car communications and entertainment system that fully integrates Bluetooth-enabled mobile phones and digital media players for hands-free operation. Anything to reduce distracted driving is a double bonus.

Behind the wheel, you'll find a smartly designed and contemporary-looking dashboard. The seats are very comfortable, even in the rear, with plenty of leg and head room throughout. For the driver and front passengers, visibility is slightly reduced because of wide A-pillars, but that is the only complaint from us.

---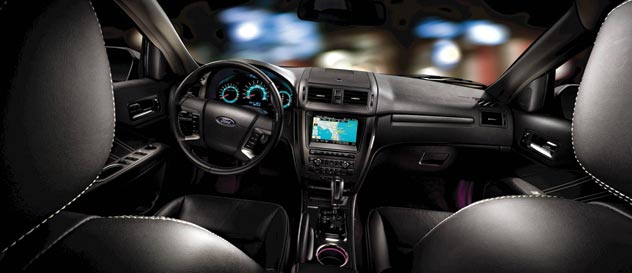 (Above): Interior view of the 2010 Ford Fusion SEL

---
On the road, you'll find a quiet, very responsive ride that is smooth and swift. Road noise at freeway speed is whisper-quiet. Our test car was equipped with a 3.0-liter V6, and it was quite fuel-efficient, offering 18 mpg for city driving and 27 mpg for freeway driving.

Overall, we were impressed with the 2010 Ford Fusion. It is a nicely packaged mid-sized sedan, with some impressive safety features and comfortable seating.

---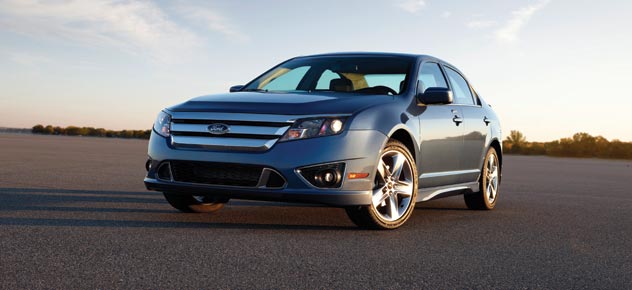 (Above): Exterior view of the 2010 Ford Fusion SEL

---
Today's Test Drive – 2010 Ford Fusion SEL

Base Price: $23,975
Price as Tested: $28,105
Engine: 3.0-liter, 24-valve V-6
Mileage: 18/city, 27/highway

Sally Miller Wyatt is a freelance writer who writes family-oriented auto reviews for newspapers, magazines and the Web.