REAL ESTATE
A Risky Ploy: Strategic Default


If you owe far more than your home is worth, the temptation to simply walk away and abandon it—commonly called—strategic default—may seem like an attractive option, but make sure you are aware of the pitfalls, warns realtor Ashok Gupta.
---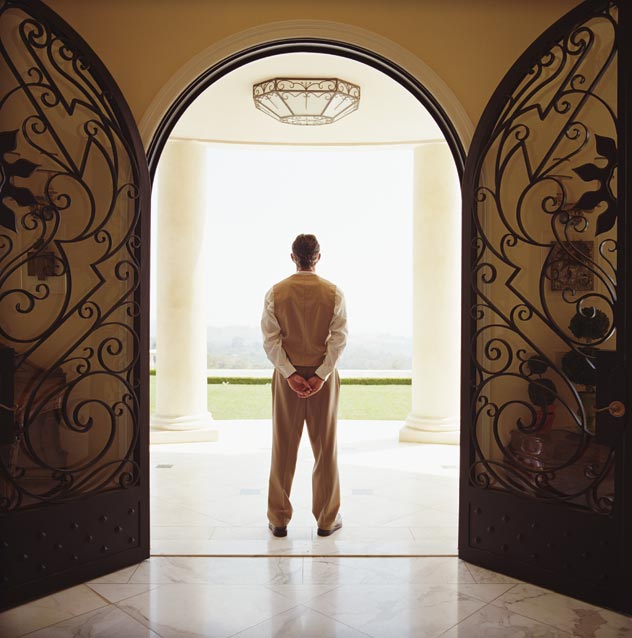 ---
Here's what a CNBC report said on Jan. 25: "In commercial real estate today the dynamic duo of Tishman Speyer and BlackRock walking away from Stuyvesant Town and Peter Cooper Village in Manhattan. The two have been trying to refi $4.4 billion in debt on the 11,200-apartment property, to no avail. So now they're handing over the keys to the lenders.

"The joint venture bought the property at the height of the market for $5.4 billion. Now, thanks to falling values in commercial and residential real estate, it's worth about $2 billion."

Here's the quote from the venture: "The only viable alternative to bankruptcy would be to transfer control and operation of the property, in an orderly manner, to the lenders and their representatives."

These tough economic times have hit everyone's life, specially the homeowners who find they owe more on their houses than they are worth.

As a result, many are considering simply walking away from their mortgages — also known as "strategic defaults."

Recently, there have been reports claiming that a "strategic default" can be an appropriate even Beneficial reaction to an upside-down mortgage or impending foreclosure. However, as former Treasury Secretary Henry M. Paulson describes, "Any homeowner who can afford his mortgage payment, but chooses to walk away from an underwater property is simply a speculator — and one who is not honoring his obligation."

Well, let me tell you — a strategic default is anything but an alternative to foreclosure, and, it will land you directly in foreclosure. There are alternatives available to homeowners. You can work towards a real solution, one that will save your credit and your financial future.

---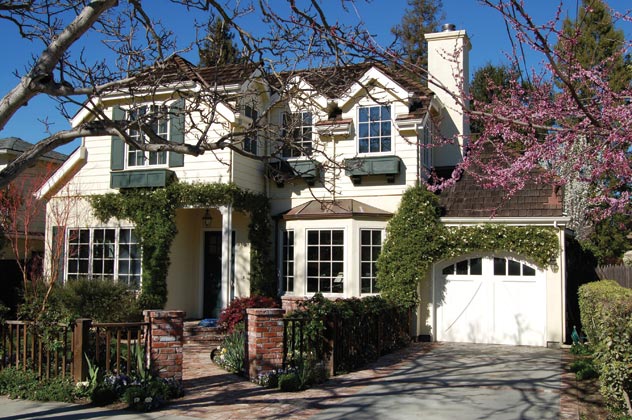 ---
You or anyone you know must have sometimes in life bought a brand new car? As a part of the buying process, they pick out the right car, sign the loan documents, get the keys, smell that new car smell and drive it off the lot. We all know as soon as those front tires get off the lot — the car decreases in value. Do you know of anyone calling the bank and say: "It's not worth what I purchased it for any more, I no longer want to honor the note and make payments!" Well, just like that brand new car, your home has decreased in value, and it's time to sit down and explore the options available to you.

While the idea of simply "walking away" from the mortgage has spread rapidly in the media, it is primarily an option for commercial entities. It is undoubtedly now spreading into the homeowner's market as an actual option. One should understand that a default is never easy, and almost never strategic.

Most homeowners continue to make their payments even when they are considerably underwater, and, do not strategically default as a result of two emotional forces: 1) the desire to avoid the shame and guilt of foreclosure; and 2) exaggerated anxiety over foreclosure's perceived consequences.

Nonetheless, they are hearing stories about people not paying their mortgages for 12-24 months and still living in their homes (rent free), and that is tempting them to think strategically. We shall be seeing more of these "strategic defaults" in the home mortgage market, specially the high end ones, or the second home owners, because people who can afford their mortgage are also thinking of falling in line with the defaulters since owning the home at the price they bought it does not make any investment sense today.

I've had friends and colleagues ask me questions about "strategic default," wondering if it's an appropriate solution to an upside-down mortgage or impending foreclosure — which is a situation many in the community have found themselves in.
While this idea of simply "walking away" from the mortgage has spread rapidly in the media, it is primarily an option for commercial entities, although it is now spreading into the residential community as an actual option.

---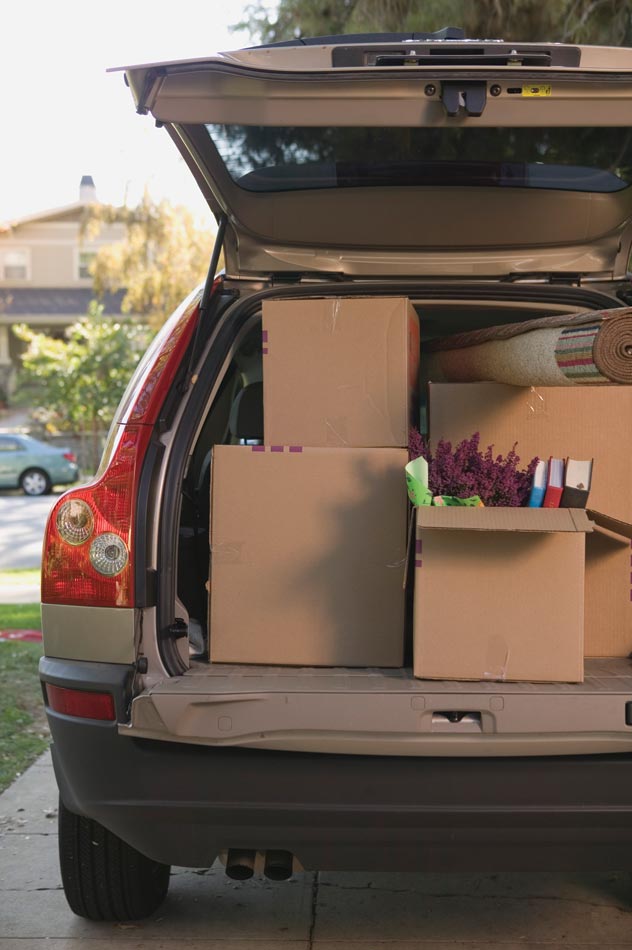 ---
If this is your situation, remember that you are not alone. You are one of the millions who are in similar circumstances. Default occurs when you fall behind on mortgage payments due to hardship due to job loss, divorce, medical bills, income shortfall, mortgage adjustment, and so on. Strategic Defaults, on the other hand, is simply "walking away" from the mortgage — in other words, move out and stop paying — even though you may be able to make payments. This is done when the homeowner owes more than the home is worth and views the home as a bad investment.

Most of the homeowners do not realize that walking away from the mortgage will expose them to foreclosure, credit issues, current and future employment challenges and possible debt collections.

If you are underwater, there is time to analyze your options, and help is available to protect your credit and financial well-being.

The U.S. Treasury recently announced new incentives, timelines and procedures for short sales. The HAFA Program, part of the Home Affordable Modification Program, simplifies short sales procedures by setting limits on the time it takes lenders to respond, freeing borrowers from debt and capping claims of subordinate lien holders.
So what's your best option?

Meet with an experienced real estate agent who can walk you through to organize all necessary paperwork and ensure you have everything you need to make an informed decision on your future.

A short sale is another safer alternative to strategic default, with less harmful results. The comparison table will provide you with an understanding of your options and help in making an informed decision.

---
COMPARISON TABLE
---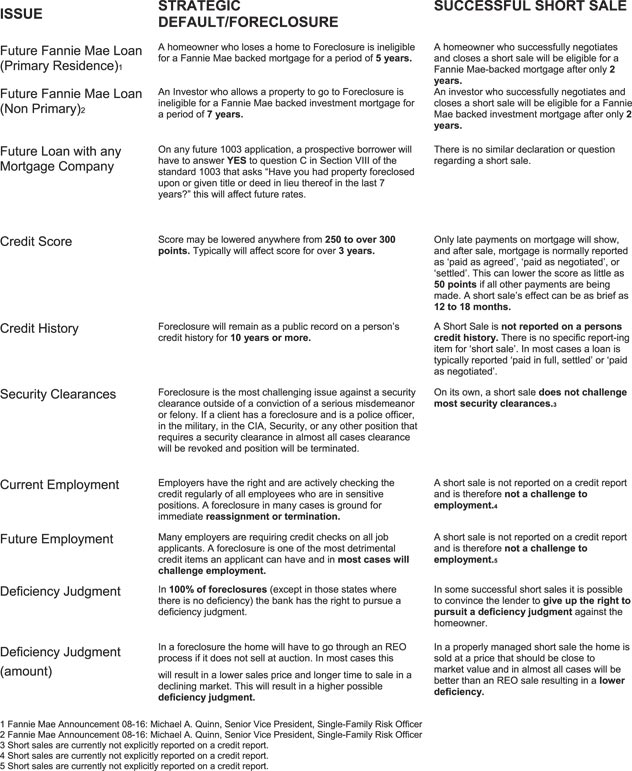 ---