SPORTS
Battleground Cricket: Furor Over IPL


The fact that not a single Pakistani cricketer was chosen in the IPL cricket auction despite Pakistan being current world T-20 champions gives an indication of how poisoned bilateral ties between the two neighbors have become, writes Priyanka Bhardwaj.
---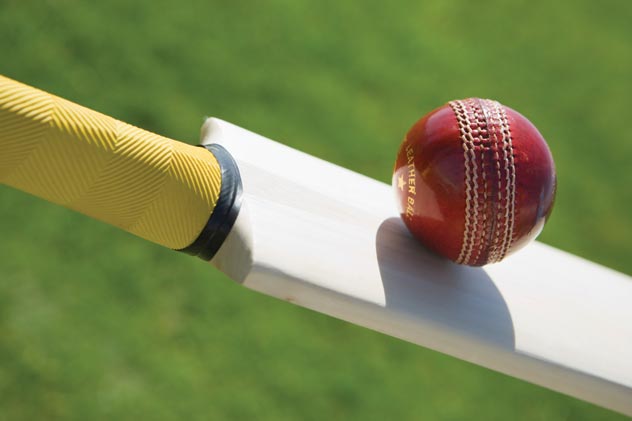 ---
Security concerns following the Mumbai terror attacks in November 2008 have cast a long and dark shadow, dealing a huge psychological blow to Indian perceptions about Pakistan following the barbaric event.

These considerations were clearly in the fore at the recent auction of players at Indian Premier League, a lucrative cricket tournament to be held in India.

While cricketers around the world, including Australia, were selected, Pakistani players were summarily shunned.

There was a call by at least one right wing political outfit in Maharashtra that Australian players should not be allowed to play in India, either. This has followed the spate of allegedly racist attacks on Indians in Australia.

But, as matters turned out, it was only the Pakistani cricketers who were not bought.

It became apparent that India's neighbor is looked at as a nation that has failed to clamp down on terrorist groups such as the Lashkar-e-Toiba that it has turned a blind eye to for too long.

---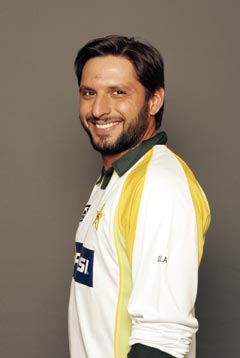 (Right):
  Swashbuckling Pakistani allrounder Shahid Afridi has expressed disappointment after the IPL franchises refused to get a single Pakistani cricketer.
---
The LeT, in turn, has launched several attacks in this country affecting major cities such as Bangalore, Delhi, Hyderabad, Varanasi, Ahmedabad, with the 26/11 Mumbai strikes by far the worst that has resulted in the peace process being curtailed.

America has already said that a repeat of a major terrorist strike in India will certainly lead to war with Pakistan.

Ironically the venue of the bids of the third edition of the shorter T-20 Indian Premier League cricket tournament was the Trident Hotel at Mumbai, overlooking the Arabian Sea that suffered the onslaught of the jihadi attacks on 26/11.

At the auction of the cricketers, IPL franchisees (Deccan Chargers, Chennai Super Kings, Rajasthan Royals, Royal Challengers Bangalore, Kings XI Punjab, Delhi Daredevils, Kolkata Knight Riders and Mumbai Indians) bought rookie cricketers for handsome sums.

At the same time not a single player from a top class Pakistani line up of Shahid Afridi, Umar Akmal, Kamran Akmal, Imran Nazir, Rana Naved-ul-Hasan and Muhammad Aamer was selected, even as economic underpinnings and political considerations coalesced. Pakistan is also the current T20 world champions.

Clearly, cricket was overshadowed the deteriorating Indo-Pakistan relations and the game that once acted as a safety valve in defusing tensions, an outlet for South Asian (Indo-Pak) people to people sentiments and confidence building measures, assumed a high drama of "selective" selection/elimination.

A war of words has since erupted that has spread beyond cricketers and businessmen to the political and government spheres.

The Pakistani players are predictably not happy to lose an opportunity to earn some big money, given the huge commercial returns the game offers in India.

Shahid Afridi, tipped to be among the hot buys, was quoted to say, "Cricket is like religion in India and Pakistan. Sport is the only way to bring both the countries together. It is disappointing. The Indian government may have put pressure on franchisees not to take us."

Ijaz Butt, chairman of Pakistan Cricket Board, said, "The hopes of the cricketers were raised due to clearances given to them to play internationally, but now they have been quashed."

IPL representatives have been looking to douse the ire without getting into the politics of the situation.

In India, IPL chairman Lalit Modi said, "I do not want to read too much into the accusations of leaving out the Pakistani players … Availability and differing needs of the franchisees were vital criteria."

---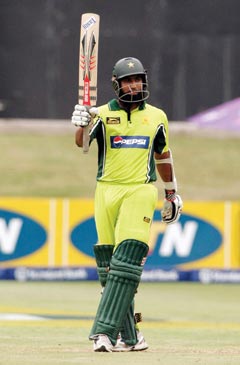 (Right):
  Pakistani batsman Mohammed Yousuf.
---
Celebrity team owner Preity Zinta said, "Pakistanis were not favored because they did not fit into the scheme of things and not because of any security concerns." Similar words were echoed by another Bollywood actress Shilpa Shetty, another IPL team owner.

However, there is definitely more than meets the eye. Several media reports suggest that there was a general consensus among the IPL franchisees not to "buy" Pakistani players.

At the same time, there is enough to suggest that there were definite feelers from the government that cricketers from Pakistan should not be selected due to "security" issues.

With the foreign ministry generally adopting a tough approach against Pakistan since 26/11, there was a further possibility of New Delhi refusing visas.

The IPL owners it seems decided to play it safe and not be stuck with players who could not arrive into the country, while having to pay them big salaries due to contractual obligations.

Echoing some of New Delhi's thinking, the ruling Congress party said that Pakistan needs to introspect why its cricketers were not picked.

"The Pakistani establishment needs to think why they have not been able to create the conditions that could convince people here that Islamabad is serious in bringing to book the perpetrators of 26/11," a spokesperson for the party said.

The opposition Bharatiya Janata Party, for a change, backed New Delhi's assertions. "Pakistan needs to look within itself to figure out why even in a business proposition, Pakistanis are being kept out," BJP spokesman Ravi Shankar Prasad said.

Prasad said Pakistan was overreacting.

Such bi-partisan stands of India's two main political parties was also in the wake of India's Foreign Ministry reacting strongly to the statement of Rehman Malik, Pakistan's interior minister, blaming New Delhi for the boycott of Pakistani cricketers, and threatening retaliations.

"Pakistan should introspect on the reasons which have put a strain on relations between India and Pakistan, and have adversely impacted on peace, stability and prosperity in the region," India's foreign ministry said in a statement.

Newswires have, meanwhile, reported that Islamabad may not allow IPL-3 matches to be telecast in the country and boycott sporting activities including 2010 Hockey World Cup in India.

At least three delegations from Pakistan comprising election officials, Parliamentarians and the kabaddi team have been disallowed by Islamabad to India since the IPL controversy broke.

Though Home Minister P. Chidambaram has now said that the Pakistani players could have been selected, the statement is too little too late.

With India and Pakistan just completing official foreign secretary-level talks, maybe, just maybe, a thaw in relations may not be out of the realm of possibility.