RECIPE:
Vegetarian Delight: Hot and Sour Soup


Though originally from China, this delicious soup is now widely popular in South Asia. Chef Sanjay Patel shows you how to make it.
---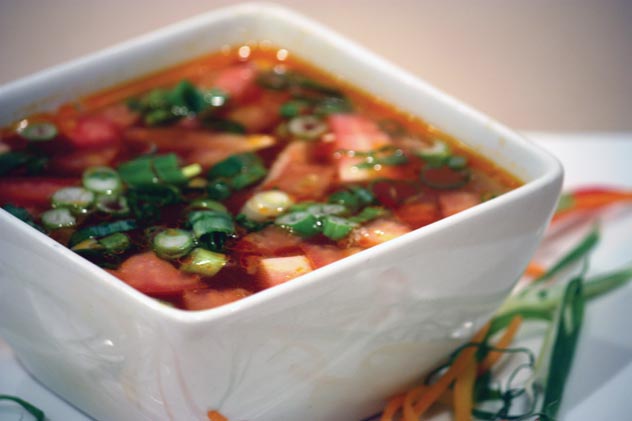 (Above): Hot and Sour Soup. [SILICONEER photo]

---
Ingredients

4 cups of soup stock

Hot pepper flakes

About 200 g firm tofu (regular or silken), cut into small, long slices or small cubes

1/2 cup mushrooms, sliced

1/4 cup sliced baby corn

1/4 cup carrots, in matchsticks or julienned

2 tbsp soy sauce

1 tsp sugar

A pinch of salt

A pinch of pepper

2 tbsp vinegar

1 tsp corn starch, dissolved in some water

1 tsp hot sesame oil (optional)

Method:

Boil the hot pepper flakes, tofu, mushrooms, baby corn and carrots in the soup stock for ten to fifteen minutes. Stir in the soy sauce, sugar, salt, pepper, and vinegar.

Add the dissolved corn starch to the soup. Remove the soup from heat as soon as it has thickened. Gently stir in the hot sesame oil (or add to individual bowls, if you prefer).