REMEMBRANCE
Romancing with Life: Dev Anand (1923-2011)


Legendary actor, director and film producer, Dev Anand, 88, died in London, Dec. 4 of cardiac arrest. Too many feathers in one cap, but he wore all of it extremely well. The Government of India honored him with 'Padma Bhushan' and 'Dadasaheb Phalke Award' for his contributions towards Indian cinema. Siliconeer fondly remembers this 'evergreen hero.'

---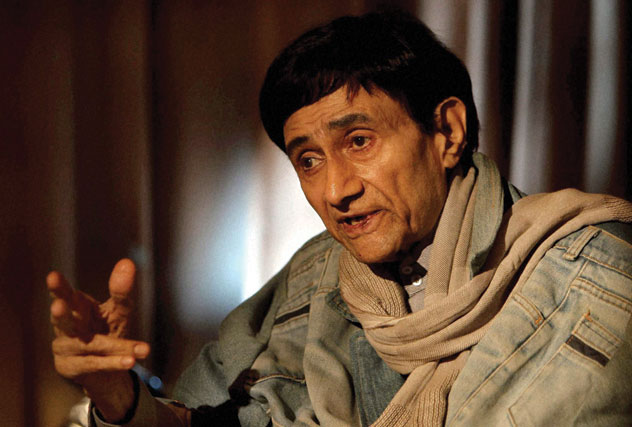 (Above): Dev Anand looks as determined and full of live as only he could, even at the age of 88, during a press conference in August promoting his film "Chargesheet." [Photo: IANS]

---
Over the course of his 65-year career, which began in 1946, Dev Anand became one of India's iconic actor-producer-director. With his first film Hum Ek Hain in 1946, he continued to be a pivotal part of Indian cinema for over six decades. His first big film was Ziddi (1948).

After Ziddi's success Dev Anand decided he would start producing films. In 1949, he turned producer and launched his own company Navketan, which has produced 31 films till date and continues to produce movies even today.

Dev Anand's Baazi (1951) with Geeta Bali and Kalpana Kartik was a trendsetter for the spate of urban crime films that followed in Bollywood in the 1950s.

During the making of film Taxi Driver, Dev proposed marriage to his heroine Kalpana. In 1954 Taxi Driver was declared a hit while the two tied the knot in a quiet ceremony.

A rapid-fire style of dialogue delivery and a penchant for nodding while speaking became Dev's style in films like House No. 44, Pocket Maar, Munimji, Funtoosh, C.I.D. and Paying Guest. In the fifties his films were based on mystery or light comedy love stories or were films with social relevance like Ek Ke Baad Ek and Funtoosh.

His style was lapped up by the audience and was widely imitated. He starred in a string of box office successes for the remainder of 1950s.

He won his first Filmfare award for 'Best Actor' for the film Kala Pani in 1958.

He was also successful in tragic films like Pocketmaar (1956), Kala Pani (1958), Bombai Ka Babu (1960) and Sharabi (1964), and also played negative roles, Jaal (1952).

---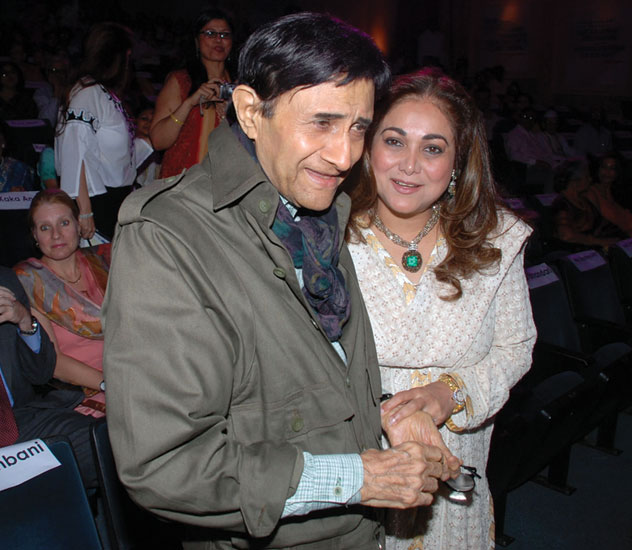 (Above): Dev Anand seen here with Tina (Munim) Ambani at the 2008 Harmony Awards

---
Apart from his pair with Suraiya and Kalpana Kartik, his pair with Nutan and Waheeda Rehman was widely popular in the late 50s and 60s. His films Rahee and Aandhiyaan, were screened along with Raj Kapoor's Awaara. From the early 50s till mid 60s, the trio of Dilip Kumar, Raj Kapoor and Dev Anand ruled the roost.

"An era has come to an end. Dev Anand leaves a void never perhaps to be filled again. He never gave up belief, his joy of life," tweeted Amitabh Bachchan upon the news of his death, Dec. 4.

In the sixties, Dev Anand acquired a romantic image with films like Manzil and Tere Ghar Ke Samne with Nutan, Kinaare Kinaare with Meena Kumari, Maya with Mala Sinha, Asli Naqli with Sadhana Shivdasani, Jab Pyar Kisise Hota Hai and Mahal with Asha Parekh and Teen Deviyaan opposite three heroines Kalpana, Simi Garewal and Nanda.

Slim and fit, Dev Anand continued to look much younger for his age, even in the late 60s and 70s, giving many popular films till 1990 as a leading man.

In his first color film, Guide with Waheeda Rehman, combining style with substance, he gave an affecting performance as a man grappling with his emotions in his passage through love, shame and salvation.

He reunited with Vijay Anand for Jewel Thief, a thriller starring Vaijayantimala, Tanuja, Anju Mahendru, Faryal and Helen. Their next collaboration, Johny Mera Naam (1970), again a thriller, where he paired opposite Hema Malini was a huge success.

His directorial debut, the espionage drama Prem Pujaari, was a flop but has nonetheless developed a cult following over the years. Hare Rama Hare Krishna (1971) starring Zeenat Aman, who played the mini-skirt sporting, pot-smoking Janice, became an overnight sensation, and the film about the prevalent hippie culture was one of the biggest hits in the history of Indian cinema. Dev Anand also became known as a filmmaker of topical themes. This same year, he starred with Mumtaz in Tere Mere Sapne, an adaptation of A. J. Cronin's novel, The Citadel.

In the 1970s, some films with Dev Anand as the leading man – three each opposite Hema Malini and Zeenat Aman and, Yeh Gulistaan Hamara with Sharmila Tagore became flops and posed a threat to his career as leading man. But he delivered hits again and romanced young heroines Yogita Bali and Rakhee in Banarasi Babu (1973), Hema Malini in Chhupa Rustam (1973) and Amir Garib (1974), Zeenat Aman in Heera Panna (1973), Warrant (1975) and Darling Darling (1977).

---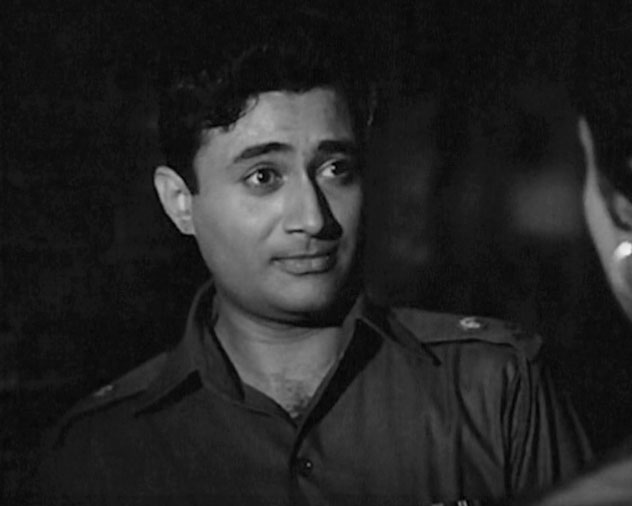 (Above): Dev Anand in a scene from "Hum Dono."

---
The presence of his 'discoveries' in the 70s — Zeenat Aman and Tina Munim in films and his good chemistry with beautiful young stars like Rakhee, Parveen Babi, Hema Malini, Zeenat Aman in various films boosted Dev Anand's image as the evergreen star even though he was well into his fifties.

The 1978 hit Des Pardes, directed by Dev Anand was actress Tina Munim's debut film. This film's success gave him the tag of "evergreen hero." He was 55 but he shared very good chemistry with the 20-year-old Tina Munim.

His successful run at the box office continued in the 1980s with Man Pasand, Lootmaar (both opposite Tina Munim), and Swami Dada (1982).

Films with Dev Anand as the lead hero Hum Naujawan (1985), Lashkar (1989) and Awwal Number (1990) where Dev Anand costarred with Aamir Khan, were average grossers and appreciated by critics. He was already sixty years old in 1983 when he acted with Padmini Kolhapuri in Swami Dada, though he did not look old. In 1989, his directorial venture Sachche Ka Bolbala was released but it was a commercial failure.

Since the 1990s, except for Awwal Number, the rest of the eight films directed by him were box office failures. But Sau Crore (1991) and Censor (2000) were critically acclaimed.

Dev Anand has directed 19 films and produced 31 films of which seven directorial ventures and 18 films were commercially successful. He wrote the story for 13 of his films. Critics say his directorial ventures have always been ahead of their time. Dev Anand's films are well known for their hit songs.

---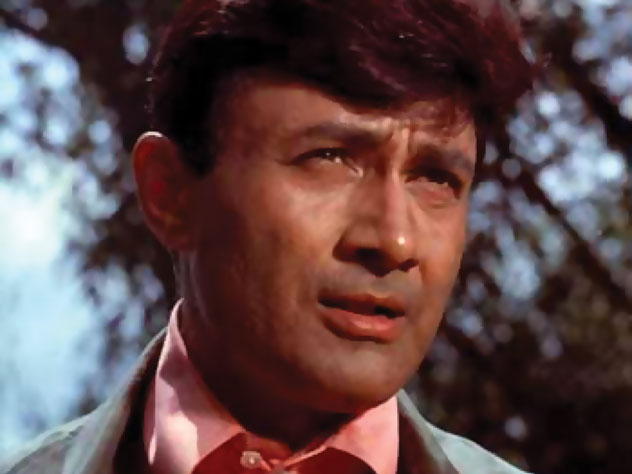 (Above): Dev Anand in the late 1960s.

---
His association with music composers Shankar-Jaikishan, O.P. Nayyar, Kalyanji-Anandji, Sachin Dev Burman and Rahul Dev Burman, lyricists Hasrat Jaipuri, Majrooh Sultanpuri, Neeraj, Shailendra, Anand Bakshi, and playback singers Mohammad Rafi and Kishore Kumar produced some very popular songs.

S.D. Burman, R.D. Burman, Rafi and Kishore Kumar were his special friends.

In September 2007, Dev Anand's autobiography "Romancing with Life" was released.

Dev Anand is credited with introducing actors like Jackie Shroff in Swami Dada, Tabu in Hum Naujawan and Richa Sharma and encouraging music composer Rajesh Roshan. Amit Khanna, who started his career with Navketan as executive producer in 1971 and was Dev Anand's secretary in the 70s, said, "The uniqueness of Navketan today is that it's the only film company in the world still run by the one who started it."

He continued to direct almost until his death, releasing his last film, Chargesheet, in September.
Dev Anand is survived by his wife, a son and a daughter.

Parts of this article adapted from Wikipedia. (www.wikipedia.org)