BOLLYWOOD | Film Review
Breezy Entertainer: Desi Boyz


Directed by: Rohit Dhawan
Music by: Pritam
Starring: Akshay Kumar, John Abraham, Deepika Padukone, Chitrangada Singh, Sanjay Dutt, Anupam Kher, Omi Vaidya.

Reviewed by: Joginder Tuteja
Rating: *** (Good)

---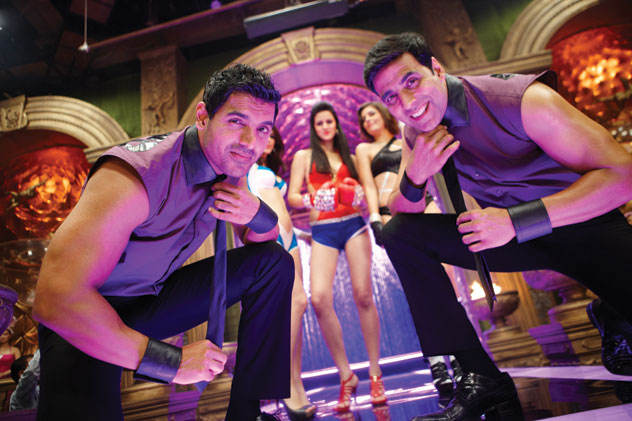 (Above): John Abraham and Akshay Kumar in "Desi Boyz."

---
Now this one has to be one of those rarest of rare instance of a film that has been certified 'A' without an ounce of nudity, foul language or an element of violence in it. While this is pretty much something that makes one wonder what was the big fuss around the adult content of Desi Boyz, the fact remains that the film is instead a breezy entertainer that not just keeps the smiles on for most part of the narrative but also results in moist eyes due to it's emotional content. By moist eyes, it doesn't necessarily mean that there is rona-dhona stuff involved. Instead there is a sense of happiness and exhilaration that defines the true spirit of Desi Boyz.

As has been pretty much conveyed in the promos of the film, Akshay Kumar and John Abraham play friends who reluctantly take on the profession of male escorts once Sanjay Dutt offers them this opportunity to make a living in recession-ridden times. However what comes as a pleasant surprise to the audience is that this element just remains at the peripheral with quite a few other elements that describe the true essence of Desi Boyz.

So what one gets to see is some true friendship between Akshay and John, the love story involving John and Deepika, some paternal sentiments between Akshay and his nephew and a naughty romantic-cum-educational rendezvous between Akshay and Chitrangda. All of this is pretty much peppered with Anupam Kher's bonding with John and an extended cameo by Omi Vaidya, which makes this two hour affair a racy ride that keeps then momentum on till the culmination of end credits roll.

---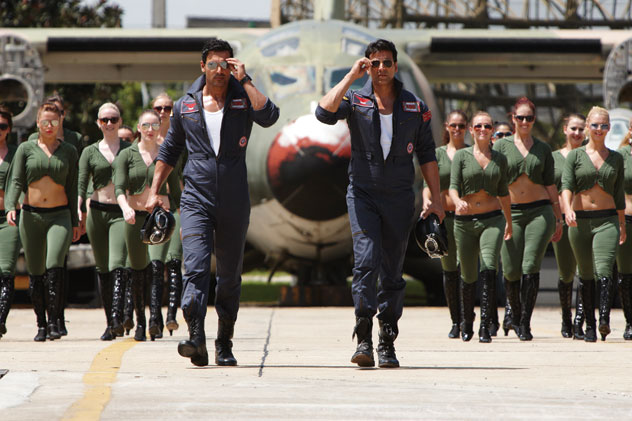 (Above): John Abraham and Akshay Kumar in "Desi Boyz."

---
Moreover Sanjay Dutt's presence brings in the much enjoyable macho element while Chitrangda's small, but interesting part brings in crowd friendly moments too.

Moreover there are emotional bits too with smiles and moist eyes guaranteed in each of the scenes where the kid appears with Akshay.

Thankfully none of it is overdone while the kid too doesn't get into a filmy zone, hence making one relate to the moments on screen. Ditto for the scenes where Akshay and John have their fair share of conflicts and arguments. Quite often it is seen that such sequences border on being overtly dramatic and take a tried and tested route.

However none of that really happens in 'Desi Boyz' as treatment here is restrained and the kind that never goes over the top. Same holds good for the John and Deepika episode as well where there is a heart break for sure but it never borders on being melodramatic or stretched.

This is where the light-hearted portions of the film come in handy.

---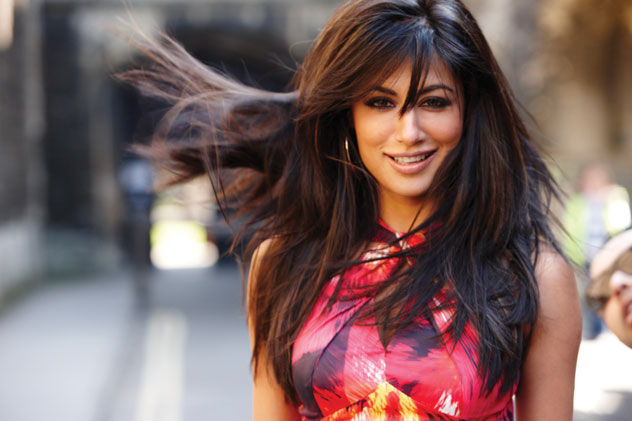 (Above): Chitrangada Singh in "Desi Boyz."

---
Even though the 'Desi Boyz' team has been playing safe by claiming that it is a dramedy with drama as well as comic elements, the fact remains that there are ample comic elements interspersed in the narrative. Whether it is the 'flashback' bar sequence, Akshay and John's first ever meeting with Dutt, Omi Vaidya's introduction, John's sequences with Anupam Kher or the strip-study session with Chitrangda, there is laughter guaranteed at regular intervals. Also a special mention for the end credit rolls where the bloopers are thoroughly enjoyable and ensure that you watch the movie till the last name is displayed on screen.

Any sore points here? Well, the threat sequence at Satish Kaushik's office during the pre-climax isn't just a direct lift from a television commercial, it also sticks out (for all the wrong reasons) as being totally unreal in a film which was meant to be believable.

Also, the courtroom sequence is a little stretched and though the Sanjay Dutt re-introduction does carry a spark, it could have been curtailed a little.

However such portions constitute for only 8-10 minutes of the whole film which otherwise has it's first as well as the second half thoroughly enjoyable. Meanwhile what ensures that fun never stops for all the desi audience are chartbuster tracks like "Main Tera Hero," "Desi Boyz," "Allah Maaf Kare" and "Jhak Maar Ke" adding on to paisa vasool treatment. Full credits to Pritam here.

---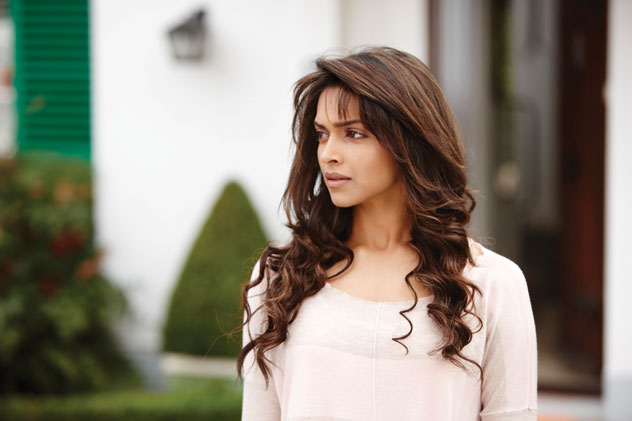 (Above): Deepika Padukone in "Desi Boyz."

---
Technically too the film is top notch as it bears a rich look throughout, boasts of eye catchy visuals, has a controlled background score that is never too loud for comfort and has eye catchy sets, especially during the songs.

Performances too are fairly good all the way with Akshay and John leading the pack in the true spirit of being the desi boys. This time around instead of getting into Tom & Jerry mode a la Garam Masala, they are more of partners-in-crime which makes their association all the more adorable. Akshay is quite good while delivering a controlled performance where he doesn't go overboard even once. On the other hand John shows his flair for comedy not just in his scenes with Akshay but also Deepika, especially in the second half. Deepika plays her part well and looks like a million bucks while Chitrangda holds her own in a small yet striking appearance in the second half.

What really works in favor of Desi Boyz is the fact that it has a definite story to tell. A subject like this could have been tested frivolously but first time director Rohit Dhawan has ensured that he throws in quite a few bits and pieces of everything to make it one masala affair. A set up like Desi Boyz may have seemed like all fun and no seriousness had Rohit chosen so. However the young man definitely seems to be confident in his very first venture as a result of which he also brings in enough moments that work for the young as well as not-so-young audience.

---
Joginder Tuteja is a Bollywood writer based in Mumbai, India.