EDITORIAL: Embracing Solar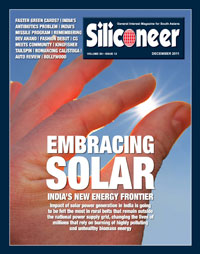 India is all set to emerge as a major solar power generator, third in rank after the United States and China. Experts estimate that solar capacity in the country is set to rise from a mere 50 MW in 2010 to nearly 10 GW in the next five years.

The impact of solar power generation is going to be felt the most in rural and backward belts that remain outside the national power supply grid, thus changing the lives of millions that rely on burning of highly polluting and unhealthy biomass energy, Siddharth Srivastava looks at the promising changes that this new energy frontier can bring for India's rural population. The challenges are evident but the results reaped by exploring this new frontier clearly outweigh the challenges.

Individuals from India and China who provide to most high-skilled jobs in the U.S. often have to wait up to 10 years for a green card due to the per-country cap.

The High-Skilled Immigration Act, aims to correct such imbalances by switching to a first come, first served system for the roughly 140,000 employment-based green cards awarded each year, attorney Mahesh Bajoria opines.

Indians have been in long wait for years. Any legislation in reducing this wait is a welcome sign in bringing security and stability to all those who have found it hard to make decisions like buying a home or planning for their future.

India has two diametrically opposed problems when it comes to antibiotics: many people die because they do not have access to antibiotics, while others contribute to the spread of antibiotic resistance when they overuse these drugs in situations where antibiotic use is not warranted, writes Alice Easton.

Earlier this month, India successfully tested the surface to surface 3,500 Km range Agni-IV ballistic missile setting the platform to acquire Inter Continental Ballistic Missile (ICBM) capabilities via the Agni-V that brings even northern China into range, writes Siddharth Srivastava.

Bay Area fashion designer Dipti Irla debuted her Spring 2012 collection at the Mercedes-Benz Fashion Week in New York last September. She relates her experience as an ethnic debutante to Siliconeer.

The new Consul General of India in San Francisco, N. Parthasarathi, met with the Indian community at ICC in Milpitas, Nov. 17. Parthsarathi spoke on a variety of issues, taking questions and comments from the community, while talking about steps he would be taking to ensure a better experience at the Indian Consulate in San Francisco.

Siliconeer was there and presents excerpts from his talk at ICC.

Last month, when Kingfisher Airlines canceled 40-50 flights on a daily basis, announced a 16th straight quarterly loss in mid-November, and asked for fresh loans from banks and allegedly even government assistance, the markets reacted sharply sending the share price of Mallya's seven publicly traded firms plummeting down.

Not surprisingly the chairman blamed the dismal state on sundry issues ranging from high inflation to soaring fuel costs, to import of aviation turbine fuel, excruciating government taxes, rupee devaluation, mandatory flying along low profit making routes, etc.

Critics have been hurling brickbats on this high risk taker, "flamboyant" businessman known for a lavish lifestyle that eclipses even India's emergence as an economic power house. They hold the extravagance of India's very own 'Richard Branson,' duly christened as "the king of good times," largely responsible for the mess that he is in, writes Priyanka Bharadwaj.

Beyond the traditional amenities of Calistoga, there's a surfeit of activities and venues to enjoy. Calistoga boasts one of the really intriguing must see stops in the Sharpsteen Museum that uniquely illustrates the history and lifestyle of the region. For equestrian lovers there's the Valley Classic showcasing top amateur and professional riders. More environmentally grounded are Old Faithful Geyser and Petrified Forest, writes travel editor Al Auger.

Legendary actor, director and film producer, Dev Anand, 88, died in London, Dec. 4 of cardiac arrest. Too many feathers in one cap, but he wore all of it extremely well. The Government of India honored him with the Padma Bhushan in 2001 and the 'Dadasaheb Phalke Award' in 2002 for his contributions towards Indian cinema. Siliconeer remembers this 'evergreen hero' who was always romancing with life.

The entire team at Siliconeer wishes friends, readers and advertisers a safe and happy holidays!