PEOPLE:
Meeting the Community: San Francisco's New Consul General of India


San Francisco's new Consul General of India, N. Parthasarathi met with the Indian community at ICC in Milpitas, Nov. 17. A Siliconeer report.

---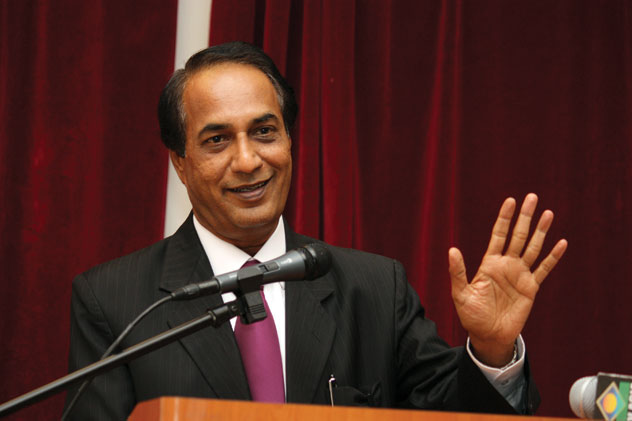 (Above): N. Parthasarathi, the new Consul General of India at San Francisco, talks to the Indian community at ICC in Milpitas, Calif., Nov. 17. [SILICONEER photo]

---
The new Consul General of India in San Francisco, N. Parthasarathi, met with the Indian community at ICC in Milpitas, Nov. 17. He related well with the community being a mechanical engineer himself. Kumar Mallavali, introduced Parthasarathi and welcomed him to the dias.

Parthsarathi spoke on a variety of issues, taking questions and comments from the community, while talking about steps he would be taking to ensure a better experience at the Indian Consulate in San Francisco.

Parthasarathi has been serving with the Indian Foreign Service for 30 years now, serving at various posts at the Indian Missions in countries like Belgium, South Korea, Canada and Pakistan. He started his tenure in San Francisco as the Indian Consul General in September, this year.

After introductions, he began with a small anecdote outlining the outlook that Indians share today as opposed to the 1980s when residing outside of India.

Here are some excerpts from his talk at ICC.

"When I was in Belgium in 1980, I used to walk home and on the way there were some electronic shops on the way. There were always some Indians standing and looking at the shop windows at 2-in-1s (stereos). A policeman would come and ask them, "Indian?" and they would say "Yes, Indian. (As if it was a big mistake being Indian)" The police would then ask "asylum?, come here to seek asylum?" From that to twenty years later, the same street and same shops, the Indian standing and looking at a Walkman in the shop window. The policeman comes and asks the same question: "Indian?" and the person gives the same answer, though in a more definitive and confident way, but this time around the policeman smiles and asks "computer?"

Indians have come a long way since the 80s. Indians today are accepted, appreciated and respected."

---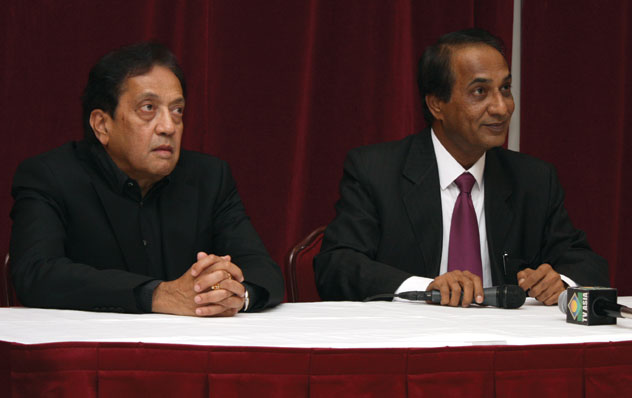 (Above): ICC's Kumar Mallavali looks on as Consul General of India N. Parthasarathi takes questions from the audience. [SILICONEER photo]

---
He also spoke about the challenges that most of us face on a day-to-day basis in our families. Being Indian, we have Indian values and as our children have been born here, they also share the American values. Indians have had to work hard to build our existence and yet we have always had those cherished Indian values watching our every move. The result, our children have followed suit as well.

Today, with Indians becoming an integral part of the global work force, they are accepted and welcomed in societies outside of their own, be it America or anywhere else, the Consul General said, paying tribute to Indians in the Bay Area.

He also appreciated the efforts of an NGO of expat Indians that is responsible for educating 12,000 engineers and doctors back in India, with a pledge from each of those 12,000 to educate two more during their lifetime. Efforts like these will bring the much-needed education within reach of those who are challenged, he pointed.

He also talked about his vision and plans for the San Francisco Indian Consulate.

"We are not here to make your life difficult. We are here to help, there are constraints in the form of rules from Delhi which we have to follow. But what I want to do is to help you in the maximum way possible by slowly trying to flex the rules as required, without actually breaking them," said Parthasarathi. The whole idea was to make the visit to the consulate a pleasant experience.

On Travisa, he said that he was working on plans to make the process smoother, though there is a long way to go.

Setting up a telephone number and email that will have information available and will be responded to as early as possible were some of the changes one can soon see at the Consulate.

He urged people to not to go to agents who promise visas in exchange for money.

We have had financial crisis all over the globe. But all those started in developing countries like the U.S. and Europe.

India despite all this recession continues to grow. Calling U.S. the innovation hub of the world, he suggested that Indians here can become the bridge between the two countries and the growth of their respective economies.

The talk continued with the Consul General going out of his way to bring this point to the people – We want to help. We are improving.

The talk ended with questions from the audience and the consul general giving responses and suggesting next steps after listening to each individual's case.