FASHION
Debut Collection: Dipti Irla at Mercedes Benz Fashion Week


Bay Area fashion designer Dipti Irla debuted her Spring 2012 collection at the Mercedes-Benz Fashion Week in New York last September. She relates her experience as an ethnic debutante to Siliconeer.

---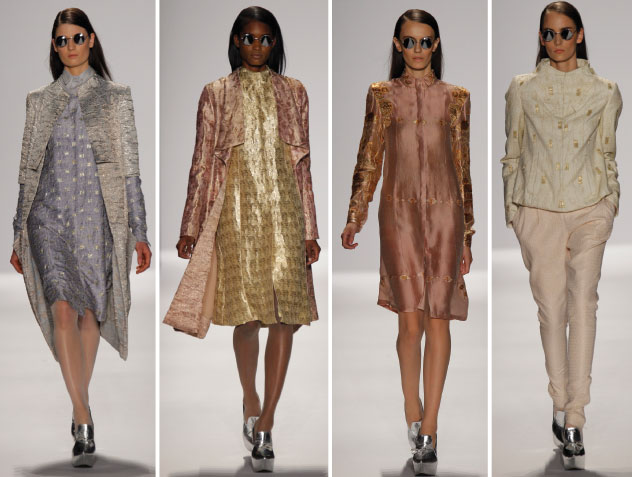 (Above): Top models walk the ramp wearing designer Dipti Irla's creations at the Mercedes-Benz Fashion Week in New York last September.

---
Originally from Maharashtra, Dipti used vintage brocaded wedding sarees for the base fabric of her collection and created a pastel palette by using techniques to 'lift' the intense colors from the sarees. Dipti earned her undergraduate degree at NIFT Gandhinagar before designing in Mumbai and later coming to San Francisco to study for her Master's degree in Fashion Design at the School of Fashion, Academy of Art University. 

My inspiration for this collection was the influence of the British culture on India during the colonial period. I had been working on recycling fabrics in my portfolio projects, and had used sarees in one of them. That initial project evolved into this inspiration and using sarees as my fabrics for the collection. As I was in the middle of school and unable to return to India at the time, I sourced all of the vintage sarees from ebay. I had to experiment on a number of sarees before finalizing the ones which I used in the collection. The ones that I used are very rich in textiles – especially the brocade.

To create a specific and uniform color palate for the collection, I used a dye remover to tone down the original, bright colors of the sarees so that they were apt for showcasing in New York. I also experimented by turning some of the saree fabrics and using the back sides, which helped to make the patterns more abstract. I took references from men's wear to give a modern edge to the vintage brocade sarees.

---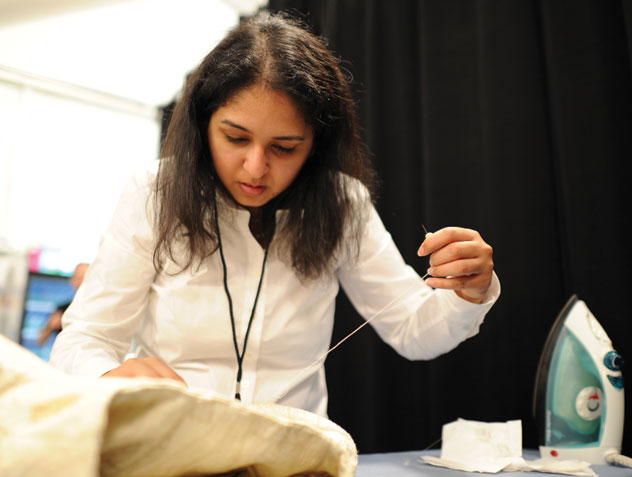 (Above): Designer Dipti Irla giving final touches to her collection before the Mercedes-Benz Fashion Week show.

---
During my education, and especially during the process of creating a collection to show at Mercedes-Benz Fashion Week in New York, my knowledge about making clothes and about designing grew significantly. For my undergraduate degree, I had also made a collection; however, that was only at the school level and showcased for that audience. Following my undergraduate degree, I worked for a retail brand for three years.

The experiences were quite different and I believe both helped me to be more receptive towards the instruction and expectations at the School of Fashion, Academy of Art University.

Having a variety of skilled teachers at Academy of Art University improved my design and technical skills. The international exposure (the opportunity to pursue fashion education in the U.S.) has also helped to broaden my mind.

---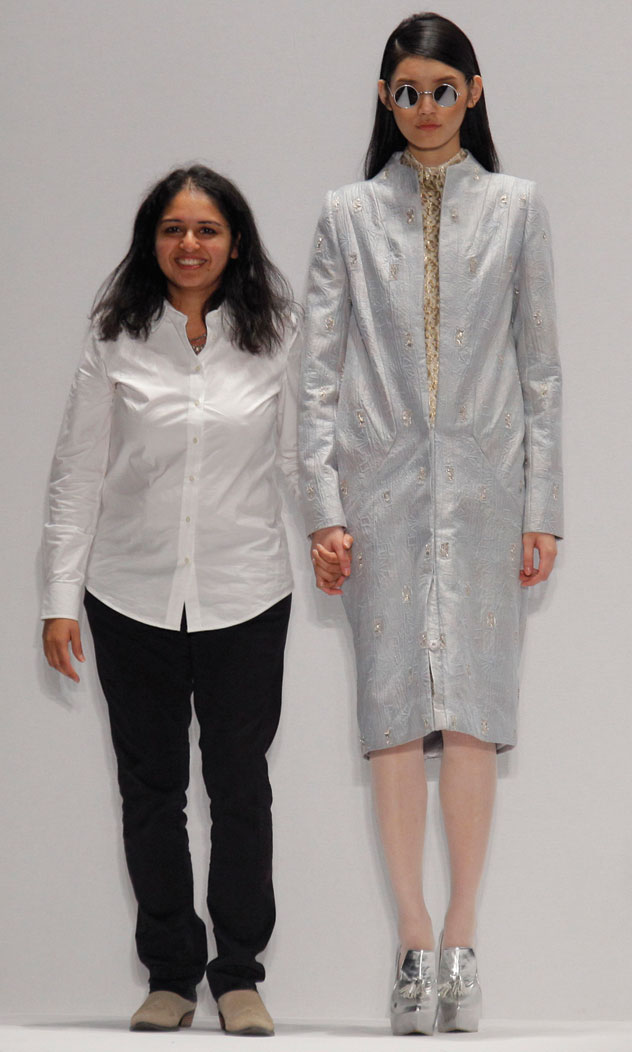 (Above): Designer Dipti Irla walks the ramp with a model displaying her creation at Mercedes-Benz Fashion Week.

---
Showcasing my collection at Mercedes-Benz Fashion Week was an amazing experience – an incredible and positive way to end my Master's-level education. The amount of work and the process of developing my collection was equally thrilling. The preparation for and backstage experience of showing in New York also provided insight into professional fashion show production and media coverage – something a young designer rarely has the opportunity to be a part of.

The director of the School of Fashion produces the show each season and all of the instructors involved in supporting the show seem to do so perfectly. We (the graduate designers) were also very fortunate to have such great line-up of models for the show.

I have always wondered about the life of a model, so I enjoyed being able to talk to one of the well-known models who closed my collection, Ming Xi.

I was pleasantly surprised to learn that she is thinking about pursuing a career in art!