COMMUNITY | News Briefs


PULSE Charity Concert
New President
Administration Post
British Embassy Diwali
---
PULSE Charity Concert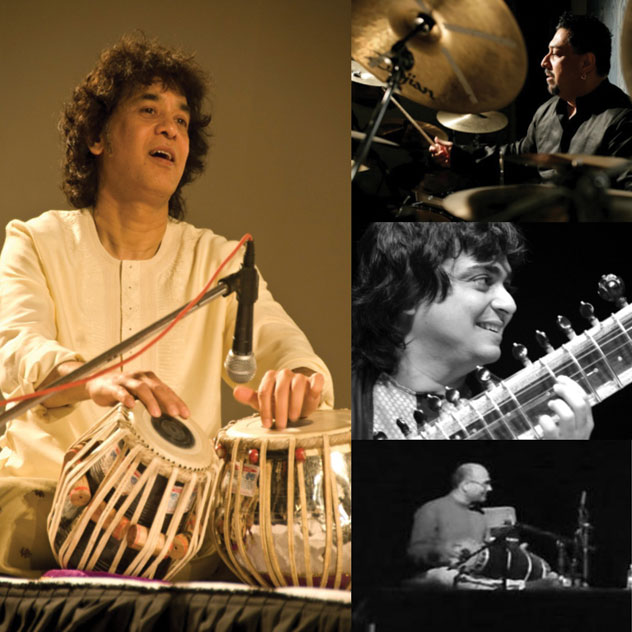 (Above, clockwise from l): Ustad Zakir Hussain, Ranjit Barot, Pandit Kartik Kumar, and Sridhar Parthasarathy.
---
PULSE is an musical extravaganza of percussion and melody featuring some of the greatest artists. Symbolizing lifeline, PULSE has its own rhythm keeping time and pace naturally in reaction to the state of mind. From a regular, slow pace to an anxious, excited pace, the PULSE reflects human emotions. The juxtaposition of rhyme and rhythm will transport listeners to another world of magical excitement.

Proceeds will be donated to Shree Ramanugrah Trust, according to a press release.

The concert features four heavyweights of Indian classical and fusion music:

Ustad Zakir Hussain, tabla; Ranjit Barot, drums; Niladri Kumar, sitar; and Sridhar Parthasarthy, mridangam.

A child prodigy of Indian classical music, Zakir Hussain today is the most popular artist in the world. Initially groomed under the tutelage of his father, the legendary tabla maestro late Ustad Allarakha, Zakir has mastered the very nuance of tabla.

Ranjit Barot is an Indian film score composer, music director, music arranger and singer. His mother is the renowned Kathak dancer, Sitara Devi.

The son and disciple of Sitar maestro Pandit Kartik Kumar, is a maverick musician. Niladri's flashes of unparalleled brilliance is a result of years of learning and a lineage of five generations of sitar players.

Sridhar Parthasarathy has been studying the mridangam since the age of six as a disciple of Vidwan Shri. Karaikudi R. Chandramouli. He regularly performs with rhythm ensembles headed by Zakir Hussain, Louis Banks, Ranjit Barot, and Niladri Kumar. He recorded and performed for the 'Miles from India' album produced by Bob Beldon in 2008.

The event is conceptualized by Mumbai-based Virendra Shankar of NGB Entertainment Company.

TOP|

---
Appointed As New President

Dr. Nariman Farvardin was inaugurated as the seventh president of Stevens Institute of Technology. Numerous dignitaries joined the faculty, staff, students, and alumni assembled for Dr. Farvardin's installation, including Dr. Steven Chu, the U.S. energy secretary, Dr. Jeong Kim, the executive vice president of Alcatel-Lucent and president of Bell Labs, Kim Guadagno, the lieutenant governor of New Jersey, and Dawn Zimmer, the mayor of Hoboken.

Formerly the provost at the University of Maryland, Farvardin is an accomplished electrical and computer engineer, professor and entrepreneur who led his own technology startup company. He became president of Stevens on July 1.

Founded in 1870, Stevens Institute of Technology, lives at the intersection of industry, academics and research. The University's students, faculty and partners leverage their collective real-world experience and culture of innovation, research and entrepreneurship to confront global challenges in engineering, science, systems and technology management.

TOP|

---
Administration Post

President Barack Obama announced his intent to nominate Arun Majumdar to the post of Under Secretary of Energy, Department of Energy.

Dr. Arun Majumdar has served as the director of the Advanced Research Projects Agency-Energy (ARPA-E) since 2009. Previously, he was Associate Laboratory Director for Energy and Environment at Lawrence Berkeley National Laboratory and a professor of mechanical engineering and materials science and engineering at the University of California, Berkeley. His research career has focused on the science and engineering of energy conversion, transport, and storage, ranging from the molecular and nanoscale level to large energy systems. He has served on the advisory committee of the National Science Foundation's engineering directorate and the President's Council of Advisors on Science and Technology. Dr. Majumdar was elected a member of the National Academy of Engineering in 2005. He received his Bachelor's degree in Mechanical Engineering from the Indian Institute of Technology, Bombay in 1985 and his Ph.D. in 1989 from the University of California, Berkeley.

TOP|

---
Diwali at British Embassy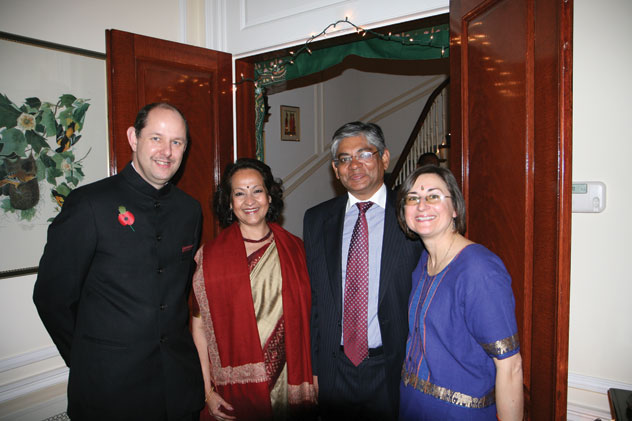 (Above): Deputy Ambassador Philip Barton with his wife Amanda, Ambassador Arun Singh, DCM Indian Embassy and his wife Maina Chawla.
---
The British Embassy in Washington held a Diwali reception Nov. 8 to celebrate the Hindu, Jain and Sikh Festival of Lights. More than 100 contacts from government, embassies, the business community and the NGO sector attended. Philip Barton, Deputy Ambassador at the British Embassy hosted the event at his home and delivered remarks highlighting the UK-India cultural and trade links and celebrating his personal ties to the subcontinent.

Guests also enjoyed a performance by the University of Maryland's A Capella ensemble featuring Hindi and English fusion songs.

|TOP|