BUSINESS
Turbulent Times: Kingfisher in a Tailspin


The Indian aviation industry is undergoing turbulence once again and Kingfisher Airlines, belonging to billionaire liquor baron Vijay Mallya, is knee deep in the red, writes Priyanka Bhardwaj.

---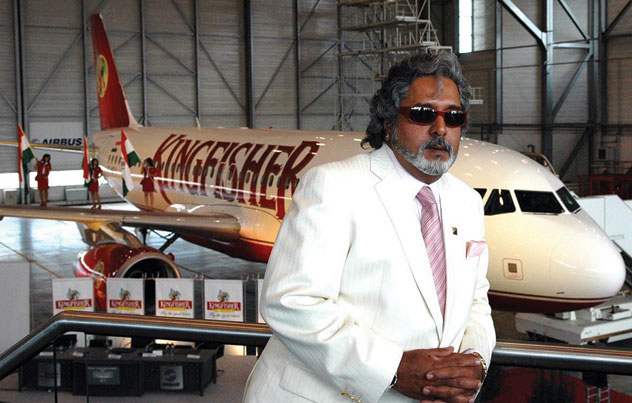 (Above): Kingfisher Airlines chief Vijay Mallya
---
Last month, when Kingfisher Airlines canceled 40-50 flights on a daily basis, announced a 16th straight quarterly loss in mid-November, and asked for fresh loans from banks and allegedly even government assistance, the markets reacted sharply sending the share price of Mallya's seven publicly traded firms plummeting down.

The same private carrier that posted a loss of Rs.10.27 billion in 2010-11 has debts touching the Rs.70.57 billion mark.

Not surprisingly the chairman blamed the dismal state on sundry issues ranging from high inflation to soaring fuel costs, to import of aviation turbine fuel, excruciating government taxes, rupee devaluation, mandatory flying along low profit making routes, etc.

Analysts quote that Kingfisher's running debt amounting to $1.5 billion, unpaid government taxes of over $83 million and defaults on loan payments of over $292 million in first week of January of this year had compelled the airline to cut down employees' salaries.

With rising rupee depreciation and fuel costs, losses are only expected to compound further.

Sure enough experts and industry insiders had seen the crisis coming for sometime as the airline indulged in nonstop borrowing from banks and other market sources for grand aircraft acquisitions, Air Deccan merger and covering up of its cash losses just when parent firm UB Group also shopped for substantial local and foreign spirit firms, and then forcibly converted its debt into equity.

While there is much truth in all of the above accusations, critics have been hurling brickbats on this high risk taker, "flamboyant" businessman known for a lavish lifestyle that eclipses even India's emergence as an economic power house.

They hold the extravagance of India's very own 'Richard Branson,' duly christened as "the king of good times," largely responsible for the mess that he is in.

While speaking for himself, Mallya has never had any qualms about his over-the-top glamorous parties attended by Bollywood bigwigs, luxurious homes, or his private jet or 311 ft luxurious yatch, ownership of an IPL team, India's only Formula One team, some football teams and a fleet of vintage cars, production of an annual Kingfisher calendar featuring bikini-clad models, and personal selection of flight stewardesses or their short red skirts.

---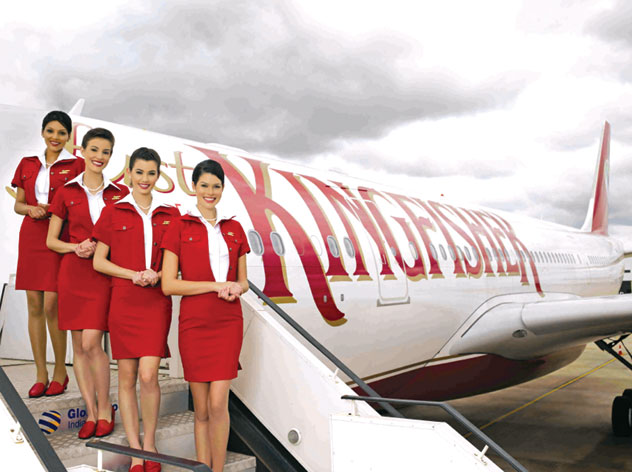 (Above): Stewardesses of Kingfisher Airlines, which is considered as a premium airline in India.

---
Critics point that if he had been on some other foreign land and his airline would have quoted such financial results most likely his assets would have been sold off.

But then this would never happen in India, as they say, where Mallya enjoys an enormous political clout to ensure a bailout of the firm time and again.

When Indian Prime Minister Manmohan Singh assured Kingfisher of a bailout, the industry, opposition political parties, experts and larger public were appalled by the offer of a bailout branding it as 'privatization of profits and socialization of losses.'

It cannot be forgotten that it was the same Prime Minister who stood his ground for market determination of petrol (gas) prices in the midst of all opposition.

As a matter of fact bailouts are nothing new in the Indian scenario where large employers like unprofitable state carrier Air India, whose debt obligations totaled $3.8 billion towards aircraft loan repayments till 2020, has received Rs.32 billion ($625m) in government bailouts and has asked for another Rs.65 billion before end of ongoing fiscal year.

Therefore, however difficult it may sound, a part solution could be infusion of continuous fresh equity as guaranteeing Kingfisher's debt way beyond its marketable assets by profit making UB Group would be suicidal.

Mallya's fund raising capacity has been greatly compromised as evident from disclosures to Securities and Exchange Board of India that reveal most stakes of the airline already pledged as collateral for loans.

Attempting to prevent any closure, Kingfisher has been taking some measures even as Mallya clarified that his airline sought help of banks to raise short-term funds as working capital and interest concessions and not bailout from government.

Sources say that the airline has assured the Director General of Civil Aviation of its intentions to resume normal flight schedules in coming 3-4 months, along with postponing import of engines and rationalization of routes.

The airline's business model has been recast by doing away with low-cost operations and converting all economy planes into two-class ones, catering to business segment.

Meanwhile efforts to raise funds worth Rs.8 billion to Rs.10 billion for the beleaguered airline are in full swing.

The big question here is whether Mallya's flights will remain flying?

The positive outcomes of this Kingfisher crisis are that the government has been forced to take a hard look at ground realities of Indian aviation sector that is essentially a capital intensive business with returns of just 3-4 percent even for a highly efficient airline even in the best of times.

While there may be no escape in bailouts of firms that work on unviable business models and contrary to market conventions, government interventions for systemic reforms such as reduction of ATF taxes, interest rates, customs duty and navigation charges, and improvement of infrastructure would be sure steps forward.

There has also been a rethink along the lines of liberalizing the sector by allowing foreign airlines to invest in domestic carriers.

If one goes by an estimate that anticipates passenger traffic to soar to about 540 million by 2025, fleet size of airlines to expand to 1,500 from 430 at present, cargo traffic to reach 9 million tons from 2.33 last year, investments would have to cross $30 billion mark.

Except Indigo, all airlines in the country have been in a tight financial spot and posted a loss of about Rs.35 billion in the first half of the ongoing fiscal year and an annual loss of about Rs.29 billion in last financial year.

Considering such challenges coming in way of an expanding economy the entire aviation system calls for a complete revival, beginning with a revamp at the policy level and moving on to an optional auction of bankrupt entities.