CINEMA
My Films Reflect My Life: Aniruddha Roy Chowdhury


Bengali movies are rarely filmed completely abroad and only one has been filmed start to finish in California. Aniruddha Roy Chowdhury was in the Bay Area shooting his third film "Aparajita Tumi." Nandini Pal talked with him about his creative stimuli.

---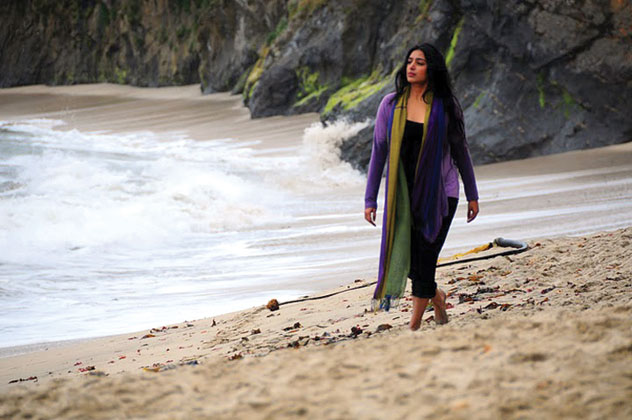 (Above): Padmapriya in a scene from "Aparajita Tumi" at Carmel Beach, Calif. (Photo: Rana Bose)

---
National Film Award-winning director Aniruddha Roy Chowdhury decided to make his third film in California.  It didn't happen overnight. The film was conceived even as Chowdhury was making his debut with Anuranan in 2006. It gestated as he worked through his next Antaheen in 2009, and will bear fruit this year as Aparajita Tumi. The film continues Chowdhury's theme of relationships: complex, yet incredibly familiar relationships that twine together, are unraveled and interwoven again to recreate the tapestry of life. Tony, as Aniruddha is affectionately known by his friends, creates his films out of moments, sequences of events, and emotions that culminate from these. "That is why my films are so meaningful to me," he says in this conversation about his creative passion, his early life and inspirations.

Although this is your third film, you already have 10-12 film ideas ready for production. What genre of filmmaking would you like your legacy to be?

Anuranan, Antaheen and Aparajita Tumi are all about relationships and have close parallels with my life. I don't consciously seek to make different types of films. I must fall in love with a subject. There must be an overwhelming urge. It's like holding somebody's hand. I can't just grab the hand of anyone who sits next to me. I have to like the person, know the person, and the person has to like me. A chemistry has to form between us, a resonance, a reverberation, a pulsation must be created. That is how I can make films.

---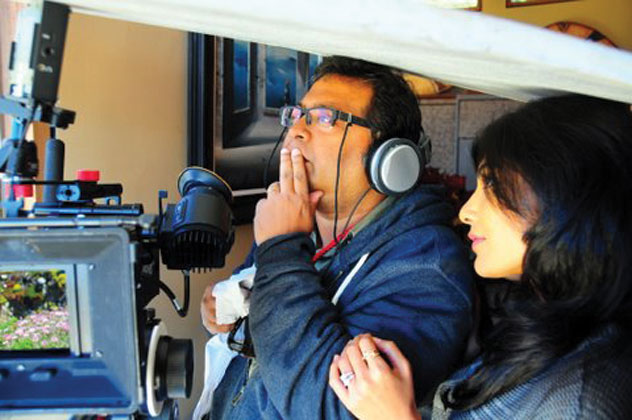 (Above): Aniruddha Roy Chowdhury (l) and Kamalinee. (Photo: Rana Bose)

---
I started making films very late, in my forties. This is just my third film. There is not much else I can or want to do. I feel such a passion for my films that nothing else is meaningful, not even life, if I cannot make them. I feel a physical discomfort, like I am ill. It is exactly like being in love. Just not being able to hold the hand of one's lover or to wrap your arms around your paramour can bring about intense feelings of deprivation. That is how I feel about the films I make.

I do someday want to make a thriller and a children's film—I have thought often about making Bibhutibhushan Bandopadhyay's Chander Pahar. I wish Steven Speilberg produces that film!

Your themes are urban and your characters are from very affluent strata of society. Is it correct to assume that this reflects your life experience?

Not at all! Very much to the contrary! I come from a very ordinary middle class background: on the lower trough of the middle class. In my youth, I have studied under the light of hurricane lamps. We did not have electricity. We did not have a bathroom inside the house. I have travelled second class and third class on trains. I never earned any money till I was 30 years old. But I have no regrets; I believe it has been institutional in my learning. When my father's business failed, we went right back to basics and really struggled. My father and his family had come as refugees from Bangladesh. Even today, I get feverish when I recall those days.

---

(Above): Prosenjit getting make-up fixed by Subhas. (Photo: Rana Bose)

---
But yes, I have seen affluence. My films paint a richness in content and on the canvas. In Kolkata, I attended a school where my co-students were upper middle class. I have always seen opulence. In fact, I believe that it is my great misfortune never to have seen drops of rain or dew on foliage in villages. Instead, I have watched raindrops through aluminum windows. I do want to make films that are more rooted. I have often thought of making a film set in a village but I have never experienced rural Bengal life. I am working on a film Aparupa which grows out of a village. I find a lot of emptiness in many things. Mountains draw me to them, oceans invoke my sorrow and tears, and I feel strong connections with nature. But I don't want to do something which seems fake. Yes I am an urban filmmaker because I grew up in Kolkata and Bombay. Many of my friends have migrated to England, to America, and that reflects in my films. A lot of people have asked me about how Kalyan Roy's character in Antaheen really lives. It is exactly how it is portrayed in the film. This is how we middle class people live: the same high rise buildings, the same aluminum painted windows, the same way to drink coffee: This is the Kolkata of today. The image of "Calcutta" as something dingy, really dirty, is no longer true. Kolkata is very beautiful.

What appeals most to you in a woman? How do you bring this to the screen?

Her eyes. I get attracted to the eyes of a woman. And how she behaves and talks appeals to me. Nothing else! If you look at Raima in Anuranan--her intensity in the way she looks, her vulnerability of expression, her tentativeness, that's how her love is portrayed. And Rituparna's confidence in the same film is her charm. Both women are absolutely different, yet both appeal. A woman does not have to be polite or subversive. She can be aggressive: but it should have a touch, a statement, poise, an image. That really attracts me. It does not matter if she is sexy or has the right kind of body. When I was younger, I used to fall in love every day. I was besotted with my teacher.

---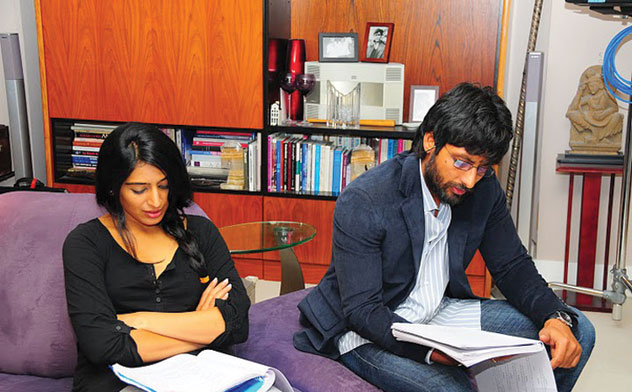 (Above): Padma and Indraneil reviewing the script. (Photo: Rana Bose)

---
I'll tell you a story. I was going to Ranchi with my friends. I must have been barely out of my teens. We were in a bus. We had paid about four rupees for our tickets. In the very last row of the bus, there sat a fisherwoman or vegetable vendor. More than twenty-five years later, I can still see her in my eyes. Rustic, she wore a white sari with no blouse. Her hair was loose and she had really dark skin, like ebony. Her basket was tied behind the bus and periodically she would turn to check if it was alright. Through the entire journey, I turned back to stare at her. I got a crick in my neck and it was as if I was under a burning spotlight.

My friends kept asking me what I was doing and why I was staring at her, but my eyes were just riveted. She was so beautiful. I was exposed at that point of time to a lot of the most "beautiful" women of the country, yet, I have never been so attracted ever in my life. Her hair was unkempt and uncombed, but it gleamed. She never spoke, never smiled, never even looked at me. But there was something that drew me to her. It was resonance, a reverberation: like a leaf that rustles in the breeze.

---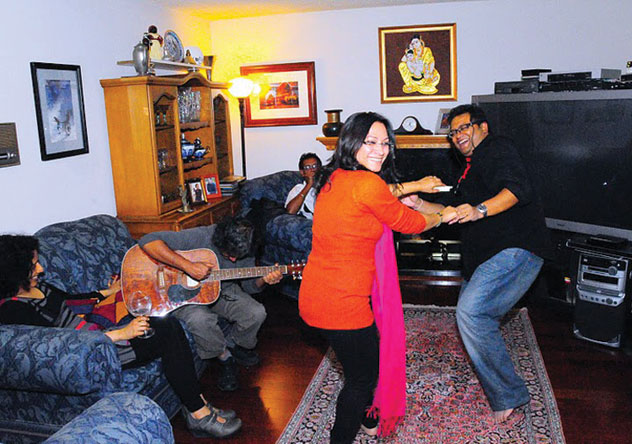 (Above): Indrani and Aniruddha dancing. (Photo: Rana Bose)

---
What is resonance? You cannot say why things happen, how they are ordained. We can't underline things with logic. If I try to put logic in my life, I will lose my innocence. I want to be like a child. It is much better to know too little than too much. I can experience much more without preconceived notions of what is good and bad. I don't want to be a person of opinions. I want to take things, enjoy them, be subjected to them. And let my films emerge from these experiences.