EDITORIAL: India Against Corruption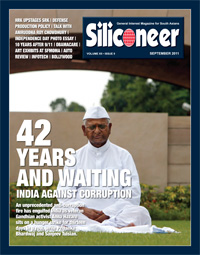 It is the common man's crusade against the entire system. Sounds like a Bollywood movie story, but this is real life. Anna Hazare, now a household name in India, is the man who did what Mahatma Gandhi had done to free India from British rule.

Hazare is fighting to free India of corruption ­­— corrupt officials, corrupt politicians and the corrupt system. Such is the intensity of this movement that the entire nation has formed a uniform voice — "I am Anna."

The agony faced by the common man in modern day India is evident as one can see people from all walks of life, all ages and religious beliefs, come to join this movement as one.

In this month's cover story, Priyanka Bhardwaj and Sanjeev Tulsian talk about the government's actions and this revolution that has swept through the country.

In response to security concerns in the neighborhood and as it emerges as a regional superpower, India has embarked on a grand scheme of defense modernization. A recent study published by the Stockholm International Peace Research Institute places India as the largest importer of arms between 2006 and 2010 and estimates the modernization of the industry at $80 billion. With annual GDP growth rates between 7 and 9 percent in the past decade and the government's commitment to steady investments in military capabilities, India's spending on defense as a share of its GDP has remained relatively steady at 2.5 to 3 percent. Consequently, India's defense budget has grown by 64 percent (in real terms) since 2001 – reaching $36.3 billion in the 2011-2012 budget – and enabled the implementation of long-term acquisition plans.

India therefore possesses both the desire and the ability to make significant strides in modernizing its military. Of the total defense budget, approximately 40 percent ($14.5 billion) is allocated to the defense capital outlay budget, which funds arms procurements, construction and maintenance of installations, additional infrastructure, and other military equipment modernizations.

However, unlike in the past, India hopes that the current military modernization efforts will not rely predominantly on imports. In January 2011, India's Defense Minister unveiled India's first ever Defense Production Policy, write Bharath Gopalaswamy and Guy Ben-Ari.

Bengali movies are rarely filmed completely abroad and only one has been filmed start to finish in California.

Aniruddha Roy Chowdhury was in the Bay Area shooting his third film Aparajita Tumi. "My films reflect my life," said Chowdhury during an interview. Nandini Pal talks with him about his creative stimuli.

The Indo-Pak relations have never been good and the outcome of each meeting is usually the same – none at all. With that said, the new Foreign Minister of Pakistan has managed to pull some serious viewership in Indian media during her recent visit, writes Siddharth Srivastava.

Indian American communities across America marked India's Independence Day with pomp and fervor. However, one visitor had comments about how we can make our surroundings and the land we now call home, a better place. Siliconeer presents a photo essay.

As we mark ten years since the horrific attacks on September 11, America will remember and reflect upon the loss of life on that day. Many communities who call America home have been affected by xenophobic rhetoric. A group of South Asians is working together to ensure that America is true to the fundamental ideals of fairness, diversity and equality.

San Francisco has many musings be it entertainment, seafood or art. Local Francophiles can join us to enjoy the three marvelous exhibitions at SFMOMA, the de Young Museum and the Contemporary Jewish Museum, each centered on art created in bohemian Paris after the turn of the 20th-century, write Natalie Pellolio and Al Auger.