COMMUNITY
10 Years After 9/11: South Asians Look for Solutions


As we mark ten years since the horrific attacks on September 11, America will remember and reflect upon the loss of life on that day. Many communities who call America home have been affected by xenophobic rhetoric. A group of South Asians is working together to ensure that America is true to the fundamental ideals of fairness, diversity and equality. A Siliconeer report.

---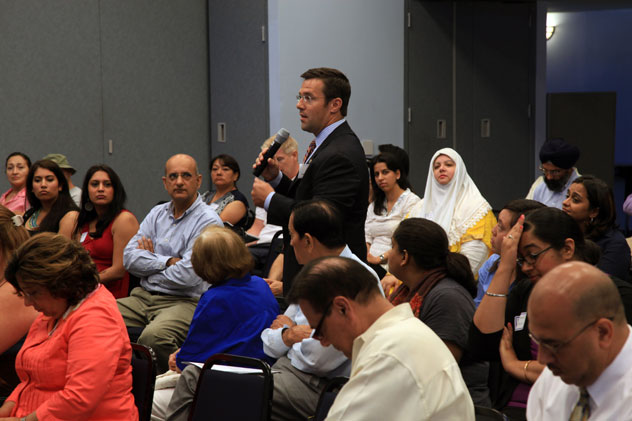 (Above): Community members engaging with the panelists. [Photo: William Hollingsworth]

---
Over 70 community members gathered for a hearing called "South Asians in New Jersey: Ten Years After 9/11" to reflect on the decade since the 9/11 tragedy, and to provide recommendations for moving forward. The hearing, held July 30, in Jersey City, New Jersey, was organized by South Asian Americans Leading Together (SAALT), a national nonprofit organization, as part of its campaign — An America for All of Us — to mark the 10-year anniversary of 9/11.

Community members affected by backlash after 9/11, as well as policymakers, shared stories and examples of positive solutions. Notably, the hearing happened a day after the Board of Education in Passaic, NJ unanimously passed an anti-bullying resolution presented by SAALT. The resolution calls on the Board of Education to enforce the New Jersey Anti-Bullying Bill of Rights, institute a bullying prevention program; and train students and employees around cultural and religious practice sensitivity, among other requirements. Just a week earlier, the Township of Teaneck, New Jersey also passed an anti-bias resolution presented by SAALT.

---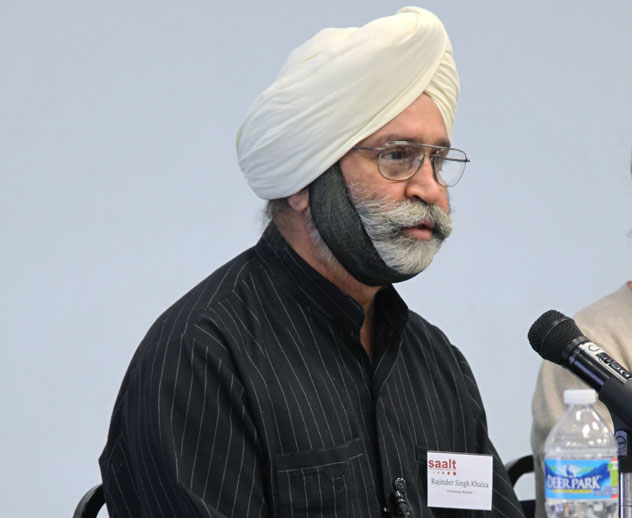 (Above): Community member Rajinder Singh Khalsa [Photo: William Hollingsworth]

---
Divided into three panels, the New Jersey hearing addressed the ongoing struggles of communities impacted by discrimination, racial profiling, Islamophobia, immigration enforcement and hate crimes. A Sikh community member, Rajinder Singh Khalsa gave a disturbing account of how, following the 9/11 tragedy, he was accosted by individuals who insisted that he remove the "dirty curtain" on his head. "We came to America thinking it's all cultures, living together with equal rights. But now we feel, this is a different America," said Khalsa, ending his comments with "God Bless America."

In response, the second panel of advocates provided recommendations on how communities can strengthen their voices and take action. James Yusuf Yee, of the Council on American-Islamic Relations, suggested that a first step could involve replicating the resolutions in Teaneck and Passaic in other municipalities in New Jersey. He recommended that media outlets should cover the subject of intolerance and educate the public about religious practices. Engy Abdelkader from Muslim Women's Lawyers for Human Rights, urged demanding accountability from our elected officials.

---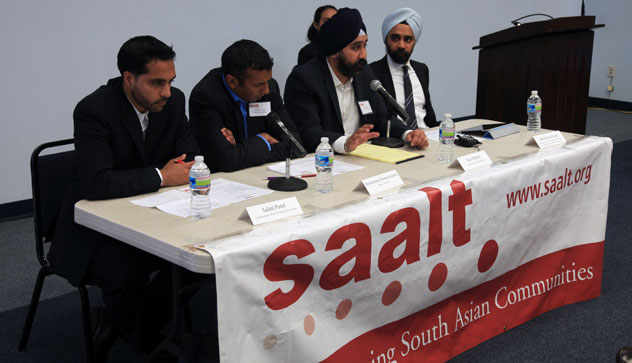 (Above): Policymakers panel (L-R): Salim Patel, Commissioner of the Board of Education, Passaic, NJ; Mohammed Hameeduddin, Mayor, Teaneck, NJ; Ravi Bhalla, City Council President, Hoboken, NJ; Amardeep Singh, Commissioner, White House Commission on Asian Americans and Pacific Islanders. [Photo: William Hollingsworth]

---
The third panel of policymakers stressed the importance of community involvement. Mayor of Teaneck, New Jersey, Mohammed Hameeduddin, spoke about the importance of building strong partnerships with other communities to address these issues. He said, "Xenophobia is not just something that our community has to deal with. The Latino community... the African American community is always looked at as a scapegoat. We must understand... justice is not about 'just us,' it has to be liberty and justice for all of us."

City Council President of Hoboken, New Jersey, Ravi Bhalla also discussed the importance of getting involved at the local level, and urged community members to become civically engaged. Amardeep Singh, Commissioner from the White House Commission on Asian Americans and Pacific Islanders, was present and heard complaints from the community regarding post-9/11 discrimination.

---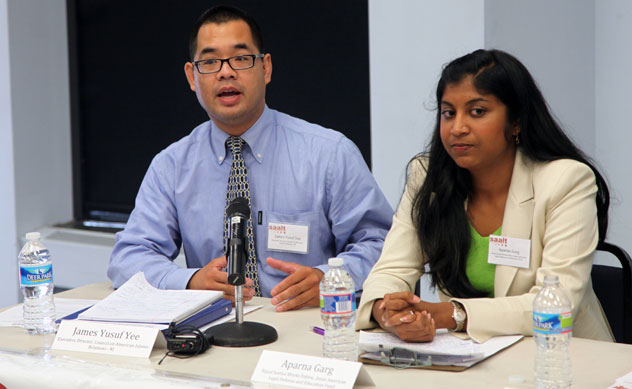 (Above): Community advocates, James Yusuf Yee, Council on American-Islamic Relations and Aparna Garg, Asian American Legal Defense and Education Fund. [Photo: William Hollingsworth]

---
Commissioner of the Board of Education in Passaic County, Salim Patel, asked parents to come forward to raise issues that their children face in schools. "If I don't have parents advocating... and saying... [that] bullying is an issue, and staying on top of board members and keeping us accountable, we won't see change."