SUBCONTINENT:
Pretty and Powerful: HRK Upstages SRK


The Indo-Pak relations have never been good and the outcome of each meeting is usually the same – none at all. With that said, the new Foreign Minister of Pakistan has managed to pull some serious viewership in Indian media during her recent visit, writes Siddharth Srivastava.

---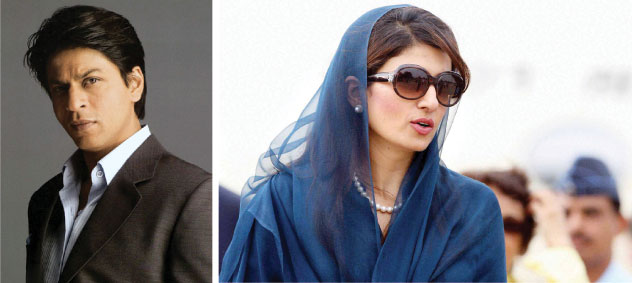 (Above): Bollywood actor Shah Rukh Khan (l) and Pakistan's Foreign Minister Hina Rabbani Khar.
---
In Indian mind shares, it is never easy to replace SRK, compressed for Shah Rukh Khan, top Bollywood star, also referred as King Khan. For a few days last month, SRK was upstaged by HRK, the comely 34-year-old foreign minister of Pakistan, Hina Rabbani Khar, who was visiting India on an official visit.

U.S. Foreign Secretary Hilary Clinton, who was also on a recent visit to India, did not get the kind of top billing, by the TRP-stricken TV channels at least, that HRK has managed even though ex-President Bill Clinton always created a stir with his easy charm and good looks.

Being pretty and powerful does make some difference, when eyeballs have a direct impact on media attention and consequent ad revenues.

India has had its share of lovely foreign ladies visiting the country that include Carla Bruni and earlier, Lady Diana. Bruni turned many more heads than expected when French President Sarkozy visited India to discuss serious matters centered round nuclear power and defense deals.

Visits of top Pakistan dignitaries, as part of a very slow moving Indo-Pak peace process, are usually dour exchanges that focus on the harsh realities of terror, Kashmir and military cross firing along the border.

The beautiful Rabbani has added a dash of color that has caught the attention of many more than it normally would. A few shared jokes, some laughs, sports, music and entertainment have always played a part in easing tensions between India and Pakistan though there are deep-seated issues that need to be resorted, including past wars.

Some years back it was the debonair Pakistani cricketer Imran Khan that set Indian female hearts aflutter with his looks. Some hopelessly-in-love Imran fans were even accused of wishing a Pakistan victory over India.

This time around it is the Indian male that seems as besotted by a resident neighbor, though there always was a buzz about the late Benazir Bhutto whenever she visited India as a young lady.

---

(Above): Indian Minister of External Affairs S.M. Krishna with Pakistani Foreign Minister Hina Rabbani Khar during her visit to New Delhi.
---
There has been some talk about HRK: "Pak bomb that kills with her looks," "our leaders did not get partition right, they should have kept HRK's family," "Islamabad has provided irrefutable proof that cross border terrorism is state sponsored . . . by sending across a live bomb," "if India and Pakistan are looking for CBMs (Confidence Building Measures), none get better than HRK," "suddenly everyone likes the foreign hand, actually the full body," "Fevicol has decided to endorse the S.M. Krishna-Hina Rabbani Khar handshake . . . it went on and on," are just sample reactions on Internet social networking sites about Rabbani.

"If Hina Rabbani were a male foreign minister of Pakistan, would she ever be deconstructed in terms of look and dress?" Tweeted Barkha Dutt, group editor, NDTV. "Not too many cute male ministers around, yes?" wrote back Twitter Nishant.

The Pakistan minister, meanwhile, made the rounds of the Delhi Durbar, calling on the establishment, including her counterpart and avuncular S.M. Krishna, 79. Despite the age difference it was a meeting of equals in terms of the strict diplomatic protocols, with TV channels focused as much on Rabbani's multiple sartorial turn outs during different occasions.

There has been much attention on Rabbani. Pakistan's youngest and first woman foreign minister's impeccable fashion sense with speculation that the "style icons" pearls, diamond ring, Roberto Cavalli shades and big Birkin bag cost millions of rupees.

Lahore-based Honey Waqar, who has designed for Khar, has been quoted to say in the Hindustan Times, "She dresses conservatively, conscious of the fact that she represents a Muslim state. Her brief to the designer is not to make body-hugging dresses. But she's extremely stylish."

Indeed, every tidbit about Rabbani was dug out – a feudal and very rich background, interest in trekking, polo, Facebook fan clubs, Wikipedia accounts and more. Of particular interest to some are her amazing fitness levels despite being a mother of three.

Not much was expected from the official talks she led in terms of progress in Indo-Pak relations. India's unhappiness with Pakistan's soft handling of jehadi militancy remains. It was apparent that Rabbani was briefed well by her political and military bosses back home to tread the beaten path.

Her statements were measured. She met with Kashmiri Separatist leaders that have chosen to keep out of the political mainstream, an interaction that never goes down well with New Delhi.

Yet, the idea of ministerial and official exchanges between India and Pakistan is to keep the communication channels open so that the deep rooted suspicions do not worsen. The visit of HRK was not historical or path breaking in any sense. It was a refreshing aside.