BOLLYWOOD | Film Review
Delightfully Adorable: I Am Kalam


Producer: Santanu Mishra
Director: Nila Madhab Panda
Screenplay and Story: Sanjay Chauhan
Editing: Prashant Naik
Distributed by: Smile Foundation
Music: Abhishek Ray, Madhuparna, Papon, Susmit Bose, Shivji Dholi
Cinematography: Mohana Krishna
Starring: Harsh Mayar, Gulshan Grover, Pitobash, Hussan Saad, Beatrice Ordeix
Rating: ***1/2 (Good)

---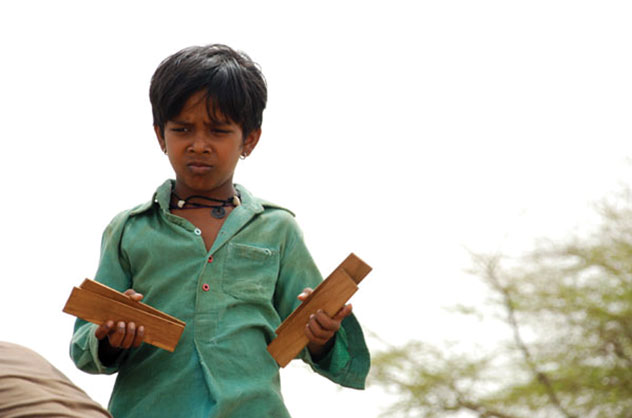 (Above): Scene from "I Am Kalam."

---
I Am Kalam is a simple and delightfully adorable story of a little boy called 'Chhotu' with a toothy smile and a diehard attitude to make his 'karma' overcome the hardships due to his 'kismat' (destiny).

Living in an inconspicuous part of the desert state of Rajasthan, Chhotu changes the ordeal of his life through his tireless good actions, hard work, zeal for learning, passion, honesty and a highly infectious positive attitude.

The words of former President of India and rocket scientist A.P.J. Abdul Kalam act as his motivation and shape his vision to get educated and strive.

The movie beautifully captures the impact of Kalam's saying that children as the future of India must nurture dreams and pursue them towards fulfillment.

---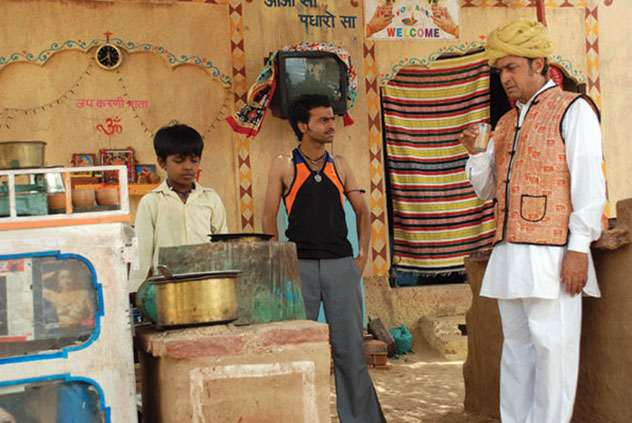 (Above): Gulshan Grover (r) in a scene from "I Am Kalam."

---
The President has been known for his love for children and his saga of coming from an impoverished background and getting an education by overcoming all odds serve as an inspiration.

Our little boy is so taken in by the President's words that, "We can change out lives through our actions," that there is no looking back.

And Chhotu not just christens himself 'Kalam' but also dreams of becoming someone great, maybe the President of the country.

It is rather cute to see little 'Kalam' copying senior Kalam even in his unique hairstyle, oiling and combing his hair into two tiny curls on the sides.

Armed with this heart warming, sweet and intimate lesson, to fight valiantly and keep smiling at all times, the easily paced movie held its global theatrical release in June 2011.

---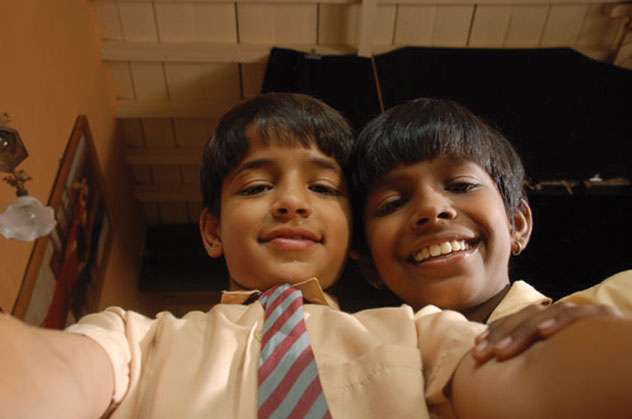 (Above): Scene from "I Am Kalam."

---
We witness the intelligent little Kalam learning fast, impressing everyone with his abilities and landing himself a job to fend for his family at a food stall situated near a heritage hotel in the palace of an erstwhile royal family.

One thing leads to the other and Chhotu's positive and happy nature wins him the friendship of a Rajasthani Prince Rannvijay Singh.

Chhotu writes a poem for Rannvijay which fetches the latter a trophy at the Hindi poetry recitation competition.

Since Rannvijay cannot interact with commoners due to family and societal norms, the two friends strive hard to keep their pure bonding a secret.

---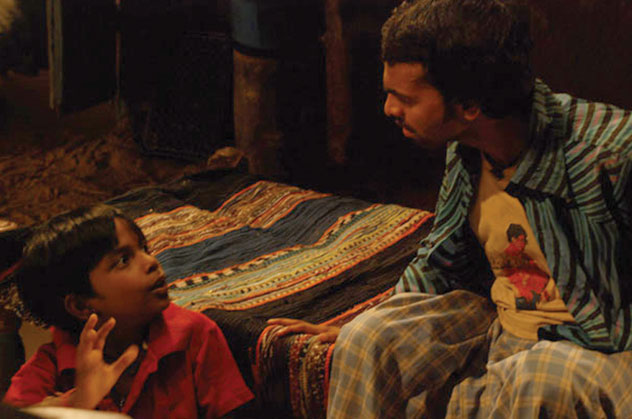 (Above): Scene from "I Am Kalam."

---
However, little Chhotu gets in an uneasy spot where he is deliberately framed on stealing charges.

Yet, as luck would have it, all ends well and Chhotu is found 'not guilty' and tracked down at the India Gate in New Delhi.

The happy ending shows Chhotu realizing his dream of being able to attend school and his family being taken care of in a good way.

At a time when India is going through a massive flux it is an apt movie replete with an inspiring social message, entertaining and touches all corners of the heart and soul.

The film brings into fore the contradictory nature of society revealing the higher class as indulging in pretentious sophistry but being cut off from grim realities of present world, while the lower class lots more earthly and real in their approach towards life and one another.

---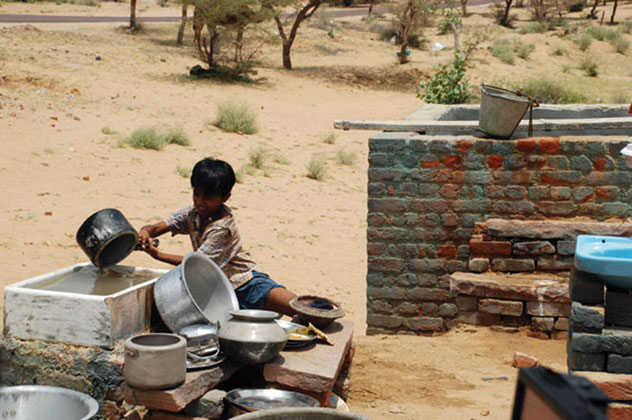 (Above): Scene from "I Am Kalam."

---
Flawless performances and noteworthy sensitive story telling has deservedly earned 'I am Kalam' an awards galore.

These include 'Best Feature Film' award at International Film Festival of India held at Goa, 'Best Child Artist Award 2011' for Harsh Mayar at National Film Award, 'Best Feature Film' at Lucas Film Festival, Germany, 'Audience Favorite' award at Barbican Children's Film Festival, London, and earned 'Special Mention' at Cinekid International Film Festival, Amsterdam, and at 'International Jury' at Ale Kino International Film Festival, Poland and Minsk International Film Festival, Listapadzik, 'Aravindan Award for Best Debutante Director' among a bunch of others.

A very reasonable and plausible story, it does not in any way become too didactic or weigh heavily upon the emotions of viewers.

---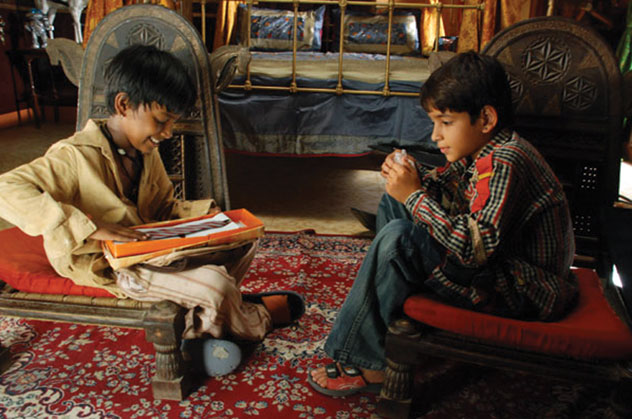 (Above): Scene from "I Am Kalam."

---
Hilarious instances guarantee light laughs such as when Bhatti the dhaba owner, falls for the foreigner 'madam' Lucy.

Master Harsh Mayar has to be especially commended for his wonderful natural performance and as a real life street child his characterization of 'Chhotu' is simply authentic.

This narration is a departure from regular Bollywood movies as it is sans any emotionally surcharged climaxes that deliver over the top idealism that fail to find commonness in a real world.

Simple and to the point dialogues and brilliant acting strike the right chords for the viewer who can expect smiles and a good amount of beautiful taste.

The music is soulful and blends with the theme of the film, cinematography is perfect and showcases the beautiful colors of the desert state of Rajasthan, and editing is equally neat.

Without a known power packed star cast, Gulshan Grover is the only big star in this child movie.

---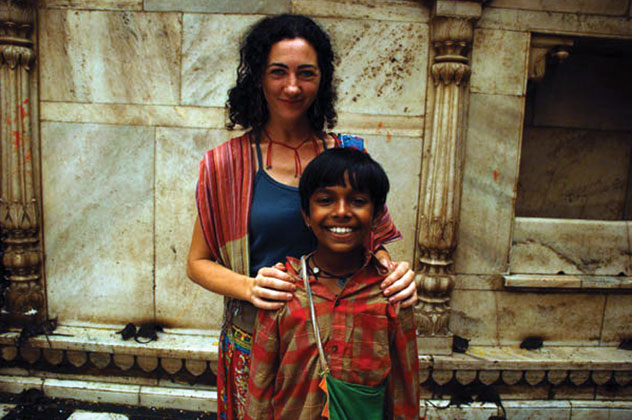 (Above): Scene from "I Am Kalam."

---
I am Kalam is a heartwarming movie in which the child succeeds in lending beauty and freshness to the way a person is encouraged to dream and valiantly fight for it.

The drawbacks could only be that the climax could have been played up a little more and the 'poor' situations as shown in the flick were a wee too sanitized.

Grover too could have done well with wearing more authentic clothing than donning crispy and spotlessly clean designer wear.

This year has been a particularly encouraging year in Hindi film industry for churning out children's movies like Stanley Ka Dabba and Chillar Party and now I Am Kalam that focus on issues related to child labor.

Chhotu represents those countless, poor but smiling children peering through the windows of our cars at traffic signals in India, trying to eke a living selling cheap toys, flowers, books etc.

These street children manage to reaffirm our lost faith in humanity, hard work and honesty and convince us that life and dreams are certainly worth striving for.

Watch this movie for some big and beautiful smiles!

---

Priyanka Bhardwaj is a reporter with Siliconeer. She is based in New Delhi.