COVER STORY
42 Years and Waiting: India Against Corruption


An unprecedented anti-corruption fire has engulfed India, one of the fastest emerging economic giants as veteran Gandhian activist Anna Hazare sits on hunger strike for thirteen days in a row. The cause is one that touches everyone, 'ridding India of corruption for good,' write Priyanka Bhardwaj and Sanjeev Tulsian.

---

(Above): Anna Hazare at Rajghat, Aug. 15. (Below, right): A massive rally at the India Gate in New Delhi.

---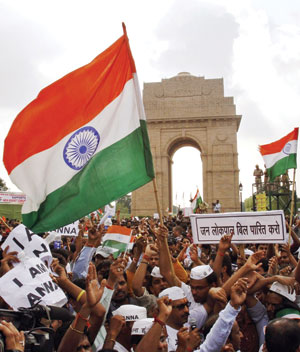 Though corruption has been an old endemic scourge, it is for first time that citizens from all walks of life, cutting across all distinctions of caste, creed, region, religion and status, have come up in unison in this historic quest for a transparent, fair and just society.

The complete disgruntlement with moneymaking political leaders and countless scams unearthed in recent past can be said to have decided the timing of this 'nascent revolution.'

Addressing almost a hundred thousand-strong congregation that came out in full support of this campaign, Anna roared, "If the government does not get the Jan Lokpal Bill passed by August 30, there would be an unprecedented revolution in the country by the people.... The government will have to either get the Bill passed (in Parliament) or go… I have been fighting against corruption for the past 20 years. The government has betrayed the citizens of the country on Lokpal issue. They constituted a joint committee after my fast in April. But nothing came out of that meeting despite talking for two months. The government's intention to fight corruption is not noble."

Anna has an eminent team comprising of Arvind Kejriwal (ex-IITian and 2006 Ramon Magasaysay award winner), Dr. Kiran Bedi (distinguished First woman Indian Police Service officer turned activist), Prashant Bhushan (lawyer and activist), Shanti Bhushan (architect of Lokpal Bill) and Swami Agnivesh (Indian politician and Arya Samaj scholar).

Braving every natural element and traveling large distances, people are swarming to protest in inexplicable civil and peaceful ways at Ramlila Maidan (grounds) in Delhi.

On Anna's call masses demonstrated outside official residences of various union ministers like Kapil Sibal, Shiela Dikshit and Pranab Mukherjee despite being arrested.

Anna was arrested from his place of residence early in the morning Aug. 16, before he was about to leave for Rajghat (venue of Mahatma Gandhi's cremation) and was put in Tihar Jail of Delhi.

But public support forced the government to release him.

Thereafter, he continued his fast from Ramlila Maidan and protests scenes in favor of anti-corruption campaign started getting replicated across the length and breadth of the country.

---

(Above): Thousands gather outside Tihar Jail as Anna was held.

---
More than 300 people from diverse states like Manipur, Assam, Bihar, Maharashtra, Uttar Pradesh, Uttarakhand, Andhra Pradesh and West Bengal have voluntarily joined hunger strike at the Maidan.

On seventh day of his fast Hari Singh Surayi, 78, said, "I was a forest officer in Bulandshahar and even though I worked for 20 years with the government I made very little money in comparison to others. As a result, my children couldn't study in a private school. I want this cycle to end and I don't mind even if I die trying to fight this battle."

The legions of Anna followers demand for the passage of Jan Lokpal Bill drafted by Anna's Team vis-à-vis government's Lokpal Bill.

Jan Lokpal Bill is a people's anti-corruption ombudsman with powers to hold everyone from prime minister, members of Parliament, judiciary and lower bureaucracy among many others accountable.

It also seeks creation of Lokayuktas at state level, merging of Central Bureau of Investigation with Lokpal, provision of protection to whistle blowers, witnesses and victims of corruption, etc.

The wide support that it has garnered Team Anna is not ready to give in to government's false assurances as Kejriwal states, "We are in favor of keeping more and more public servants under the purview of Lokpal, while the government wants to keep a large section of bureaucracy out of Lokpal's reach. Should this be allowed?"

---

(Above): (Clockwise from left): Supporters escort Anna to Ram Lila Maidan in New Delhi; Former IPS Officer Kiran Bedi (l); Pooja Bhatt (r)

---
To convert protest into discerning support, Bedi extolled her famous "dial 101" example: "Just the way ambulance comes to your rescue once you dial 101, the Lokpal officers will arrive to investigate every complaint of corruption. If anyone again asks you how the Lokpal will help fight corruption, you say this to them."

At eminent Indian Institute of Technology, Kharagpur, locals and students staged protests and some students even refused to accept their degrees at annual convocation from Prime Minister in support of Anna's campaign.

Muslims have also pitched in their support to this campaign following Islamic seminary, Darul Uloom, Deoband, Imarat Shariah, a highly respected religious body of Bihar, and Pasmanda Muslim Mahaz, a socio-political organization of backward class Muslims, calling to extend unequivocal support to anti corruption issues raised by the Gandhian leader.

Ali Anwar Ansari, national president of Pasmanda Muslim Mahaz said that he and his supporters would march to Ramlila Maidan where arrangements for 'Iftar' and 'magrib' namaz (Muslim religious observances and prayers before Id) have been made.

Interestingly, Rashtriya Janata Dal's lone Member of Legislative Assembly in Delhi assembly, Asif Mohammad Khan has resigned from the party in protest against the party chief Lalu Prasad's stand against Anna.

---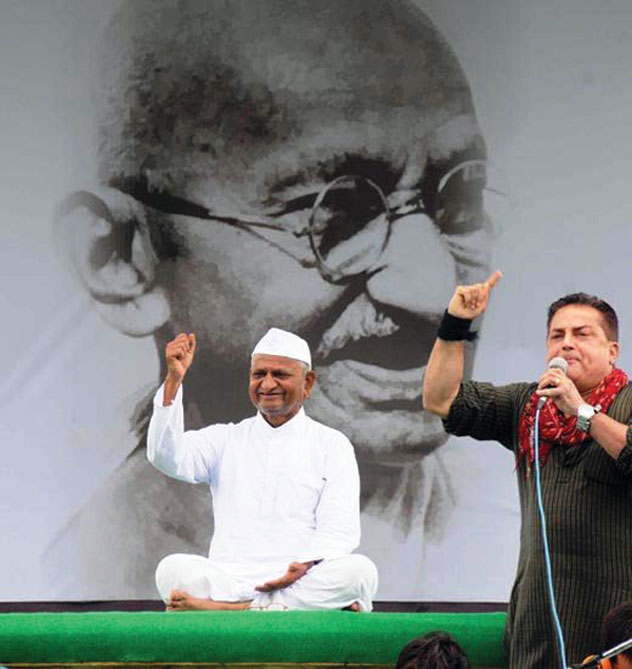 (Above): Anna Hazare on a fast-unto-death.

---
Supporters with Indian flags, banners and posters carrying social messages can be seen donning Gandhian 'I am Anna' caps and T-shirts and copying hairstyle of Anna.

At Ramlila Maidan a lot of action has been taking place with bananas, tea, biscuits, 'namkeen' (snacks), water sachets being distributed freely by generous volunteers.

While police keep a close watch, Kejriwal cautions the crowds of keeping an eye for anti-social elements who may try to disrupt the demonstrations and thus their unity.

Whole families with children in tow, young couples, old folks, students, journalists, corporates on leave, rural people, sex workers, film stars, film makers, etc are swarming the grounds listening intently to every speech of Anna's Team and cheering and clapping at every occasion.

Slogans betray the masses' emotions: "Anna tum sangharsh karo, hum tumhare saath hain" (Anna, we are with you in this struggle), "Desh ka yuva yahan hai, Rahul Gandhi kahan hai" (India's youth is here, but where is Rahul Gandhi?), "Main bhi Anna, tum bhi Anna, ab toh sara desh hai Anna", "Yeh sarkar nikkami hai, jisme Rahul ki mummy hai," etc.

Team Anna looks prepared to take on cudgels with government as it is seen giving classes on details of Bill and distributing related pamphlets in Hindi and English.

What is commendable is that despite the emotions raised over corruption, crowds of millions have been remarkably restrained and peaceful.

Many unique demonstrations are being witnessed such as drum players and percussionists gathering in Pune, Maharashtra to play resounding beats for 'government of India to wake up it from deep slumber,' young men in Bihar undertaking 'Pind Daan' (Hindu ritual for salvation of ancestors' souls) for 'purging India's soul of evil of corruption', and little children taking out a skating rally.

Social media, Twitter, Facebook, international television channels have been beaming of visuals of Non Resident Indians also expressing tremendous solidarity with this crusade in as diverse places as Hong Kong and New York.

---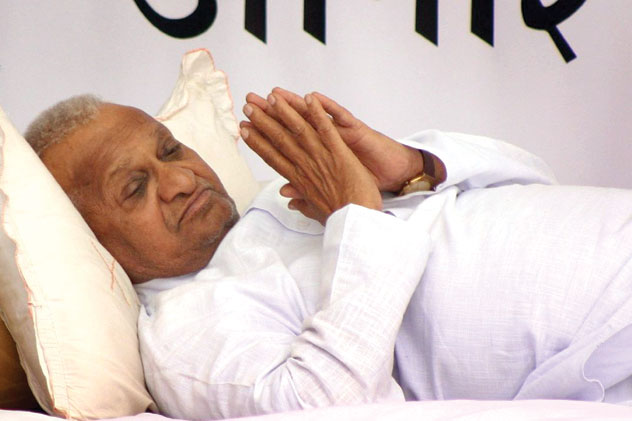 (Above): Anna Hazare on a fast-unto-death.

---
The only ones to be missing from scene are cynics and critics but as Swarn Kanta, a diehard anti-corruption campaigner says, "The beauty of this battle is that victory will be for every citizen. If Mahatma Gandhi is recognized as 'Father of our Nation', Anna may emerge as 'Father of the World' by inspiring the entire global community to relentlessly fight against corruption."

Moving extremely slowly and falteringly the government has reacted from alleging a 'foreign' (read American) hand in movement and then calling it 'misconceived' and dangerous for democracy.
Now it has called for an all-party meeting but political standoff has resulted in adjournment of Parliament session today.

Latest reports coming in talk of Finance Minister being appointed as negotiator to talk to Anna about the Bill and persuade him to call off his fast.

While Congress chief of ruling coalition, Sonia Gandhi is reportedly in New York in connection with treatment for an ailment, her son Rahul Gandhi, heir apparent to Congress leadership and Prime Ministerial aspirant has vanished from scene fearing entanglement in contentious issues.

Not for no reason this movement is witnessing many supporters from poor who live on not more than $2 a day and middle classes who are largest contributors to economic growth, supporters of liberalization, as well as biggest tax payers and yet have to suffer the malady of corruption in everyday existence.

Wikileaks and other reports reveal that approximately $1.4 trillion (equivalent to 40% of India's GDP) of Indian black money, mostly belonging to politicians, businessmen and bureaucrats, have been stashed away in Swiss bank accounts.

The deep roots of corruption, in socio-economic-political sphere, have generated much trust deficit between the ruled and rulers that this movement is here to stay till a final resolution.

And for sure this fight will be one that may possibly throw up lessons for dealing with this demon elsewhere in the world.
— Priyanka Bhardwaj

---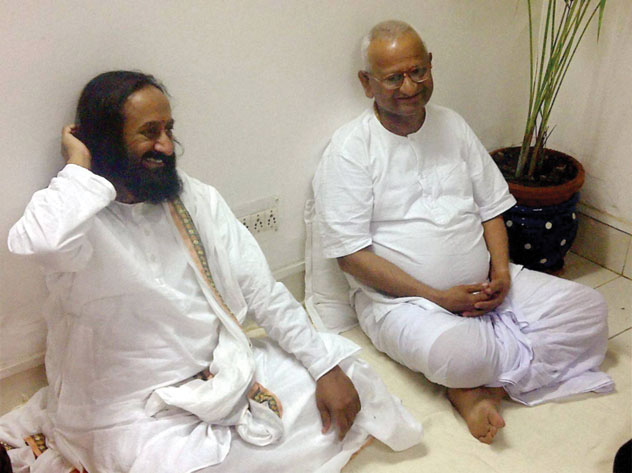 (Above): Art of Living Foundation founder Sri Sri Ravishankar with Anna Hazare.

---
Hazare Goes on Fast: Indian Gov't in a Paradox

I arrived at the Statue Circle in Jaipur, Aug. 19, with my wife Aneeta and 14 year old son Raghav, to participate in the Art of Living Foundation's candle rally to express solidarity to "India - Against Corruption." We were not surprised to find hundreds gathered there despite heavy rainfall. We knew that these moments of ours were destined to become a part of a historical movement.

People of all ages, from different social and economic backgrounds could be seen with lit-up candles, banners, posters, tri-color — the national flag of India, led by youth of the country, shouting slogans of "Vande Mataram, Inqualab Zindabad." This is not a script of a bollywood movie on freedom struggle of India, but a reality which may be witnessed on the streets of the country from villages to metros. This anti-corruption agitation is now being termed as a struggle for freedom from corruption in India. This movement has gained momentum under the leadership of Kisan Baburao Hazare, popularly known as Anna Hazare, an Indian social activist who is now synonymous to the 2011 Indian anti-corruption movement, using non-violent methods, following the teachings of Mahatma Gandhi.

---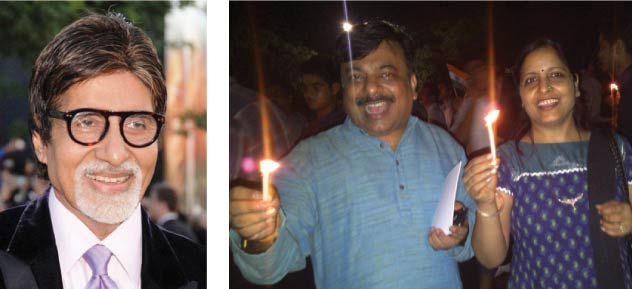 (Above): Bollywood star Amitabh Bachchan tweets from Mumbai and, Sanjeev and Aneeta Tulsian at the rally in Jaipur.

---
Hazare, born in 1937, in the family of an unskilled laborer in Bhinagar of the erstwhile Bombay province, retired voluntarily from the Indian Army in 1978 after 16 years of military service. With his vision of social service and upliftment, he worked restlessly and initiated refroms in his drought prone village Ralegan Siddhi. His efforts were recognized by the award of Padma Bhushan, the third-highest civilian award, by the Government of India in 1992.

In the early 2000s, Hazare led a movement in Maharashtra state which forced the state government to pass a stronger Maharashtra Right to Information Act. This Act was later considered as the base document for the Right to Information Act 2005 (RTI), enacted by the Government of India. It also ensured that the President of India assented to this new Act.

It was the result of the RTI act that the two scams of unprecedented magnitude during the Commonwealth Games and the 2G spectrum, came to light. The ruling Congress party had to wash off hands from Suresh Kalmadi and A. Raja, senior politicians and then a part of this government. However, the confidence was shaken and the demand for the (Jan)Lokpal started gaining momentum.

---


(Above): A supporter at the protest rally, and the Mumbai Dabbawallas who held the first ever one-day strike in support of Anna Hazare.

---
Jan Lokpal Bill

The Lokpal Bill also referred to as the 'citizens' ombudsman bill,' is a proposed anti-corruption law in India. It would be empowered to register and investigate complaints of corruption against politicians and bureaucrats. First introduced in 1968, the bill has failed to become law for over four decades, with prominent Indians — Indira Gandhi to Atal Behari Vajapyee and Manmohan Singh (for the last seven years) serving as Prime Minister of the country.

In April, Anna Hazare started a Satyagraha movement by commencing a fast-unto-death in New Delhi to demand the passing of the bill. The movement attracted attention in the media, and thousands of supporters. Following Hazare's four day hunger strike, Prime Minister Manmohan Singh stated that the bill would be re-introduced in the 2011 monsoon session of the Parliament.

Accordingly, a committee of five cabinet ministers including the Human Resource Development Minister Kapil Sibbal and five social activists led by Anna Hazare attempted to draft a compromise bill merging the two versions, but failed. The Indian government went on to propose its own version in the parliament, which the activists rejected on the grounds of not being sufficiently effective.

Prime Minister Manmohan Singh's independence day speech from the Red Fort acknowledged instances of corruption in the central and state governments, he also said "I believe that there is no single big step which we can take to eradicate corruption..." Without pointing out to Anna on his proposed protest and fast announced from the next day, he emphasised on social activists not resort to hunger strikes and fasts unto death.

Meanwhile Bollywood star Amitabh Bachchan who earlier pledged his support to the movement on Twitter by writing "From one revolution to another!! Anwarat samay ki chakki chalti jaati hai!!" remarked "corruption is unacceptable anywhere in the world. If an individual protests against corruption, it is his right and should not be stopped."

Amongst others, the Mumbai Dabbawallas, who supply lunch boxes to hundreds of thousands of office goers in the city, observed strike in support to the cause. It is the first time in their history of 120 years that they have gone on strike.

According to The Economic Times: Both the government and Team Anna had to make compromises to finally shake hands.

"What they were able to achieve was to put corruption on the front burner. It did strike a chord among the people, especially youth," Nihal Singh told media.

He said the initial demands of Team Hazare was for the acceptance of the Jan Lokpal bill and fixing a deadline for its passage in parliament. But this could never have been accepted by a government in a parliamentary system.

"Their original demands were impossible. But they made their point across the country," he said.

---

(Above): Anna Hazare drinks coconut water mixed with honey offered by two little girls to breaks his fast, at Ramlila Ground, in New Delhi.

---
Bowing to nationwide protests in support of Hazare, the government convened a special parliament session Saturday. After hours of debate, the house embraced Hazare's three key demands: Lokayuktas in every state, citizen's charter in each government department and inclusion of lower bureaucracy under Lokpal.

Hazare ended his fast on its 13th day.

— Sanjeev Tulsian

---
| | |
| --- | --- |
| | |
| Priyanka Bhardwaj is a reporter with Siliconeer. She is based in New Delhi, India. | Sanjeev Tulsian is an honorary faculty at the Art of Living Foundation in Jaipur, India. |