COVER STORY:
The Journey, Forward: "Four More Years" for President Barack Obama


Indian Americans celebrate the victory of U.S. President Barack Obama in the 2012 Presidential polls. The campaign shows how social media influenced the final verdict.
Ashok K. Gupta follows the trail and achievements of President Obama, and looks at some of the challenges that lie ahead in his second term as President.
India's Prime Minister Manmohan Singh also hailed President Obama on his re-election. There is a lot to learn for India's politicos from the U.S. elections, writes Priyanka Bhardwaj.
---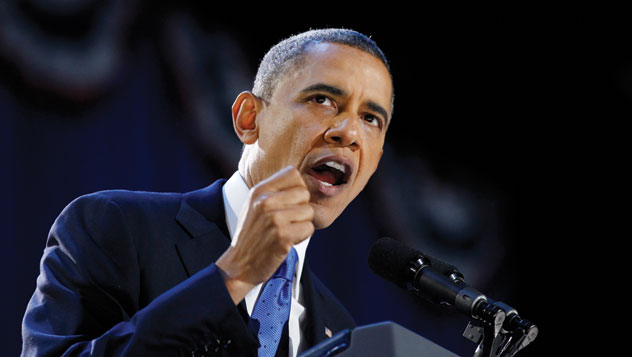 (Above): U.S. President Barack Obama gives his election night victory speech in Chicago, Nov. 7. [Kevin Lamarque | REUTERS]
---
Barack Obama won his second term as the President of United States, running up big margins with women and minorities, mobilizing a sophisticated registration and 'get-out-to-vote' operation. The volunteers in campaign offices registered 1.8 million new voters and made more than 125 million personal phone calls or door knocks with voters.

It was not all a bed of roses. Obama's dismal performance in the first debate, the deadly attack on a U.S. Consulate in Benghazi, Libya, brought a lot of criticism on his policies. Super-storm Sandy upended the campaign in its closing days. Nevertheless, Obama used the opportunity to show voters his leadership qualities as President.

Americans were frustrated by the sluggish economy and high unemployment. The deep partisan bickering wasted much of his time and the 'CHANGE Washington' promise was not enough to win the second term. The campaign quickly changed the strategy to bring a choice between Obama and Romney as President, instead of highlighting Obama's achievements vs. failures.

Romney's image of a savior for the rich, unemployment dropping from 10.1 percent to 7.9 percent on the Election Day, consumer confidence reaching its highest level since February 2008 were some of the factors that worked in favor of President Obama on Nov 6.

---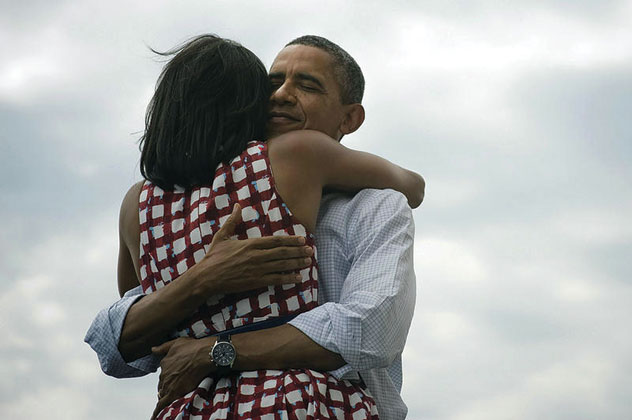 (Above): Obama's official Twitter account that now has over 22 million followers, posted a photo of the President hugging First Lady Michelle Obama, with the message, "Four more years." [Obama Campaign Staff | Barack Obama | TWITTER]
---
Obama was also helped in the final stretch by two factors: Bill Clinton held dozens of campaign appearances for Obama and vouched for his economic record, and Obama's strong leadership skills in dealing with the aftermath of Sandy, the storm that struck the East Coast during the final full week of the campaign. Obama showed command and comfort in a crisis. His response won bipartisan praise. Forty-two percent of voters said Obama's response to Sandy was important in their vote for president. Most of those voters supported his re-election.

While critics have often been harsh to President Obama policies, he has achieved many milestones in his first four years – Health care reform, economic stimulus, Wall Street reform, ending the war in Iraq and withdrawal of troops from Afghanistan, eliminating Osama bin Laden and reorienting American military and diplomatic priorities to focus on the Asian Pacific region, crafting new commercial, diplomatic, and military alliances with neighboring countries made uncomfortable by recent Chinese behavior.

A believer in energy independence, Obama invested heavily in renewable technology – smart grids, energy efficiency, electric cars, renewable electricity generation, cleaner coal, and biofuels.
He has also focused on the next generation, the kids, young adults and immigrants, improving school nutrition, expanding hate crime protections that are based on a victim's sexual orientation, gender, or disability, in addition to race, color, religion, or national origin, and expanded health coverage for children.

The whole list has many more than what we have highlighted above.

---
(Above): President Barack Obama, First Lady Michelle Obama, and their daughters, Sasha and Malia, sit for a family portrait in the Oval Office, Dec. 11, 2011. [PETE SOUZA | WHITE HOUSE]
---
Indian Americans Hail Obama. "Obama's victory is very good for the Indian-American community and India," says Thomas Abraham, founder president of Global Organization of People of Indian Origin (GOPIO).

Endorsement of India as a permanent member of the UN Security Council was a welcome step and India is looking forward to more cooperation in defense, science and technology, trade, and fighting terrorism.

Obama's initiatives including the Dream Act for immigrant children, Obama healthcare law, and having a high presence of Indian Americans in his administration as political appointees, got overwhelming support of Indian community at large.

Obama's re-election may not be the best news for India on the IT front, especially outsourcing industry. However, the impact is not as much on India as it is on China and Mexico, since the concern is on outsourcing in manufacturing jobs.

The impact of U.S. on the world's economy is unquestionable. If the U.S. economy fares well, the rest of the world follows suit. As soon as there is growth in U.S., new jobs will be created. Nasscom president Som Mittal says, "We have solutions to many of their (U.S.) problems." A reform in the immigration laws is highly desirable from the Congress.

The recent statement by Secretary of State Hillary Clinton about 'US-India 3.0' is an indication of the strengthening ties, which also implies that the IT sector will have a key role to play in the Indo-U.S. business relations.

"The new governments in Washington and New Delhi will build this future together. And we will be discussing the details of that partnership, when I visit India next month," she said while confirming her India visit to discuss details of the new partnership.

– Ashok K. Gupta

---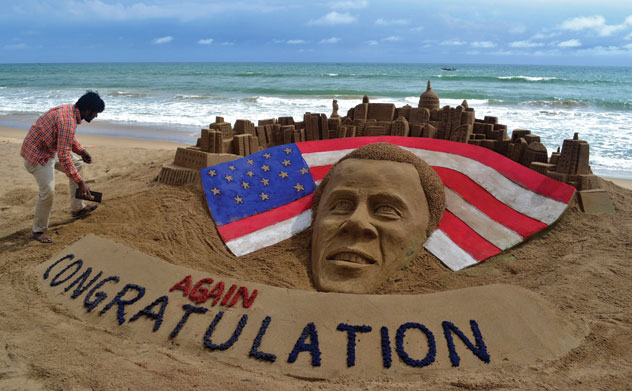 (Above): A clear indication of the sentiments shared across India over the re-election of President Obama — Indian sand artist Sudarshan Patnaik gives final touches to a sand sculpture of U.S. President Barack Obama on a beach at Puri, in the eastern Indian state of Odisha, Nov. 7. [REUTERS]
---
India Cheers

When the two leaders recently met at the Cambodian capital of Phnom Penh, venue of the latest East Asia Summit of Asia-Pacific leaders, President Obama affirmed U.S. commitment in securing and sustaining future of Indo-U.S. association, stating that, "India is a big part of my plans and I look forward to continuing our friendship and rewarding association as much more can be done together to further strengthen the bilateral partnership."

Notwithstanding President Obama's warm words to Indian Prime Minister Manmohan Singh, it is worthwhile to note that Obama's first foreign visit came close on heels of November 6 polls when an entire conglomeration of people spanning all sections of U.S. society enabled for him a dramatic victory over archrival Republican candidate Mitt Romney.

This leads to an understanding that Asian economies with their increasing importance to global trade attract much more U.S. attention than larger Asian economies including India.

Even then this does not take away the fact that imperatives of maintaining South Asian geopolitics and India's huge market potential to sustaining U.S. economic hegemony to rein in its gnawing fiscal deficits would keep India important to Obama's second administration.

Since the days when the Indo-U.S. civil nuclear accord shaped up, Indo-U.S. relations have only been on the rise and got intensified into an engagement strewn over a range of areas of mutual benefits like defense, energy, trade, etc.

Standalone, while talking of the nuclear deal, experts do not sense any fear of derailment though the Obama and Indian administrations would need to converge on tricky issues of liabilities that at present are the responsibility of suppliers as per the clause in India's nuclear agreement.

Issues of outsourcing, immigration, visas, trade policy, etc may be more difficult to confront and would need assurances to be matched by action.

---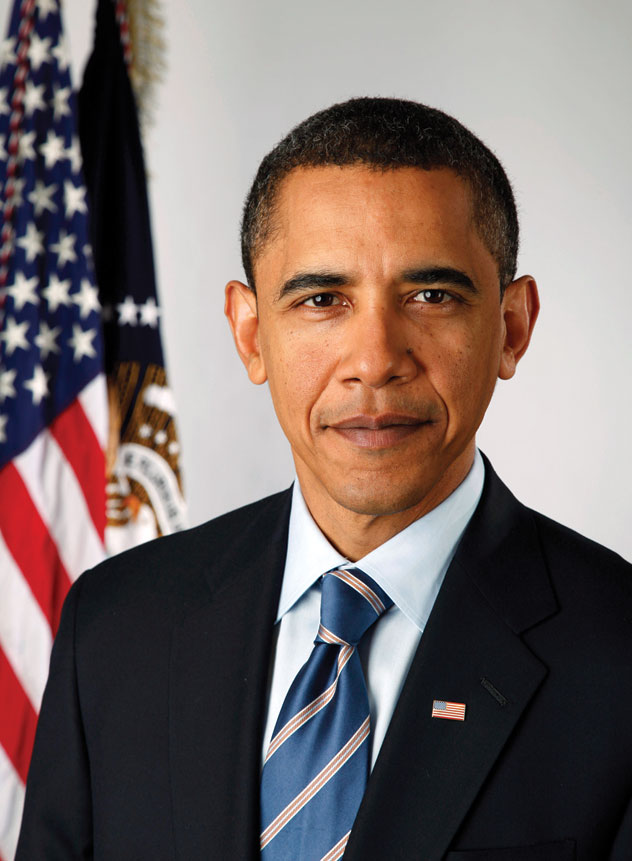 (Above): U.S. President Barack Obama. [WHITE HOUSE]
---
The recent Obama-Singh bonhomie was apparent in Indian National Security Advisor, Shivshankar Menon's interaction with his U.S. counterpart Tom Donilon when they conferred on bilateral ties.

In the U.S. election campaign, policy towards China that indulges in 'unfair trade practices' was a dominant element.

It is likely that President Obama's win may have undoubtedly relieved the Chinese as he advocates a more subtle and studious approach to the Middle Kingdom as opposed to Romney who would rather go for an aggressive containment of China.

Obama's post-election message to China also explicitly states, "It is very important, as two of the largest economies in the world that we work to establish clear rules of the road internationally for trade and investment."

In this context and coming back to India's concern, as a country that has already been far outstripped by Chinese military and economic might, it cannot but assume a more cautious watch of ever growing Chinese national assertiveness that is undoubtedly to translate into more military build up on both sides of border.

Both India and China have never been able to distance themselves from bitter legacy of 1962 conflict and territorial disputes still rule relations that can be best described as manageable despite huge strides in trade.

These two nations are sure to be indispensable partners and contenders in international affairs and the Sino-U.S. positions and engagement that unfold between President Obama and the new crop of Chinese leaders would propel emergence of new South Asian and global checker-board patterns further revealing newer trajectories.

Mindful of Indian sensitivities Donilon was quick to emphasize uniqueness of Indo-U.S. relations, as one rooted in history and a shared system of democracy and to be identified with continuation, vis-a-vis with China that 'is more complex, full of competition and cooperation and one which requires to be built.'

So his elaboration would amount to good cheer for the Indians when he said, "With respect to India, we have given a full embrace of India's rise. The President went to India on a three-day trip, as you know, and stood beneath the picture of Mahatma Gandhi, and called for India's membership in a reformed Security Council… ." On the Iran front, India has been finely balancing the line of retaining its traditional friendly ties with the Islamic nation along with humoring Western countries that have implemented sanctions against Iran's supposed nuclear weapons program by reducing its Iranian crude imports.

Taking advantage of Obama's opposition to hawkish and Zionist lobbies that advocate 'strike and disable Iran for a few years' India could seize opportunity to initiate a more diplomatic and dialog-based engagement between Iran and the U.S. thus preventing an inferno in the Middle East and retaining its foreign policy independence in enabling Iran-Pakistan energy pipeline to extend into Indian territory.

In India's immediate neighborhood, Pakistan and Afghanistan are two chapters of paramount importance and President Obama's strident handling of Pakistan would have to influence it to commit on issue of combating terrorism and to which is linked the future of Afghanistan.

So this would also entail sharing of India and U.S. understanding of existing ground realities and cooperation, forsaking indecisiveness and excessive verbiage for once, to move forward in rapidly emerging scenarios.

President Obama's second term has been a major source of education to the 300-400 million emerging urban, educated and Indian middle class out of a more than a billion population who followed the U.S. election as never before.

A highly unequal, socially, politically and economically, country witnessed how the U.S. elected a President based on his inclusive vision and progressive ideology.

The statistic of 28 percent of Indian Members of Parliament (MPs), 38 percent of all Congress MPs and 88 percent of Congress MPs under 40 as dynasts reveals dynastic power, privilege and sycophancy rules India's politics even as a third of populace confronts poverty conditions on an every day basis.

Perhaps the U.S. lesson would encourage fruition of a long trend for a more democratic, equal, merit-based and non-corrupt Indian mindset to enable dethronement of the decaying established order that is unwilling to truly reform, govern and deliver outcomes.

– Priyanka Bhardwaj