OBITUARY:
Tiger of Mumbai: Bal Thackeray (1929-2012)


Bal Keshav Thackeray, the supreme leader of Shiv Sena, a powerful right wing Hindu party in Maharashtra, breathed his last on Nov. 17 at his suburban Bandra residence, dying at the age of 86 at Mumbai. Priyanka Bhardwaj writes an obituary.

---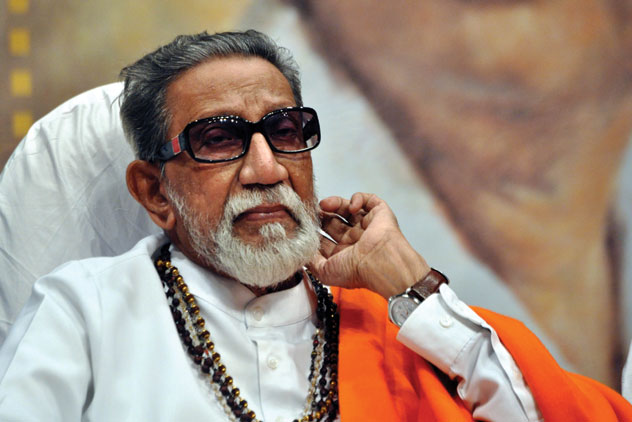 (Above): File photo of Shiv Sena supremo Bal Thackeray. [AFP | IMAGEFORUM]
---
Born on January 23, 1929 he was a firebrand politician who aggressively fought to save the rights of Marathi speaking communities or 'sons of soil' who felt marginalized in their home state as migrants who came in search of jobs settled and entrenched themselves in Mumbai's socio-economic milieu.

His father, a social activist, had been deeply involved in the agitation for formation of linguist state of Maharashtra and perhaps this influenced his son to give up his job as a newspaper cartoonist and found the Shiv Sena or Shivaji Army in 1966.

The new party came along at a time when rampant unemployment was plaguing a newly independent country and Thackeray's call for advancing interests of Marathis vis-à-vis the upras (migrants) won many supporters and sympathizers.

The party was also encouraged by a directionless Congress that was at odds in controlling the left leaning trade unions dominating Bombay's textile industries.

But soon enough the Sainiks (street cadre members of Shiv Sena recruited from unemployed Marathi boys) took to such violence, rioting, killing and intimidation that the Congress came to regret the support it had initially lent to Sainiks.

The first to face the ire of Sainiks were South Indian clerks and Tamil shoe-shine boys and then Gujarati, Marwari and Sikh businessmen, restaurateurs and employers who were ordered by Sainik toughs to reserve jobs for Marathis.

The 1970s and 1980s was a period when Shiv Sena gained control of not just Bombay but the whole state and in 1990s the unfolding of volatile communal events brought into light the new anti-Muslim avatar of Shiv Sena.

No extremist leader could dare to equal Thackeray in ferociously and fearlessly uttering the 'teach the Muslims a lesson' rhetoric.

It was this behavior that was partly responsible for 1992 riots that engulfed entire Mumbai concluded judiciary inquiries but Thackeray could never be touched by the authorities and even a brief mention of his arrest brought in fear of a possible carnage that would follow suit.

And what he thought of judicial pronouncements is crystal clear in his statements such as, "I piss on courts judgments. Most judges are like plague-ridden rats. There must be direct action against them."

Renaming of Bombay into Mumbai was culmination of this party's activities to assert Marathi roots and the 17th-century political figure of Maharashtra, Shivaji who won numerous battles against Mughal armies to carve out the Hindu land of Maratha warriors was revered to draw inspiration.

---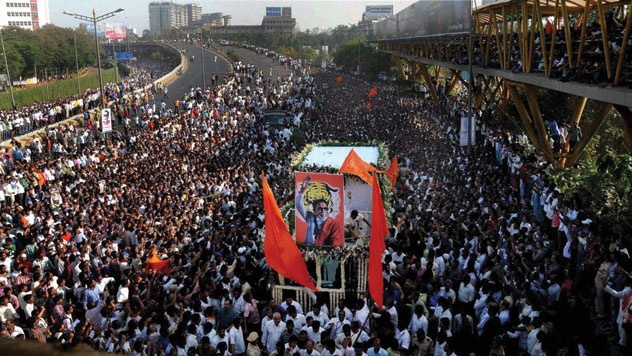 (Above): Supporters of the departed Shiv Sena leader Bal Thackeray flood the streets of Mumbai to join in the funeral procession and pay their last respects.
---
Though it is interesting to note that invoking the Marathi identity, culture and embracing Maratha history assumed significance to Thackeray, not for once did he order a literary or historical enquiry into such matters.

With no understanding of any particular ideology, history (except for a brief period of Marathi one) or knowledge of economics his charisma and magic worked to consolidate his position and he became the unchallenged and uncrowned king of Mumbai and Maharashtra.

Lately in the past decade the 'outsiders' definition was widened to include even North India lowly paid workers and Bangladeshi immigrants.

His writ ran large through his political party that he controlled with an iron fist and the political mouthpiece of his party, Saamna (confrontation) put up daily pronouncements of his views that his cadre men would ensure adherence by people, administration and political framework to the last word.

The Sainiks' order can almost be compared with a parallel authority ruling practically the whole state rampaging cinema theatres featuring radical cultural themes, shops selling Valentine's Day cards and cricket grounds hosting games with Pakistani sportsmen or Pakistani entertainers.

Riding the wave of anti-Muslim sentiments Shiv Sena gained electoral victories when it combined with another Hindu leaning nationalist party, Bharatiya Janata Party (BJP), to form the government of Maharashtra in 1994.

Thackeray would never hold any law making post but acted as the 'Chanakya' (political mentor and guide) of his party, often referred to as the "remote control."

Known for his warm and light-hearted private self, politically and publicly Thackeray was no less a controversial figure, as he openly admired Nazi dictator Adolf Hitler.

The maverick that he was, Thackeray felicitated the late U.S. singer, Michael Jackson, with a red carpet welcome and the latter in turn autographed a toilet he used in Thackeray's home.

Though the heady days of political success hit a hurdle in 1999 as Shiva Sena lost power at the state assembly elections, the civic body elections of Mumbai was still retained by the Shiv-Sena-BJP combine.

He may not have planned his rise to power but was well aware that his stature aroused extreme feelings of admiration, fear, curiosity and loathing among those he ruled or who observed him from a distance.

The last few years had been a weakening of his health and frail days also witnessed a split of his successors.

While his son Uddhav retained the seat of power in Shiv Sena, nephew, Raj separated to float a rival party called Maharashtra Navnirman Sena quite along lines of violence, intimidation and regionalism as espoused by his uncle.

On his deathbed the saffron clad 'Tiger of Mumbai,' as he was hailed, was visited by public personalities, Bollywood entertainers, artists and politicians from all parties revealing the power he wielded even in his dying days.

Thackeray's ethnocentrism did retrieve much of the Marathi confidence but then also turned him into a highly controversial figure.

With his passing away, the one question that lingers is, how will his successors carry forth his legacy and reshape agendas and visions to suit an age characterized by economic crisis, double digit inflation, increasing crime rate, poverty, corruption and greater movements of population.