RECIPE:
North Indian Favorite: Butter Chicken


Here's a traditional chicken dish from North India to warm up your holidays. Chef Sanjay Patel shows you how to make it.
---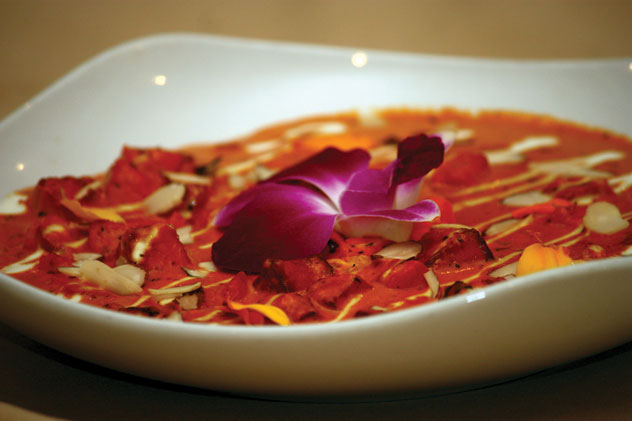 (Above): Butter Chicken [Photo: Siliconeer]

---
Ingredients:

2 lbs fresh skinless chicken

1 cup lemon juice

salt to taste

1 tbsp red chili powder

1teaspoon Methi

6 cloves

1" stick of cinnamon

8-10 peppercorns

2 bay leaves

¾ tbsp cardamom seeds

¾ tbsp methi seeds

1 tbsp almonds chopped

1 cup yogurt

1 cup heavy whipping cream

3 tbsp vegetable oil

2 chopped onions

2 tbsp garlic paste

1 tbsp ginger paste

2 tbsp coriander powder

¼ tbsp turmeric powder

1 lb chopped tomatoes

2 cups chicken stock

3 tbsp soft butter

coriander leaves for garnish

Method:

In a large bowl add chicken, salt, lemon juice and red chili powder. Marinate this mixture for about 1 hour.

Heat a pan with the peppercorns, cloves, bay leaves, cinnamon and almonds until the mixture darkens.

Then cool it and add the remaining cardamom seeds. Now blend mixture to a coarse powder in a blender.

Mix yogurt, spice powder with chicken. Marinate again for about 1 hour.

Heat oil in a frying pan with medium volume. Now add onions wait until they turn brown. Then add garlic and ginger paste. Fry again for about a minute.

Add the previously marinated chicken and fry it. Add tomato paste, methi, chicken stock, and the remaining yogurt mix.

Cook until the chicken is tender.

Melt the butter with low heat in another pan the pour it over the cooking chicken along with the heavy whipping cream and simmer for about two minutes.

Garnish with coriander leaves and serve warm with naan or roti.