CULTURE:
Dancing for a Cause: SEF Dandia 2012


Come Navratri and the Santa Clara Convention Center has become a well-known venue amongst the Indian Community to celebrate Dandia Rass organized by Sankara Eye Foundation, writes Urmi Doshi.

---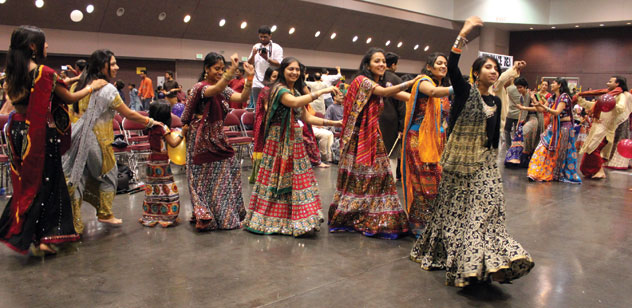 (Above): Ladies in traditional attire doing Garba. [Siliconeer]

---
Sankara Eye Foundation organized Dandia Raas, an event spanning a few weekends, that attracted over 15,000 revelers.

"Our main aim is to create an awareness about curable blindness in India," said Murali Krishnamurthy, co-founder of Sankara Eye Foundation. "We have a matching donor and our aim is to raise approximately $800K by Dec. 31 to facilitate new hospitals in India. If we can raise this fund we will get a matching sum from an anonymous donor," said Krishnamurthy.

A majority of SEF's funds is raised through its own events, booths at other events, donations including Founding Memberships, and advertising. Through these fund-raising efforts, SEF has played a pivotal role in increasing the number of free surgeries for the rural poor more than eightfold since 1998.

---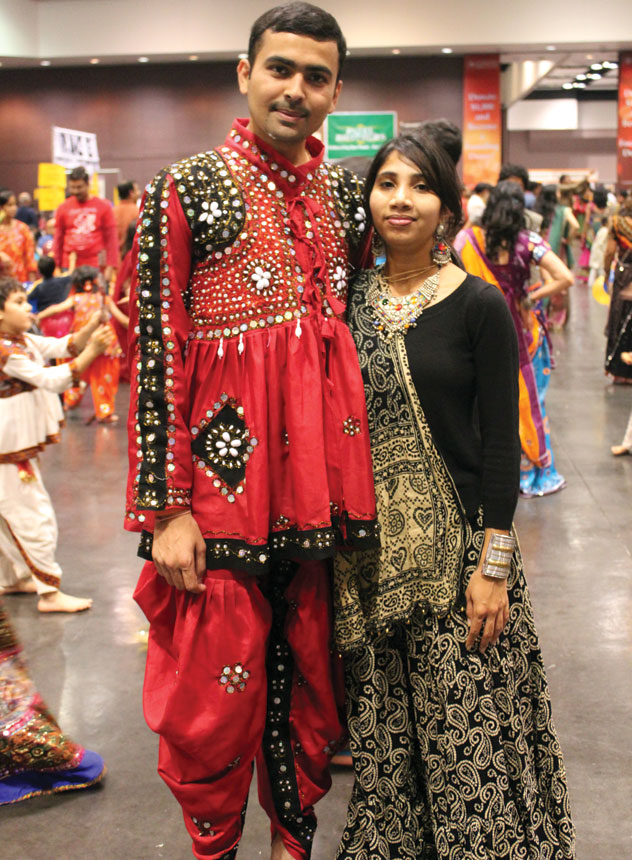 (Above): A couple wearing traditional Gujarati attire. [Urmi Doshi | Siliconeer]

---
In Bay Area, to keep the traditional environment, Aarti and devotional songs were sung in reverence of Mother Durga and Lord Krishna. Dressed in colorful traditional attire, Indians, especially Gujaratis, thronged the venue in thousands. In fact the last weekend, SEF had to close the booking as the venue was completely booked.

During the dance, young and old people energetically whirled and moved their feet and arms in a traditional, choreographed manner to the tune of the music with various rhythms.

---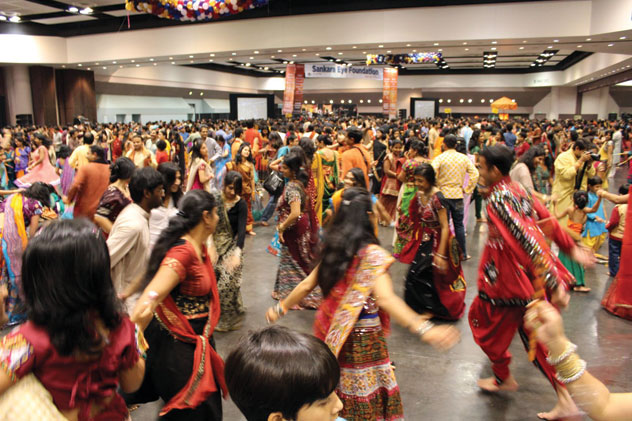 (Above): Raas Garba in full swing at the SEF Dandia Raas 2012. [Urmi Doshi | Siliconeer]

---
It was dancing for a cause. "It makes me feel good that we get entertainment and at the same time, the money is spent for a cause, someone in India will be cured of blindness, just because we are dancing here today," said Niral Shah of Pleasanton, Calif., who comes at this event every year.

This very much sums up the mood of many revelers who share the same sentiments as Niral.