SOCIETY:
Coffee Lovers Rejoice: Starbucks Comes to India


After contemplating the move for more than half a decade, the first Starbucks coffee shop was finally launched in India, in Mumbai. U.S.-based Starbucks kiosks will add to the hundreds of Café Coffee Day, Barista, Costa Coffee and Gloria Jean's coffee outlets, among others, that dot the country's landscape in Delhi, Gurgaon, Goa, Chennai, Bangalore, among other cities, writes Siddharth Srivastava.

---

(Above): Starbucks opens spectacular flagship store in Mumbai, honoring the dynamic culture of India. [BUSINESS WIRE]

---
As the saying goes, "better late than never." Starbucks, along with partner Tata Group, has chosen to take the India plunge even as the New Delhi government headed by Prime Minister Manmohan Singh has been pushing economic reforms and trying to create an environment for more foreign investment, including single and multi-brand retail.

Starbucks, that runs 18,000 cafés in 60 countries, including 800 in the U.K. and 1,000 in Japan, will add to the rising number of American companies doing good business in India. These range from McDonald's, Pepsi, Coca Cola, KFC to Microsoft, Apple, GE, Boeing, Lockheed Martin, among others. The next biggie to take the full India plunge will of course be retail giant Walmart.

Addressing media, Howard Schultz, the billionaire-head of Starbucks said: "The size of this (India) market is one of the largest in the world for Starbucks, so we're coming here with a very large appetite in terms of overall growth and investment."

Presently, identified by their red-color themed stores, Café Coffee Day dominates the market with over 1,300 outlets across India. Italian-run Barista Lavazza, the number two player with 300 stores, has chosen to build its cafés that approximate the décor and ambience of Starbucks, perhaps aware that its patrons will know a bit about the best experiences overseas.

And going by the China example, a country in which Starbucks has about 700 mainland stores and 1,000 including Hong Kong and Taiwan, the entity will definitely push hard in India too. There are already ambitious plans of 50 stores in the near future. The trademark Cappuccino and Latte have been aggressively priced to take on the competition.

"We've invested years of doing business there (China), and unlike India, there we had to educate the consumers. The wind is at our back in India. The awareness of Starbucks is higher here than any other market that we've never entered," Schultz said, adding, "India is a complicated and complex market; it has become easier to enter due to Tata."

Although South India is known for its traditional filter coffee drinkers, North Indians pre-dominantly enjoy their cups of tea. Some practices are not easy to change as wine and sushi distributors have found among the chicken eating and whisky drinking North Indian population.

Still, emerging India offers good business prospects. India's café market is estimated at about U.S. $250 million, with projections of the value doubling in the next five years. India's organized food market that comprises fine dining, fast food restaurants, café chains is valued at U.S. $2 billion market. Overall the organized retail business is estimated at a whopping U.S. $45 billion.

---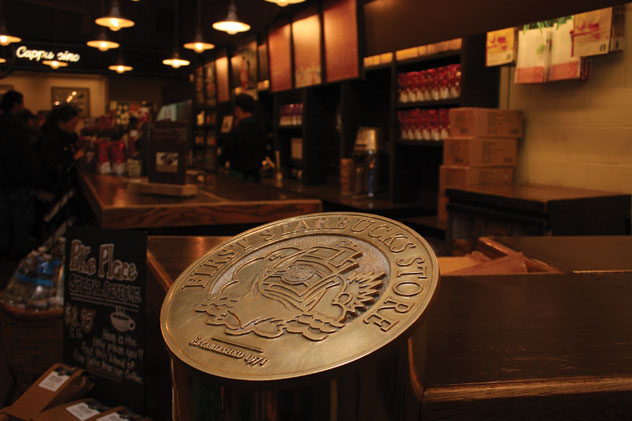 (Above): The first Starbucks store in Seattle's Pike Place area was opened in the 1970s. Since then, Starbucks has made a huge following in the new 'Coffee generation.' Today it is a worlwide chain with about 18,000 outlets, the latest one opening in Mumbai, India. [Amar D. Gupta | Siliconeer]

---
At one level, one could dismiss the launch of a coffee shop as a non-event in a vast country such as India, stricken with much bigger social issues linked to poverty, health, education and grappling with problems of corruption and major infrastructure bottlenecks.

Yet, there are big sections of upwardly mobile Indians that seek a good, clean, safe and comfortable environment to hang out, chat, work on a laptop, do some business, romance or just enjoy some good coffee, at a reasonable price.

These are aspects that could be taken for granted in a Western setting. In India, such avenues have been limited for long. For decades, the spacious air-conditioned lobbies of five-star hotels have formed the venue of multiple business meetings for those who could not afford office space.

A real estate agent based in Gurgaon said, "I meet my clients at a coffee shop now. I spend a little money but it is much less than hiring even a small commercial space for an office. Now, I can easily operate from home."

For those, who just wish to hangout, the pubs could be unsafe at times, with brawls, a common feature. Thankfully, there is only so much high that can be induced from caffeine. The restaurants are expensive and they expect patrons to order a lot, with waiters trained to pass on the message via unfriendly smirks.

The parks, as any young couple in the country will vouch, are the prowling grounds for cops out to make a fast buck. This is due to the overzealous implementation of an archaic statute dating back to the Colonial days that seeks to penalize couples being friendly with each other at a public place, as obscenity.

It may be a good idea at times to get real, going beyond online chats, social networking interfaces, Skype or GoogleTalk, and bring on a lively conversation over a strong cup of coffee.