EDITORIAL: "Four More Years"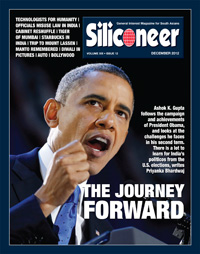 "Four More Years," the words Barack Obama tweeted, along with a photo of him hugging his wife, Michelle, that pulled the curtains on all the drama unfolding in the election battle between him and the Republican candidate Mitt Romney.

America had chosen who would be its leader for the next four years.

Indian Americans celebrated the victory of U.S. President Barack Obama in the 2012 Presidential polls. The campaign trail shows how social media influenced the final verdict.

It was not all a bed of roses, says Ashok K. Gupta, who follows the trail and achievements of President Obama and the challenges he faces in his second term ahead.

India's Prime Minister Manmohan Singh also hailed President Obama on his re-election. There is a lot to learn for India's politicos from this U.S. election, writes Priyanka Bhardwaj.

Infosys founder and philanthropist N.R. Narayana Murthy, and a dozen innovators from around the world were honored at The Tech Awards, Silicon Valley's most esteemed program for honoring the people who create pioneering technology to benefit humanity.

Murthy received the James C. Morgan Global Humanitarian Award. The award honors individuals whose broad vision and leadership help to alleviate humanity's greatest challenges.

The Tech Awards, a signature program of The Tech Museum of Innovation, also recognized 12 laureates in six sponsored categories. Siliconeer presents a report.

In India, if a law can be misused, it will be. Invariably, it is the state that makes a victim of ordinary innocent folks without the ability to push back, as was evident in the recent events that unfolded over a post on Facebook.

The latest instance of abuse is the gross overreach in reading provisions in India's Information Technology Act, 2008, by the police, obviously acting at the behest of their political masters or other vested interest.

This said law applies to disseminating content posted via communication devices such as mobile phones or computers on the Internet. India's youth that form the majority of the country's population are the pre-dominant users of such media.

However, deliberate misuse of stipulations such as Section 66A that seeks to check offensive and menacing digital posts has infringed on basic rights of speech and expressions.

Two girls in their early 20s, were arrested for voicing an innocuous opinion on Facebook on the shutdown of Mumbai due to the passing away of Bal Thackeray. This is just one incident, there are many more, writes Siddharth Srivastava.

The recent Cabinet reshuffle has resulted in 17 new faces inducted and a third of senior cabinet ministers impacted. Still, the changes, ahead of assembly elections in Gujarat and Himachal Pradesh, are a sprucing up of the existing structure with Manmohan Singh at the helm that will not reverse the dipping political fortunes of the Congress party, writes Siddharth Srivastava.

Despite stumbles, economic and demographic metrics favor India's growth for several more years. Although the Indian economy is fairly broad based, it does suffer from some imbalances like small export sector, underdeveloped manufacturing, and little high tech industry, opines Prof. Arogyaswami J. Paulraj.

Happy Holidays!