BOLLYWOOD | Film Review
Witty Romantic Caper: Tere Naal Love Ho Gaya


Directed by: Mandeep Kumar
Music by: Sachin, Jigar
Starring: Riteish Deshmukh, Genelia D'Souza, Om Puri, Tinu Anand, Smita Jaykar and Veena Malik

Reviewed by: Joginder Tuteja
Rating: ** (Mediocre)

---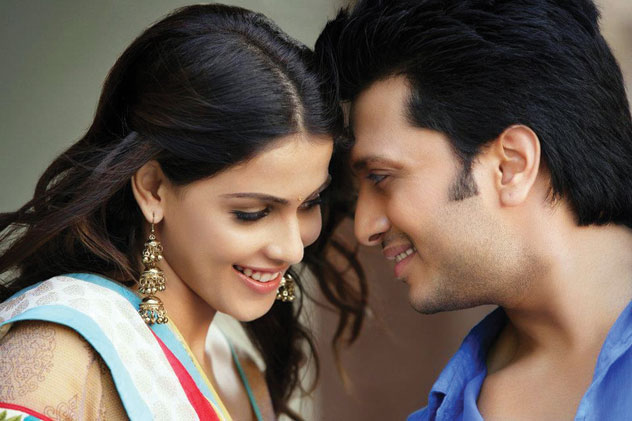 (Above): Genelia D'Souza and Riteish Deshmukh in "Tere Naal Love Ho Gaya."

---
He is heart-warming. She is cute. It is natural that when they come together on screen, love should bloom. Well, it just about manages to happen as well.

What also catches one's attention from the very beginning of Tere Naal Love Ho Gaya is the fact that there is a definite attempt to present Riteish Deshmukh as the male lead who is expected to carry the film on his shoulders. Always a perfect fit when it comes to making his place in a multi-starrer, Riteish opens the film with a feel-good 'Jeene De' song that pretty much sets the expectations for the audience. Also, thankfully the film comes right on track at the very start without wasting time which means the tone of Tere Naal Love Ho Gaya is well set.

---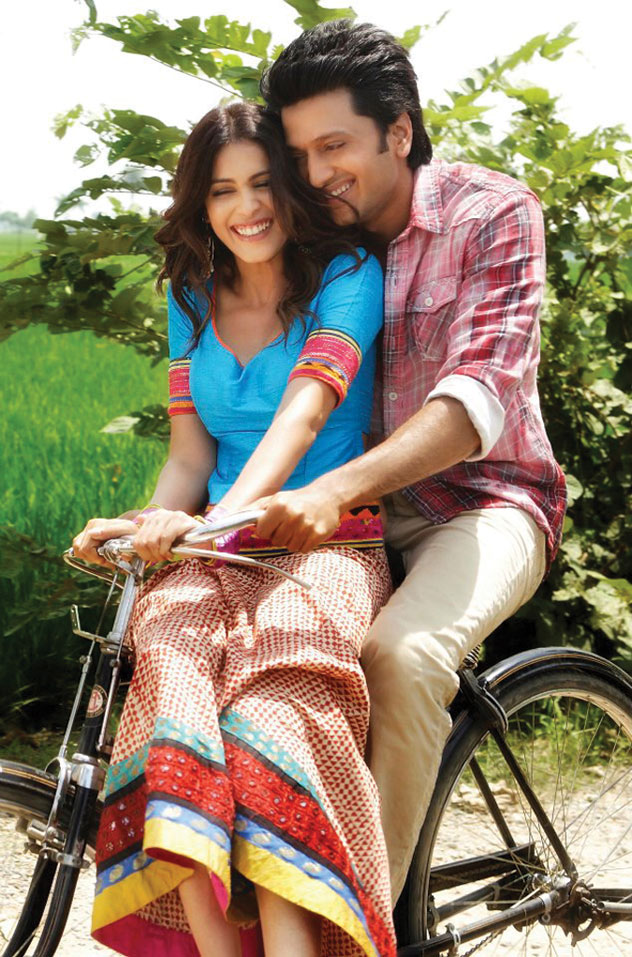 (Above): Genelia D'Souza and Riteish Deshmukh in "Tere Naal Love Ho Gaya."

---
As Genelia D'Souza also comes into picture immediately, the plot is clearly established.

Riteish wants his money back from his employer Tinnu Anand who has cheated him while his daughter (Genelia) too wants to run away from a forced marriage. It is a relationship of convenience for the duo as they join hands for a fake kidnap affair. This sets the ground for immense possibilities when it comes to bringing in the fun quotient.

Having said that, one must acknowledge that not every scene really manages to become a highlight of the film. The one that tops the charts is the car wash sequence followed by Genelia posing as Katrina Kaur and the 'ring' episode. It is done well, though same can't be said about the numerous instances when she asks Riteish to dance. One plays along as there is a smile through factor that goes in the favor of Tere Naal Love Ho Gaya.

---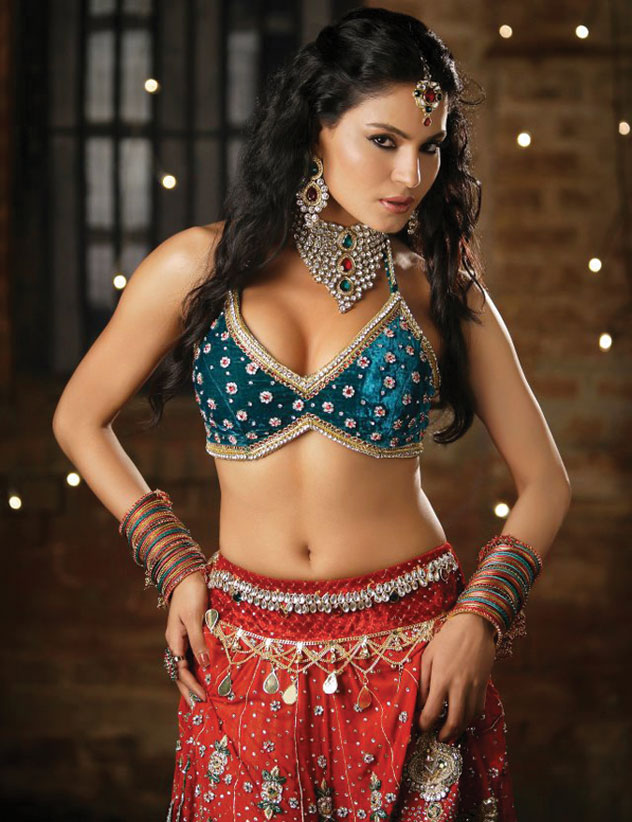 (Above): Veena Malik in "Tere Naal Love Ho Gaya."

---
Though the presence of a mysterious 'daaku' kind of character does hint of what is pretty much on the anvil, it is the twist in the tale, which is revealed right after the interval point that turns out to be the biggest highlight of Tere Naal Love Ho Gaya. Frankly, no one could see it coming and it is well interspersed into the state of affairs as well.

However this is where the problem lies because while one would have expected a rib-tickling sequence to follow, courtesy a bubbly Genelia D'Souza trying to make way into the heart of a strict Om Puri (he specializes in organized kidnapping, hence instantly reminding one of the character played by Amol Gupte in Phas Gaye Re Obama), it is just the reverse that follows with the film beginning to meander. All is forgotten about the Riteish-Genelia association (which was actually perking by now) and instead the focus shifts entirely on Genelia's attempts to woo the family members of Om Puri.

---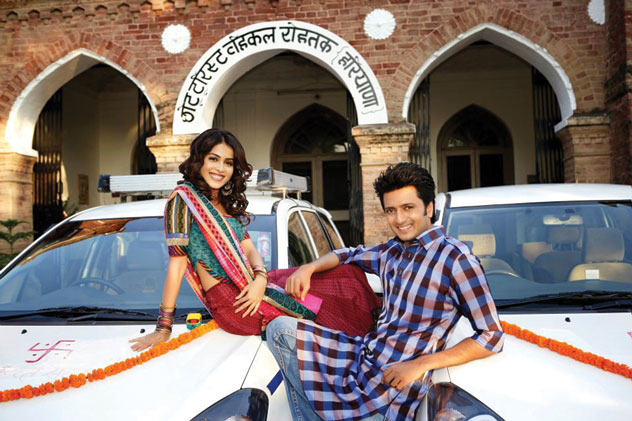 (Above): Genelia D'Souza and Riteish Deshmukh in "Tere Naal Love Ho Gaya."

---
It is apparent that the situation here is the inverse of a Dilwale Dulhaniya Le Jayenge or a Jab We Met. However quite a few sequences come across as unnecessary baggage.

The biggest culprit is the long drawn scene where Genelia educated Om Puri on mobile phone features. Even her interaction with Smita Jayakar and Chitrashi Rawat (as Puri's wife and daughter respectively) don't quite cut ice while sequences like the one where Genelia is trying to train wrestlers just fall flat.

By the time Veena Malik's item song comes, you tend to get a tad impatient but thankfully sequences after this change the route for Tere Naal Love Ho Gaya.

---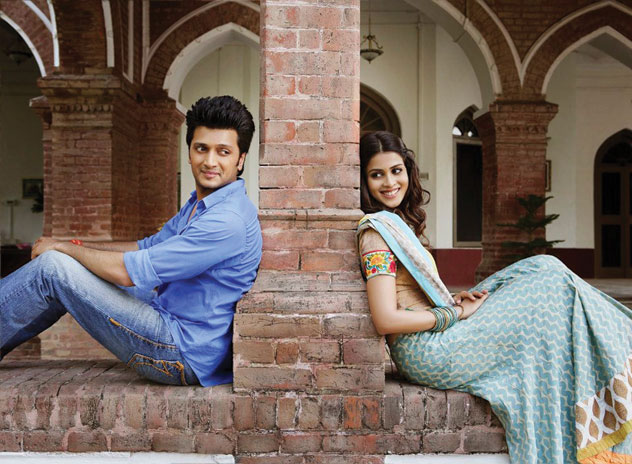 (Above): Genelia D'Souza and Riteish Deshmukh in "Tere Naal Love Ho Gaya."

---
A couple of dramatic and heart-warming sequences later, the film takes a full-on Bollywood course hence peaking at just the right time. The sequences leading to the climax only add further value to the film's storyline and the finale is apt (considering the real life status of Riteish and Genelia).

One has to admit that despite this being a rom-com, songs by Sachin-Jigar actually end up extending the film's length. Yes, 'Jeene Do' sets the tune while 'Pee Paa' is another highlight of the film. However love songs, especially the well-tuned 'Piya Re Piya', end up slowing the film's pace and are better off being heard as standalone tracks.

What does work as a combination though are performances by Riteish and Genelia. Supremely comfortable with each other and showing those sparks despite the film not being a traditional romantic tale, Riteish and Genelia play to their strengths and deliver well.

---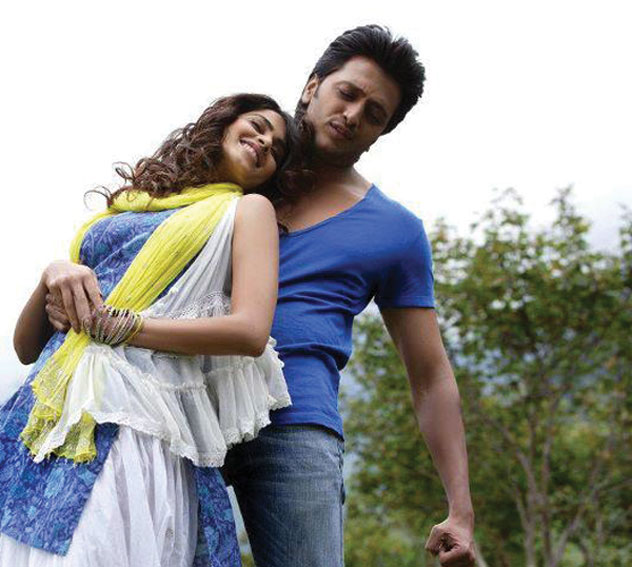 (Above): Genelia D'Souza and Riteish Deshmukh in "Tere Naal Love Ho Gaya."

---
Though the film isn't a quintessential romantic entertainer where the leading man and the lady fall in love in the first 15 minutes of the film, there are good enough reasons for audience to root for the coming together of Riteish and Genelia.

Of course a lot of it is also due to the fact that they are a much-adored real life couple, which means there is a definite connect formed between the reel life characters and the audience.

Celebrate their love; you would come back with a smile!

Rating: **

---
Joginder Tuteja is a Bollywood writer based in Mumbai, India.