RECIPE:
Grilled Delight: Tandoori Fish


Here's a healthy and tasty way to enjoy fresh water fish. Chef Sanjay Patel shows how easy and quick it is to make this delectable dish.
---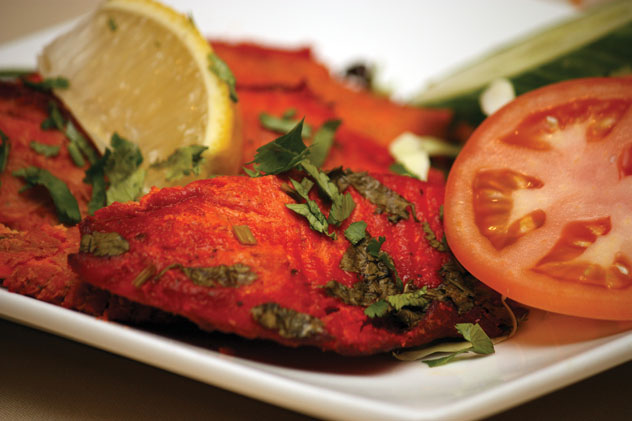 (Above): Tandoori Fish [Photo: SILICONEER]

---
Ingredients:

1/3 cup vinegar

4 cloves garlic

1 tbsp chopped fresh ginger

½ tsp salt

1 tbsp cayenne pepper

1 tbsp ground coriander

1 tbsp ground cumin

½ cup vegetable oil

2 lbs thick Tilapia fillets (cut into large
chunks)

Method:

Blend vinegar, garlic, ginger, salt, cayenne, coriander, cumin, and oil in a blender until you have a thick paste. Brush the fish chunks with the mixture to coat evenly and place in a shallow tray; pour the remaining marinade over the fish. Marinate in refrigerator for at least four hours.

Preheat the oven's broiler. Arrange the marinated fish in a broiler-safe dish. Reserve the remainder of the marinade in the tray as you remove the fish chunks that are being placed in the oven.

Broil the fish under the preheated broiler on the oven's center rack for 10 minutes; turn the fish and brush with the marinade reserved earlier. Continue cooking until the fish flakes easily with a fork, about 7 minutes more.

Place cooked fish on a bed of salad and sprinkle some chaat masala and garnish with rings of onion and lemon wedges.

Serve hot.