CULTURE
Maharaja's Court: Darbar in San Francisco


The Chitresh Das Dance Company premieres Darbar, performed in the format of traditional kathak dance drama. Darbar will be presented in partnership with the Asian Art Museum's exhibition 'Maharaja: The Splendor of India's Royal Courts.' A Siliconeer report.

---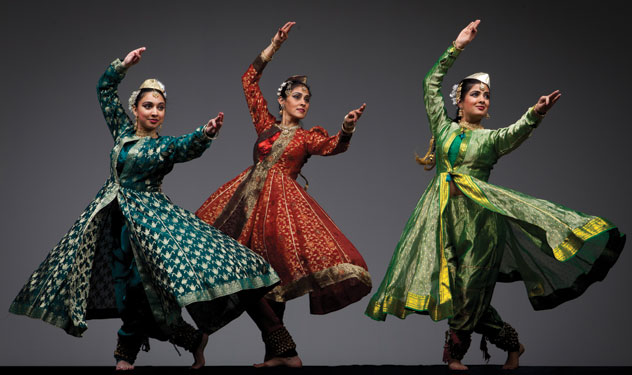 (Above): Labonee Mohanta, Rina Mehta, Antara Bhardwaj perform in "Darbar." [Photo: Margo Moritz]
---
DARBAR

WHEN: Thur-Sun, March 15-18, 2012
Thursday-Saturday, March 15-17, 7pm
Sunday, March 18, 2pm
(March 17 is a private event – not open to the public)

WHERE:
Asian Art Museum – Samsung Hall
200 Larkin Street, San Francisco

TICKETS: $35-$55.
For tickets, please visit www.kathak.org or call 1-800-838-3006


Darbar (translated as 'the court'), choreographed and composed by kathak maestro Pandit Chitresh Das, highlights the artistic renaissance that took place in the courts of North India as well as the methodology of divide and rule utilized by the British to conquer India and eventually dissolve the same courts. The story is loosely based on that of king Wajid Ali Shah, a ruler known both for his decadence and for his revival of kathak. Ali Shah, so distracted by his indulgences, failed to notice that his general was being tempted by the British to betray him.

Darbar is both a representation of the rich artistic and cultural legacy of the courts of North India as well as a statement about the responsibility of power and the risk of corruption—concepts still relevant today.

"With Darbar I am able to talk about power, about politics, and about art through the tradition of kathak," said Das. "In kathak lies the art of my message, of movement and dance, of costumes, of finding what happened in India in the 1700s and 1800s that is relevant to modern audiences, whether they be in San Francisco or Mumbai. Just as the Maharaja exhibit explores the power and dynamics of the maharajas, so this art reflects that history and brings it alive for the modern day," he added.

---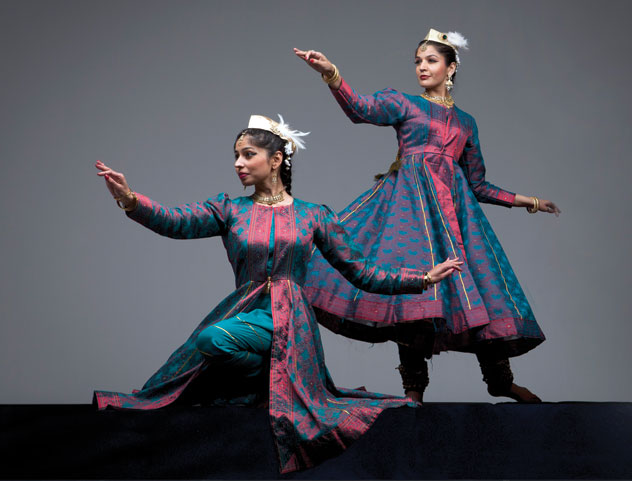 (Above): Anjali Nath, Rachna Nivas in "Darbar." [Photo: Margo Moritz]
---
Darbar features dancers of the Chitresh Das Dance Company, including Charlotte Moraga, Seibi Lee, Joanna Meinl, Rachna Nivas, Rina Mehta, and Labonee Mohanta. The dancers are accompanied by world-class musicians, including vocalist Debashis Sarkar (vocals), Jayanta Banerjee (sitar), and Ben Kunin (sarod). Ramesh Misra performs on the sarangi, a rare bowing instrument that mimics the human voice.