SUBCONTINENT
World's Deadliest: Roads in India


With short temper on roads, drunk-driving, over-speeding and negligent driving on the rise, and pedestrians and drivers having lowest regard for traffic safety rules, road accidents have only multiplied with time. In 2010, road fatalities in India further increased to create a record of sorts with 134,000 dead, highest in the world, writes Priyanka Bhardwaj.

---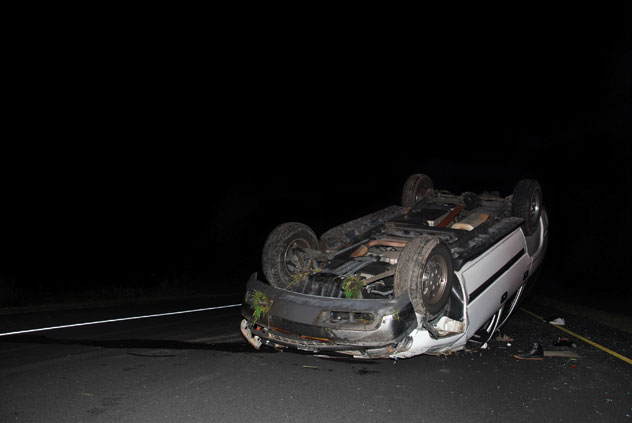 ---
Sunday morning (Feb. 19), New Delhi woke up to images of a mangled Lamborghini car rammed into a railing on the bus rapid transit corridor in the posh Greater Kailash area.

A son of a real estate tycoon was apparently trying to overtake a truck when the accident took place said Additional Deputy Commissioner of Police (South East) Meghna Yadav.

Just two days ago, in another road accident an Afghan national died and five others were seriously injured in South Campus area of capital city.

Then again a few days ago two rising badminton stars succumbed to injuries in a road accident in Pune, Maharashtra.

Thus, each day an accident saga is repeated on Indian roads leading the country to account for about 10 percent of road accident fatalities with just over a percent of the world's vehicle population.

India's dubious distinction of having the most dangerous roads in the world is confirmed by National Crime Records Bureau (NCRB) that has recorded 130,000 fatalities in road accidents in 2010 alone.

According to International Road Federation (IRF), a non-profit organization for development and maintenance of better and sustainable roads and road networks, each year the country suffers a loss of Rs.1,000 billion ($20 billion) on account of road crashes.

K.K. Kapila, IRF president says, "The losses due to road accidents have crossed Rs.1,000 billion annually. The sad part is the establishment knows it. These figures are present in their own records and despite this, there's no political will to resolve the problem."

The last report that was compiled in 2001-03 by India's Planning Commission pegged the total losses in 1999-2000 at Rs. 550 billion (about $10 billion) that made up 3 percent of Indian gross domestic production.

Going by Kapila's numbers the losses that take into account victim-related costs, property damage and administration costs have doubled in last 10 years.

There is no dearth of reasons for roads accidents to occur.

---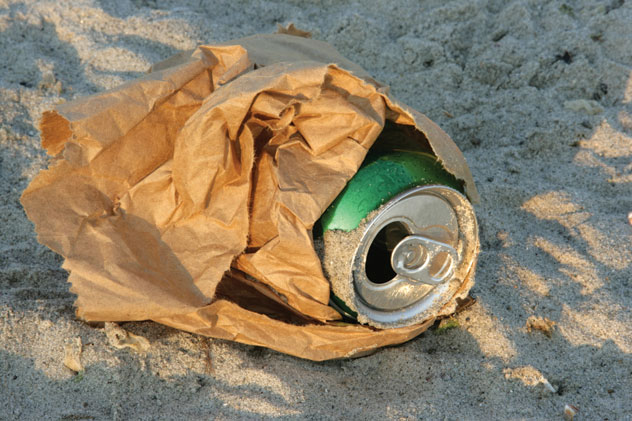 ---
With short temper on roads, drunken driving, over speeding and negligent driving on the increase, and pedestrians and drivers having lowest regard for traffic safety rules, road accidents have only multiplied with time.

Only stringent checks especially when the driver kills can check this rising trend opines Kapila.

NCRB report points out that drunken driving was a major factor for road accidents.

Former police officer Maxwell Pereira says, "Most of the city accidents are not necessarily out of drunken driving. But 99 percent of accidents, fatal accidents that occur outside the cities, are due to drunken driving and there is no check on this kind of drunken driving. Unfortunately, truck drivers think they are fully armed to drive on the highway when they are fully drunk! Until and unless this country comes up with a new method of checking drunkenness on the highways, I don't think these fatalities can be lessened."

Doctors at the emergency ward of Safdarjung Hospital accept that occupants of trucks, lorries and two-wheelers occupants are the most prone to accidents.

With speeding the severity of any crash only rises and a boom of new fast cars add to this urge to indulge in high speed drives.

"A five percent increase in average speed leads to an approximately 10 percent increase in crashes that cause injuries and a 20 percent increase in fatal crashes. Zones of 30 kmph can reduce crash risk and injury severity and are recommended in areas where vulnerable road users are particularly at risk," said Manish Gupta, a road expert.

---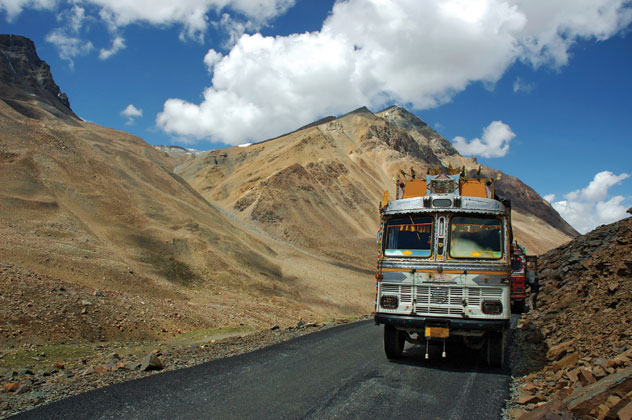 ---
The deterrent effect of laws is lost as they are toothless and archaic, leaving law enforcement agencies helpless in curbing this menace.

A Gurgaon traffic police survey revealed that in 75 cases reported in 2010, accused were imprisoned under section 304(A) of Indian Penal Code (IPC) and only in 13 cases.

The section reads "if any rash or negligent act not amounting to culpable homicide leads to a death, accused can be punished with a maximum jail term of two years."

The survey noted that not a single driving license was cancelled after conviction and a meager compensation (to victims or their families) was granted only in 4 cases (amounting to a few thousand rupees).

It is very rare to see conviction of the accused for a maximum period of ten years.

As of now the nominal fines and archaic penalties even for grave crimes and outdated Motor Vehicle Act have failed to act as deterrent confirmed Delhi Joint Commissioner of Police (Traffic) Satyendra Garg.

Recently a report submitted to Ministry of Highways has recommended over 22 solutions to bring in road safety and comments that: "In India, people consider it their right to use roads as per individual convenience. Citizens often don't respect the law and create hazards for themselves and other road users. For instance, two-wheeler riders vehemently refuse to wear helmets. Intense awareness activities coupled with enforcement are required to sensitize people and bring about an attitudinal change."

It is a common sight to see two-wheeler riders not wearing helmets along Indian roads and why the country cannot copy successful initiatives of Vietnam and Uganda in this matter eludes one's common sense.

---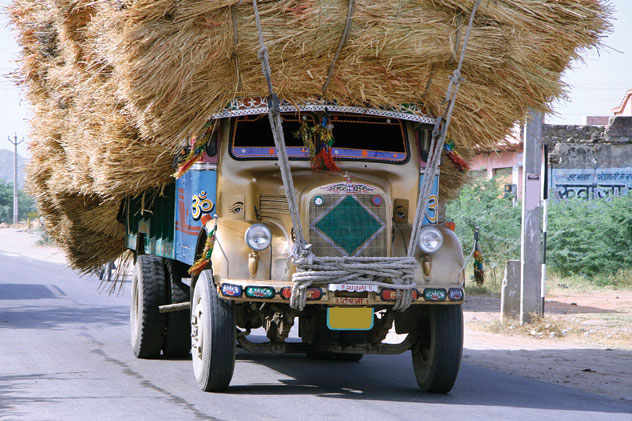 ---
Also a lack of political will is evident in that the National Road Safety and Traffic Management Board Bill which aims to establish a panel for development and regulation of road safety, traffic management system and safety standards in highway design and construction has still not seen the light of the day.

Some weeks back a data recorded the deadliest spots in the country and Kayampur More in Aligarh, Uttar Pradesh was the deadliest of all (the crossing claimed 169 lives in 2011 alone).

The other deadly spots as listed are Hero Honda and Rajeev crossings in Gurgaon (Haryana), Jaigurudev Ashram in Mathura (Uttar Pradesh), Shivdaspura and Chaksu in south Jaipur, Old Kasara Ghat and Kude to Sativali in Thane (Maharashtra), and Medchal and Uppal in Cyberabad (Andhra Pradesh).

This report on road fatalities in about 13 provinces is being studied by the Ministry of Road Transport & Highways to work out some actions.

The study furnishes facts that delineate reasons for accidents such as faulty road design and engineering, high density of population and lack of pedestrian facilities.

The public works department responsible for this task has often found to suffer from a backlog, leaving flyovers, dividers, crossings, foot-paths in half done conditions and without proper warnings or signals.

An expert is not required to say that lack of proper signage and street lighting are other problems afflicting Indian roads.

If one were to believe Highways Minister C.P. Joshi assures that the government has woken up to the road problems and created a corpus of Rs. 5 billion for engineering works to ensure road safety and also will be zeroing in on top five black spots in each of states by March-end and allocating funds to redress the problems.

---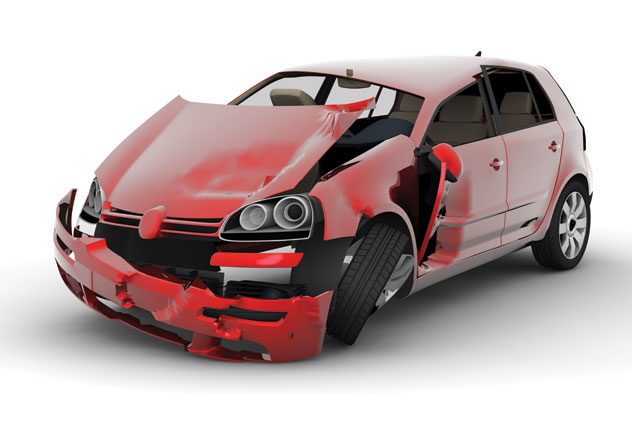 ---
But observers doubt the government's seriousness as Rohit Baluja, member UN Global Road Safety Collaboration said, "The state governments know about the spots and also claim that they are aware of the reasons. Then what and who stopped them from taking remedial measures. Do we know of any state carrying out crash investigation to find the causative factors of any accident then blaming the driver? We are lacking on traffic engineering, investigation and the government agencies are completely dependent on consultants."

A comparative between India and China reveals the disgusting state of Indian roads.

China fared better as it has successfully reduced its number of deaths from 107,000 in 2004 to 73,484 in 2008 when fatalities on Indian roads jumped from 92,618 to 120,000 in the same time frame.

In 2010, road fatalities in India further increased to create a record of sorts with 134,000 dead, highest in the world.

Experts say that what is required are road safety councils at provincial levels, financial support for innovations in road safety education, data collection and reporting system, routine training programs for traffic police and drivers, etc and of course fresh review of laws to address some issues and bring in some semblance of road safety.