EDITORIAL: Censoring Social Media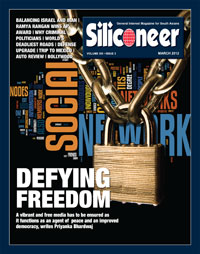 The Indian government has voiced strong concerns with how people have used social media to their advantage and in doing so, they may have crossed the line when it comes to maintaining dignity of the political leaders of the world's largest democracy. The government also says social media is somewhat a threat to the national security. Crying foul, the Indian government has stepped up its vigil against those who use social media to freely express their views.

While national security and public order cannot be compromised yet a vibrant and free media has to be ensured as it functions as an agent of communication, peace, harmony and unity, and an improved democracy. The government has to come clean in its intentions on regulations and develop a sustained strategy that has grasped technicalities associated with feasibility of censorship and relieves intermediaries of third party-created content, writes Priyanka Bhardwaj.

When the nation's top achievers in Advanced Placement science and mathematics courses were recognized in February this year, as winners of the 2011 Siemens Awards for Advanced Placement, Ramya Rangan, an Indian American student from The Harker School in San Jose, Calif. was one of the toppers. Siliconeer brings an insight into the challenges faced by this brilliant student that is an inspiration to the numerous aspiring youngsters in the community.

Crime and politics often share a hand in glove relationship. The recent elections in India have confirmed the fact that to beat the odds of being a politician, one often has to pursue a career in crime.

India's political parties have an array of potential candidates to choose from, so one wonders why they choose candidates with criminal records. Money is just one major consideration. There are other factors that determine the selection criteria for the candidates, opines Milan Vaishnav.

India needs to calibrate its relations in a way that suits its interests. The practical approach would be to nurture independent and parallel lines of communication with both Iran and Israel, despite troubled relations between the two nations, writes Siddharth Srivastava.

With short temper on roads, drunk-driving, over-speeding and negligent driving on the rise, and pedestrians and drivers having lowest regard for traffic safety rules, road accidents have only multiplied with time. In 2010, road fatalities in India further increased with 134,000 dead, highest in the world, writes Priyanka Bhardwaj.

Siliconeer wishes all readers a very happy and colorful Holi!