The Nissan Altima is one of those vehicles. I've been test-driving cars since 1997, and the Altima has provided a consistently pleasurable driving experience all these years. Now, for 2013, the Altima mid-sized sedan gets a total makeover and nothing is lost in translation. In fact, it could be even better.
What's new on these 2013 models? What's not? The body, engine, transmission, suspension, steering, seats and instrument panel, the navigation system and even the windshield wipers get revamped.
The body is lighter and more rigid. The 2.5-liter engine is also lighter, as well as stronger and more fuel-efficient. The X-tronic CVT transmission is smooth as silk and quietly responsive.
The Altima has a new Electronic Hydraulic Power-Assisted Steering system that delivers smooth steering at higher speeds and even when parking. Hydraulic assist uses electric power, rather than drawing power from the engine, and this not only provides that smooth steering sensation, but also helps increase fuel efficiency.
---
(Above): Interior view of the 2013 Nissan Altima.

---
The seats within these 2013 Altimas are specially designed -- with the help of National Aeronautics and Space Administration (NASA) posture and seating researchers -- to help reduce the fatigue that a driver with long commutes can experience. Called "zero gravity" seats, they help improve blood flow, and reduce the load on muscles and the spine. If you're on the road a lot, either for lots of family trips or as a commuter, this should be interesting news. These front seats may also be heated. Believe me, on these cold mornings, that is a real comfort feature.
The dashboard gets a work-over, too, and the end result is one that is cleanly designed and highly functional. The NissanConnectSM is the launch-point for all music, navigation, text messaging and other functions. It's very easy to use and includes an audio display. This display is 5.0 inches in size on SV and SL models, and 7.0 inches for those vehicles equipped with navigation. NissanConnectSM integrates Pandora, Bluetooth Hands-free Phone, USB Connection for iPods, and other compatible devices, and SiriusXM Satellite Radio. Nissan's Hands-free Text Messaging Assistant feature means you can manage incoming texts via voice control, although I seriously have an issue with texting in any way, shape or form in the car; it is such a dangerous distraction.
---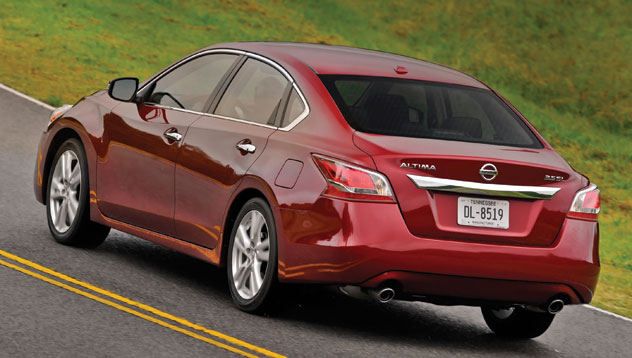 (Above): Exterior view of the 2013 Nissan Altima.

---
Even the wipers get an upgrade. When more than four swipes have occurred, the headlamps are automatically turned on, certainly a nice touch since many states now require headlamps to be on in the rain.
Safety features include a RearView monitor to help you spot potential obstacles, and Blind Spot Monitoring that chimes to warn you if you're about to make an unsafe lane change, as well as a host of top-flight braking and traction control technology.
Behind the wheel, you're going to find those newly designed seats are very comfortable, the visibility is good and the driving experience extraordinary. Swiftly responsive and whisper-quiet, even at freeway speed, only just adds to the pleasant driving experience. The only tiny complaint we could lodge was that the rear outboard seats are a little tight on headroom for tall passengers.
The Nissan Altima, although totally redesigned for 2013, continues to please. It is a good-sized sedan for most families, offering plenty of legroom and a generously sized trunk, as well as all those safety features you would want on board your family's car.