MONTHLY HOROSCOPE: February 2013
Sponsored by: Ashok K. Gupta, CDPE | HappyLiving4u | www.happyliving4u.com


---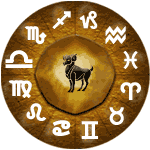 ARIES (March 21 to April 20): Time till February 15 is favorable to make any move in career. You can even get a better position in the same company. Chances of making money through stocks are strong after the 15th. A new member will be added in your close friends circle or in the family in the second half of February.

TAURUS (April 21 to May 20): Property related matters will settle before February 15 or you may buy another vehicle for personal use. There is a strong chance of major improvement in career after the 15th. You will continue to get in better shape, health wise. One of your children may also get admission in a much desired and prestigious college.

GEMINI (May 21 to June 20): It's time to go after the people who owe you money. It may not come in full but you may be successful in recovering most of it. Do not panic and try to change career on impulse this month, as a better offer will come towards the last week of February. Some one in the family will go on a short trip.

CANCER (June 21 to July 22): Long-awaited news could come before February 15. There will be major improvement in career this month. You may sign the papers to buy another franchise business. Speculation and playing lottery will be fruitful. You will also hear some good news about a child towards the end of the month.

LEO (July 23 to August 22): You will be excited as everything starts falling into place. Big deals could finalize before February 15. A child will start the process to get admission in a specialized field. Spouse may need extra medical care towards the end of February. You will enjoy an evening with famous people.

VIRGO (August 23 to September 22): It will be better to put important decisions on hold till February 15. You should face no difficulty in achieving your goals after that whether personal or professional. Financially, you will continue to stay comfortable. A business or life partnership will also finalize this month.

LIBRA (September 23 to October 22): Financially the whole month of February is good for you and especially the second half, so keep working on your plans, you should hit it big this time. You may also discard one ungrateful friend from your list. All business trips will go well and assurance will come quickly. Try playing lottery.

SCORPIO (October 23 to November 22): You will accomplish a lot in the first half of February. It is the right time to approach government agency or people in power to seek favor. Business will take off in the second half and number of new clients will escalate. You will also attend some social events and meet many relatives and friends.

SAGITTARIUS (November 23 to December 22): You will be very lucky in all money matters especially in the first half of the month. Of course, the trend will continue there after also. You will launch a major project and success will be almost instant. You may travel long distance towards the end of February with the family to attend an important social event.

CAPRICORN (December 22 to January 19): When it comes to dealing with government or law you need to be very careful or will be imposed a hefty penalty in the second half of February. Do not rush into any conclusions or sign any contract in a hurry. Second opinion will help you make the right choice. A child will need moral and financial support.

AQUARIUS (January 20 to February 18): Spouse will need your help and you may not like all ideas but will have no choice but to fulfill them. Some of you may accept a new job offer in the second half of February. You may communicate with people living overseas to discuss important issues. Your will continue your search for another property.

PISCES (February 19 to March 20): You will be very focused. Avoid buying any used vehicle or a run down property this month. You will receive good tips and guidance from a totally unexpected person. It will be favorable month for people in sales. You may have to change some electric gadgets in the house in first half of February.