RECIPE:
Staple Diet: Tarka Daal


It is part of a daily diet in many Indian households, now chef Sanjay Patel shows how to make it all the more delectable.
---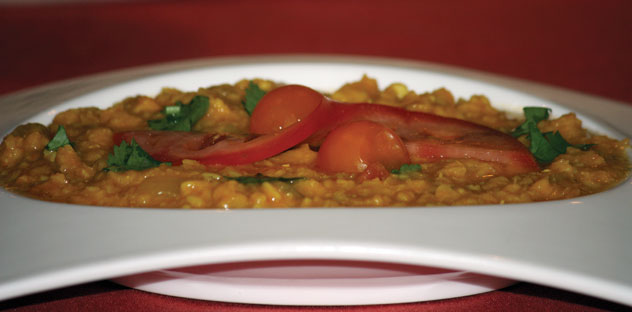 (Above): Tarka Daal [Photo: Siliconeer]

---
Ingredients:
For the Base:
•   1 cup red lentils or masoor daal (see tips)
•   1 onion
•   2 medium tomatoes
•   1-2 cloves garlic, minced
•   ¼ tsp. turmeric
•   salt to taste
•   lemon juice to taste (optional - see tips)
For Tempering:
•   ½ tsp. cumin
•   1 tsp. mustard seeds
•   1-2 dried red chili (or green chili)
•   2-inch ginger, julienned (see tips)
•   pinch of asafetida
•   curry leaves (optional, see tips)
•   cilantro for garnish
•   2 tbsp. ghee (clarified butter) (see tips)
Tips:
Instead of red lentils, you could use yellow lentils, or split and skinned green gram lentils on their own or in combination. I add some green gram to this dish.
I like the fried taste of julienned ginger hence I add them along with the tempering ingredients. You can also chop or grate them and add it along with the garlic while preparing the base.
The restaurant version uses about 4-5 tbsps. of ghee for tempering which gives it a gourmet taste. At home I tend to use 1-2 tsp. of oil instead for regular consumption using the 2 tbsp. of ghee when I entertain. You can use a combination of ghee and oil or only oil for your preparation.
Adding lemon juice or any kind of citrus helps in the absorption of iron from the lentils. I love adding Meyer lemons, makes the daal taste even better.
If making it Punjabi style, skip the curry leaves. Some Punjabi versions add garam masala (about 2-3 tsp.) and kalonji (¼ tsp.) to the daal.
Method:
Wash the lentils in cold water until the water runs clear. Heat 1 tbsp. ghee (or oil) in a saucepan and add onions and garlic along with salt and turmeric – stir for about 2 minutes. I usually skip the oil. The salt helps the onions sweat and hence fat is not needed. Add the chopped tomatoes and sauté for about 2 minutes. Add the lentils along with 3 cups of water.
You can adjust the amount of water once the lentils are cooked depending on the consistency you prefer.
Stir and bring to a boil. Lower the heat, close with a lid and simmer for 15-20 minutes or until cooked. Be sure to close the lid partially or open cook to allow the steam from escaping. Otherwise it will boil over the pan
Once lentils are cooked, give them a stir and adjust the amount of water to your liking.
In another pan, heat the remaining ghee. Add mustard seeds and when they start popping, add the cumin, ginger, red chilies, asafetida and curry leaves.
Add it to the daal. Give it a quick stir.
Serve hot garnished with cilantro.