In the background of fragile economic times, slow growth and more than 220 million unemployed, the theme was appropriately called 'Resilient Dynamism' and attendees shared ideas on serious economic woes, financial scandals, rising unemployment, and dangers of environment, religious intolerance, gender inequity, poverty, and lack of education at the annual extravaganza.
What marked a departure was the invitation to the media to this haloed networking platform, absence of Google and the lack of glitz and glamor.
---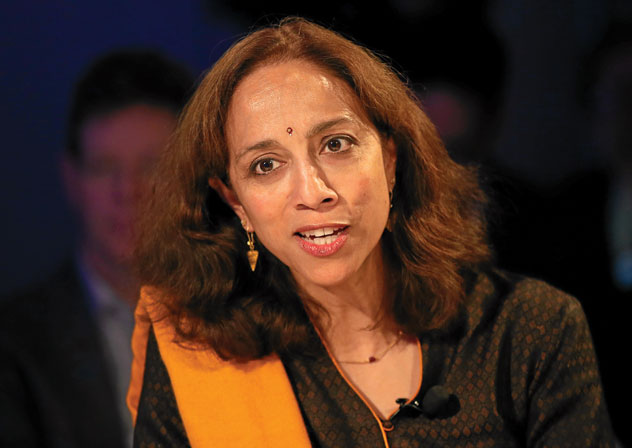 (Above): 
Kavita N. Ramdas, representative, Ford Foundation, India; Global Agenda Council on India during the session 'India's Growth Context' at the Annual Meeting 2013 of the World Economic Forum in Davos, Switzerland, Jan. 24. [Photo: Mirko Ries | World Economic Forum]
---
To partake in sessions, the India's contingent, led by Urban Development and Parliamentary Affairs Minister, Kamal Nath, comprised of prominent others, the Home Minister, P. Chidambaram, Commerce and Industry Minister Anand Sharma, Heavy Industries and Public Enterprises Minister Praful Patel and Power Minister Jyotiraditya Scindia, who strived to present India as the best investment destination especially in retail sector.
Besides making a pitch for the country the opportunity to explore partnerships or for simply selling products the Indian brigade included corporate honchos and industrialists like Mukesh Ambani of Reliance Industries Ltd, Rahul Bajaj of Bajaj Auto, Anand Mahindra of Mahindra & Mahindra, Adi Godrej of Godrej, Lakshmi Mittal of Arcelor-Mittal, Azim Premji of Wipro, Shyam Bhartiya of Jubilant, Malvinder Singh of Fortis Healthcare, Sunil Mittal of Bharti Enterprises and ICICI Bank CEO Chanda Kochhar.
---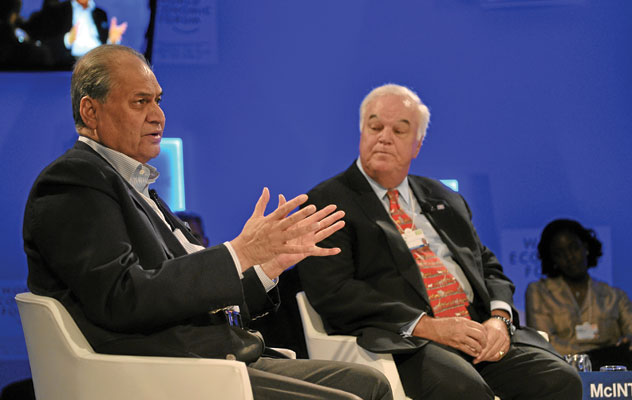 (Above): 
Rahul Bajaj (l), chairman, Bajaj Auto, India speaks during the session 'Turning Transparency into Growth' at the Annual Meeting 2013 of the World Economic Forum in Davos, Switzerland, Jan. 24. Jack B. Dunn, president and chief executive officer, FTI Consulting, USA listens. [Photo: Urs Jaudas | World Economic Forum]
---
The Indian road-show focused on the country recently opening up to hundred percent Foreign Direct Investment (FDI) in back end chain and allowed sourcing from any part of the country and all that laid the path for retail giants like Swedish firm, IKEA to propose Rs. 100 billion worth of investment in the country's retail sector.
Assuring Walmart International CEO, Doug McMillon, and Tesco Chairman, Richard Broadbent, to foray into multi-brand retail sector Sharma exhorted, "When a policy is made, naturally investors would like greater clarity. India's policy on FDI in multi-brand retail has finality and they need not be unduly concerned about any policy reversal."
Another case of Indian deliberation was by Chidambaram who extolled on the country's risk responses to the scourge of global terrorism that threatens world peace and security.
Giving a special hearing to this session were former Pakistani cricketer and chairman of Pakistan Tehreek-e-Insaf, Imran Khan, Audrey Kurth Cronin of the U.S. National War College, and Minhaj-ul-Quran International of U.K.'s Muhammad Tahir-Ul-Qadri.
---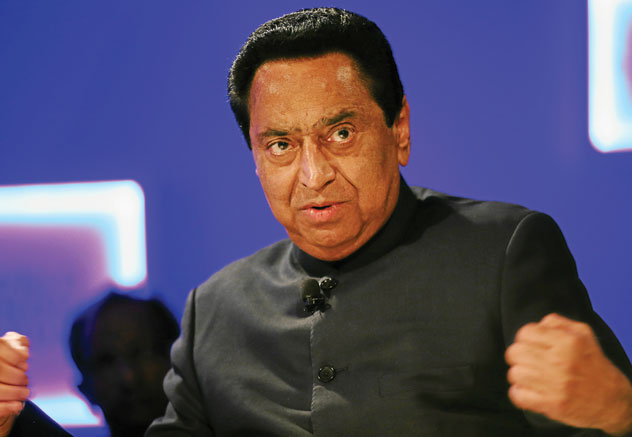 (Above): 
Kamal Nath, Minister of Urban Development and Minister of Parliamentary Affairs of India gestures while speaking during the session 'India's Growth Context' at the Annual Meeting 2013 of the World Economic Forum in Davos, Switzerland, Jan. 24. [Photo: Mirko Ries | World Economic Forum]
---
The Indian Minister also highlighted rural management policies that the government applies to its agricultural sector that engages almost half of its more than a billion population.
He guaranteed foreign investors of the domestic stance on pro-growth reforms and policies, cutting subsidies, reducing fiscal deficit and opening up of insurance, retail and pension sectors to FDI along with adoption of a slew of tax simplification and stabilization measures.
As an enabler the cash-strapped government looks forward to $5 billion it hopes to raise from divestments in 2012-13 he revealed.
Also prior to leaving for Davos he had talked of increasing income tax collections by stepping up on a 360 degree profiling exercise of high net worth individuals that would track big ticket expenditure taking place in the economy.
Further, India found mention in the call for underscoring the importance of having gender equality and for greater realization of Indian women's expectations for respect and justice as the International Monetary Fund MD Christine Lagarde evoked the name of Delhi's recent rape victim.
However, as observers put it, the investor interest in India appears to have waned from last year when the country held a promise of economic succor also to the world.
As corruption and poor governance took center stage in the WEF meeting the main causes for India's road-show lacking the shine was undeniably the stories of scams and retrograde and controversial tax regimes, downgrading by rating agencies, galloping fiscal deficit, slow decision making, and specter of growth figures not budging beyond the 5.7 percent mark emanating from the country.
Digging deeper in the reasons, Amnesty International's Germany chair, Huguette Labelle categorically pointed out that India's slow infrastructure development resulted from social instability and corrupt practices, and the country's lack of commitment to implement UN Conventions against corruption.
The natural result was other emerging economies such as Indonesia, Japan, Africa and Latin American countries like Peru, Panama, Chile, Columbia, and Mexico gaining from where India has lost and thus stealing the WEF limelight.
Countering this opinion, Kamal Nath cautioned investors not to have unrealistic and high expectations from the Indian government.
---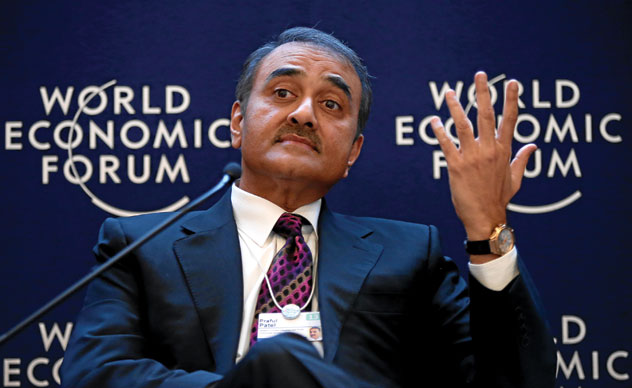 (Above): 
Praful Patel, Minister of Heavy Industries and Public Enterprises of India gestures during the session 'Forum Debate: Religion and Politics' at the Annual Meeting 2013 of the World Economic Forum in Davos, Switzerland, Jan. 25. [Photo: Mirko Ries | World Economic Forum]
---
Reiterating this Nath said, "There is a psyche that has developed that either there is bloom or doom. There is no middle path on expectations from India and therefore just a lull has been taken as doom. Because of this, even a small dip in growth rate in profits is perceived to be very bad as there has been very high growth in the past."
"India's infrastructure will see a trillion dollars worth of investment in coming five years and though there has to be government intervention, the best growth will be despite the government and not because of government," he tried his hand at giving a rosy hue to the gloomy Indian investment scene.
Nath's contention was with how academic investors feel those risks, as they may prevail in investing in emerging markets, the fact that emerging nations are not as impacted by one another as European nations are, do not negate the lure to invest.
Yet, considering that only one of the 260 sessions concentrated on India and not more than 20 speakers from the country were given a chance to address the WEF gathering, it only indicates India's decreasing relevance.
Perhaps this should send a strong message to New Delhi that foreign sentiment on India will be positive only when it gets its act together on improving its investment climate by stepping up the pace of policy reform before sending polished speakers to make high-pitched presentations to attract foreign capital.