TRAVEL & LEISURE:
And All That Jazz: SFJAZZ Center, San Francisco


Hard to hear sometimes over the clatter of hard rock, loud pop singers, rap and hip-hop, et al, but jazz is alive and well in the San Francisco Bay Area. On February 21 the future of jazz will have an even bigger window on the world, writes our travel editor Al Auger.

---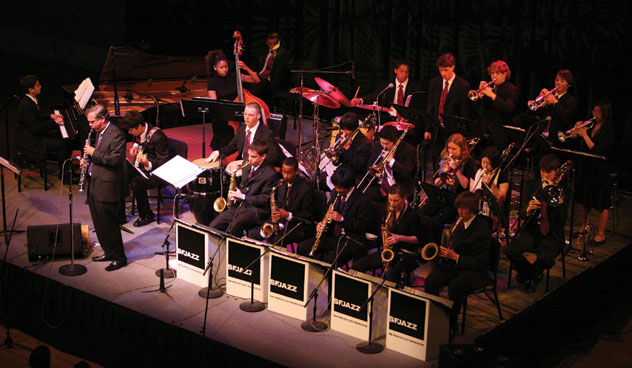 (Above):
 SFJAZZ High School All Stars. [Photo: SFJAZZ]

---
The announcement of the opening of the SFJAZZ Center in San Francisco came to hardcore jazz and blues aficionados in Northern California as a long-awaited hope. This will be a new and exciting destination venue for all of us. Behind the striking edifice is a long and storied history of jazz in San Francisco and its environs. More on this exciting new addition to our music later. For this reporter, who found writing about the music and the deeply committed people who turned America's art form into an international icon, it has been a labor of pure love. The vast array people who made this a reality were imbued with the same driving force and passion.

It all began for me at the tender age of 13. At the suggestion of a friend I purchased my first "jazz" 78rpm record, Freddie Slack and Ella Mae Morse's top selling vinyl "Cow-Cow Boogie" backed by "House of Blue Lights." From there it was a simple progression to Charlie Parker, Dizzy Gillespie and the exciting world of bebop, progressive jazz and blues.

At the time, just after World War II, the San Francisco Bay Area was a literal hotbed of music. In Oakland the Sands and Sweets Ballrooms drew headliners like Billy Eckstine, Charlie Ventura, Louis Jordan, Harry James, Count Basie and so many great names. At the Burma Lounge on Grand Ave. in Dave Brubeck with Cal Tjader on vibes, was paying his way through courses with Darius Mihaud at Mills College. But, the most stimulating neighborhood for intimate and creative jive was in Oakland's "Harlem," Seventh Street - made famous by Ivory Joe Hunter's "Seventh St. Boogie." On air, the radio was filled with jazz, blues and rhythm and blues with DJs like the 'Father of radio jazz" Pat Henry, Don Barksdale, "Jumpin' George" 0xford, Jimmy Lyons, Bert Solitaire and a host of others across the dial.
---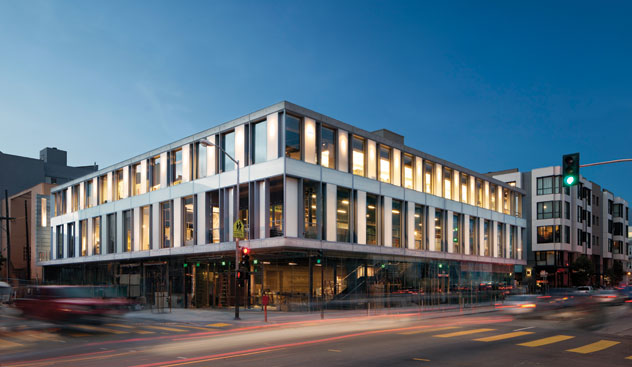 (Above):
 Exterior view of the SFJAZZ Center. [Photo: Henrik Kam]

---
The biggest, and most popular nightspot on the street was Slim Jenkins' Supper Club. A dark and intimidating venue, Slim's was the beginning for so many black jazz and blues legends of today: Jimmy Witherspoon, Jimmy McCracklin, Saunders King, T-Bone Walker, Lowell Folsom and many more. At one time there were some 40 clubs in West Oakland, from Jenkins' sophisticated club to hole-in-the-wall joints. So many stars of today began at Seventh Street clubs and/or recording with Bob Geddins' Big Town Records, familiar names like Ray Charles, Aretha Franklin, Stevie Ray Vaughn, the Rolling Stones and the beat goes on.

Since the 1930s, New York has been the be-all and end-all for professional jazz musicians; but just across the bay from Oakland, the storied city of San Francisco was giving nothing away as a stage for all iterations of jazz, blues and boogie woogie. Practically any night of the week, well into the 1970s, you could cruise The City and find the greatest exponent of all these genres. At least once a week, my companion Louise and I would cruise the jazz joints of North Beach, the Fillmore, Chinatown and Bush Street.

As we sauntered from jazz club to blues club, we would find Dizzy Gillespie at Basin St. West with Art Blakely sitting in on drums, Duke Ellington or Witherspoon and Ben Webster at the Cellar, Joe Pass at the Matador or blowing at the Jazz Workshop John Coltrane or Thelonious Monk, Benny Carter at Keystone Korner. Hidden away in Chinatown was a club straight out out of a bete noir movie of the 1940s. Down to the basement, through a curtains of beads and you were in China Smith's. Greeting you was Helen with a soft hug and peck on the cheek and ushered you into the best, unknown jazz house and smoking quartet in The City.
---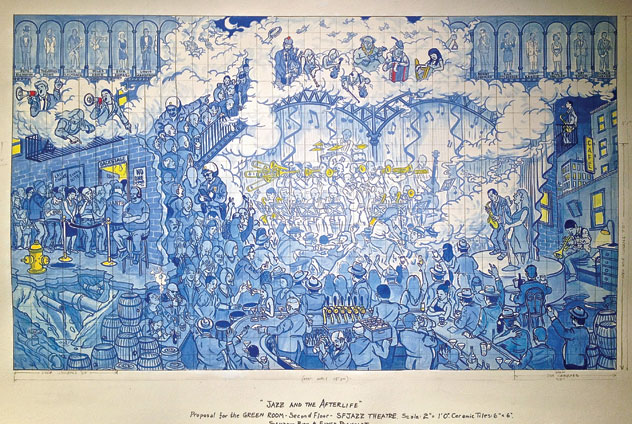 (Above):
 Sandow Birk and Elyse Pignolet – "Jazz and The Afterlife." [Photo: SFJAZZ]

---
In the surprising number of clubs on Bush Street there would be the legendary Louis Armstrong or Earle Hines, Turk Murphy, Bob Scobie Dixieland bands and a number of clubs featuring disparate genres of jazz such as Harry "the Hipster" Gibson. One night in a tiny, dark club across from where Pier 39 now sits, we discovered Wingy Manone wailing away. Not to be outdone, Oakland across the bay offered the longest lasting jazz club in the San Francisco Bay Area, Yoshi's (now with an additional club in San Francisco). Headliners such as Joe Williams, Bill Evans and a host of world-class artists appeared regularly.

On upper Telegraph Ave. in Oakland was Don Mupo's Gold Nugget; a favorite hangout for trumpeter Jack Sheldon - who recorded an album at the club. It's primary fame though, was as a "shrine," if you will, to Stan Kenton, his music and his band. When the band was in town you could find many of the members hanging out with Mupo: great names in jazz as Zoot Sims, Eddie Safranski, Maynard Ferguson, et al.
---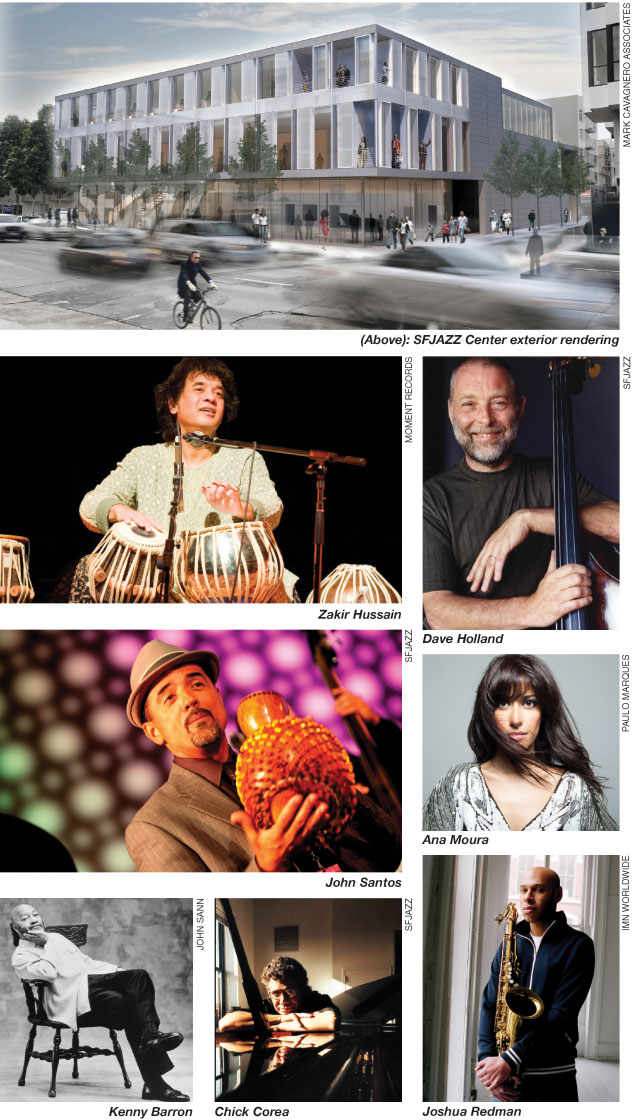 ---
The SFJAZZ Center brings these wonderful memories to throbbing life in one of the most vibrant venues ever built to honor this wonderful and singular art form. The history of reviving a sleeping art – but active – goes back 30 years to the founding of the SFJazz concerts began in 1983 founded by Randall Kline. The site chosen for Center couldn't be more ideal. Far from the hustle and bustle of North Beach, the eye-catching building is part of The City's internationally-known Hayes Valley creative art district at Franklin and Fell Streets. It's neighbors in San Francisco's Civic Center include Davies Symphony Hall, San Francisco Symphony, War Memorial Opera House, the San Francisco Ballet, Herbst Theater, Asian Arts Museum and San Francisco Conservatory of Music. When asked why he chose the site, Kline said, "After 30 years of presenting music in a variety of rented venues throughout the Bay Area, the Center (is now) our home and the first free-standing building for jazz in the country ."

Although the 35,000 square feet and three stories will be filled with music in the acoustic wonderland of the Robert N. Miner concert auditorium, the Center is dedicated to music education, art and culture; but above all bringing the music to the community. One of the most unique gesture is the rehearsal rooms are all at ground level and walls of glass permitting passer-bys visual access to activities. Five-time Grammy nominated percussionist and San Francisco native, Resident artistic Director John Santo expands on this music-to-people theme: "When I'm playing in the Center's auditorium, I can look into the eyes of the close-up audience and see their joy and participation. As always we will extend our jazz education programs, ranging from adult classes to high-school all-star jazz bands."

Perhaps, even with the overload of world-class musicians and acoustic technological magic, the education programs and high-school all-star feature will impact the future of jazz, its growth and creativity for years to come. I remember the great high-school all-star bands late trumpeter Bill Berry brought to the Monterey Jazz Festival each year. Each teen-age musician was picked from schools throughout California for their individual talents and Berry would, in the span of only a few days, turn these young people into a tight and formidable hot band. The SFJAZZ Center is reaching further with its array of professional talents and the latest in high-tech audio and recording equipment. The Center's first High School All-Star band headlined the festive informal opening on February 21. Two concerts are scheduled, the first March 30 in the Joe Henderson Lab and the second May 18 in the Robert N. Miner Auditorium. Check SFJAZZ.org for details - it's a real bargain.
---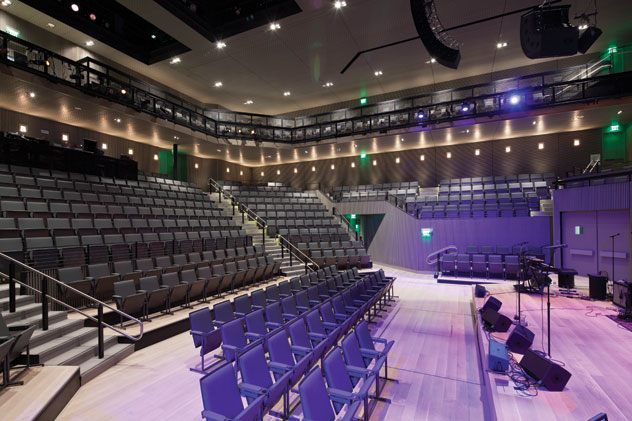 (Above):
 Interior view of the SFJAZZ Center. [Photo: Henrik Kam]

---
It all became real on January 23 with the sold-out Opening Night Concert and Party, emceed by Bill Cosby. It was a night filled with a number of great jazz names, like Mary Stallings, Joe Lovano, Joshua Redman, Chick Corea and Esperanza Spalding. That magnificent group were the door-openers to two Grand Opening Weeks of four concerts each headlining more world-class musicians. After that it's time to go to "work" with four events scheduled each week through June 2. The larger-draw events featuring legendary artists such as Tony Bennett and Dianne Reeves will be held at the next-door Davies Symphony Hall. The more intimate jazz gatherings at the Center's Robert N. Miner Auditorium.
---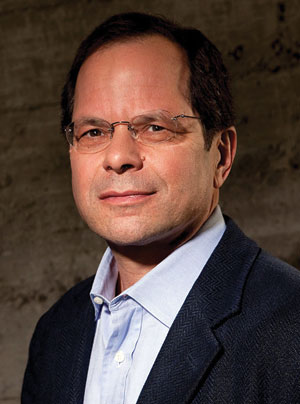 (Right):
 SFJAZZ founder and executive artistic director Randall Kline. [Photo: Walt Denson]

---
Throughout these series of concerts, Kline and company also addresses the global effect of jazz. On Mar. 7, 8, 9 and 10 SFJazz will present famed Indian and local World Music percussionist Zakir Hussain featuring Bela Fleck on Mar. 9 and Joshua Redman on Mar. 10. Feb. 28 headlines Legendary Fado interpreter Ana Moura followed on March 14, 15 and 16 by Fado Queen Mazira from Portugal. Coming March 2 brings Ethiopian Meklit Hadero will be on the Miner Auditorium stage. A unique presentation will be offered June 6 with poetry readings led by Laureates Juan Felipe Herrera and Alejanddro Murgia. Follow-up readings on June 7, 8 and 9 will feature a number of well-known poets including Ishmael Reed, Michael McClure and an old friend from my high school days, Floyd Salas.

You absolutely must not miss the murals by artists Sandow Birk and Elyse Pignolet on the second floor lobby. The first two of three murals fill the eye and the jazz soul depicting the artists' view of legendary jazz venues and neighborhoods from San Francisco to New York to New Orleans to Kansas City across the nation and pond to Europe. The third mural in the neighboring Lester Young Green Room, "Jazz and the Afterlife," is a put-on of jazz lovers drifting to Heaven for a bagpipes and harps or heading to Hell for a "house party" with musicians blowing up a "hot" session.

The Center's philosophy of bringing the best jazz to the community and the community to jazz is expressed in the affordable prices for the concerts, most around $25. The multitude of education programs designed for children and adults that include classes with professionals, recording and electronic production in their Digital Lab, photography and poetry and the Monday Night Community Band broadens what is a concept that could boggle the mind for many. But, Randall Kline has spent years dreaming and planning and now, surrounded by the very best people in all aspects of this ever-changing, multi-tasking art form of the mind and the heart, has brought jazz full-circle for jazz lovers everywhere.

Membership Information:
For Membership information (beginning at $60), or information on the concert schedule, the iconic building, educational programs, etc., visit:

SFJAZZ CENTER
201 Franklin St. (at Fell St.)
San Francisco, CA 94102
Tel: (415) 788-7353
SFJAZZ.org

Executive Artistic Director and Founder: Randall Kline
Resident Artistic Directors: Bill Frisell; Jason Moran; Regina Carter; Miguel Zenon; John Santos
Lab Director: Joe Henderson