COMMUNITY:
Doctors Celebrate: AAPIO Meeting


The American Association of Physicians of Indian Origin celebrated its 25th year of existence at July 21. A Siliconeer report.
---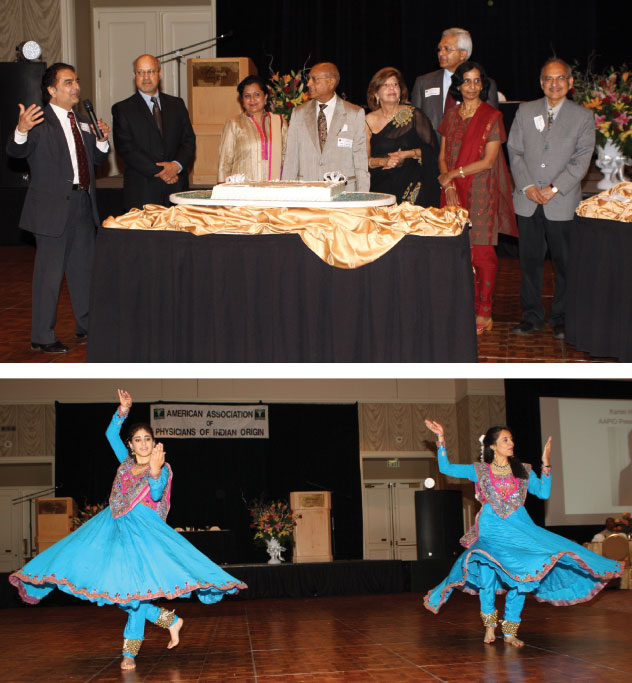 (Top): AAPIO organizers with the 25th anniversary cake. (Bottom): A dance sequence presented by Shalini Dance Academy at AAPIO 25th anniversary celebrations. [Som Sharma/Digital iVision photos]
---
The American Association of Physicians of Indian Origin celebrated its 25th year of existence at the Fairmont Hotel July 21 in San Jose, Calif. AAPIO president Dr Karim Hussain addressed his concerns about the challenges he has faced over the year and talked about the need of a good and firm infrastructure, good finance and secretarial help since AAPIO has grown too big too fast. He mentioned about the growth in membership from less than 100 when it started in eighties, growing to a little over 200 in 90s and currently over 1,000. Fifty new members had been added this year.

State Sen. Dr Joe Dunn, CEO of California Medical Association, delivered the keynote address. He called on physicians to stop complaining about being physicians and come collectively through their association to voice their concerns. Dunn reminded the audience that "…the future of medicine is completely controlled by you (physicians)." There had been a lot of noise in Sacramento on health care reforms, however, nothing had happened, he said. "Both the presidential candidates had been talking about this," he said. "No one knows what is going to happen. It is just campaigning, it 's not helping the real cause."

Dr Dunn called for everyone's support. "Looking for an incremental change in the health care system that is going to help everyone is to make that incremental change year by year in next 5 to 7 years and you (physicians) can do it," he said. "It is a challenge and our collective voice can do it. Just rise to one voice…"

"Challenges within medicines do not exist in medicines, but, exists in legal system, economics and politics, and, we (CMA) collectively control it – can't do without you (physicians)."

Another speaker, Dr Anmol Mahal followed up on the statement of Dr Dunn and requested to all physicians to join CMA, "…the only voice for you (physicians) and patients to fight with the legislature." Dr Mahal recognized the efforts of Vish Mishra and Bala Joshi from ICC in getting the 1250 sft exclusive space for AAPIO where the physicians offer voluntary services for two days in a week at an Adult Care Center to seniors with no insurance facilities.

Members of Shalini Dance Academy presented a dance choreographed on the yesteryear song, "Madhuban Mein Radhika Naache Re." The event concluded with the cutting of a large cake, followed by the dinner.