COMMUNITY:
Celebrating Heritage: Gujarat Day


The Bay Area Gujarati Samaj of Northern California celebrated Gujarat Day May 24, writes Pravin Desai.

---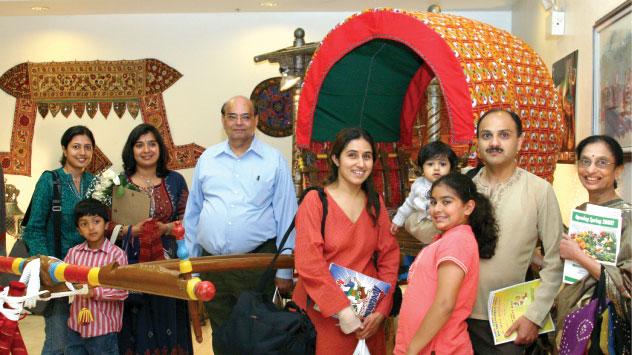 (Above): On the occasion of Gujarat Day celebrations May 24, a Gujarati family from the San Francisco Bay Area poses in front of an elegantly decorated traditional Gujarati bullock cart.
(Below, Right): Event president Naranjibhai V. Patel presenting a memento and a bouquet of flowers to guest of honor Purushottambhai Rupala. (Pravin Desai photos)
---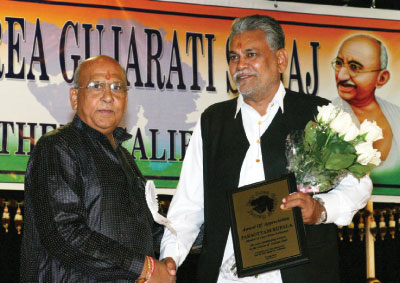 Since its inception as an independent state of Gujarat on May 1,1960, Gujarati families from all walks of life, whether residing in India or anywhere around the world, celebrate Gujarat Day.

For the past three years the Bay Area Gujarati Samaj of Northern California has marked the day as the start of a new Gujarat under the leadership of Chief Minister Narendra Modi.

This year's celebration was organized under the leadership of social worker and hotel-motel entrepreneur Naranjibhai V. Patel.

The Gujarati Samaj marked Gujarat Day this year on May 24 at the Sunnyvale Hindu Temple and Community Center. The Bharatiya Janta Party's Gujarat state president Purushottambhai Rupala, his wife Savitaben, Surat-based developer Manaharbhai Kakadiya and his wife Varshaben flew in from Ahmedabad to attend the festivities.

The day-long event was attended by many members of Gujarati community residing in and around the Bay Area. The day's festivities included an exhibition, various cultural and food booths and cultural programs presented by local talent.

An informative souvenir prepared by Subhash Shah and C.B. Patel was released by the guest of honor.

The Bay Area Gujarati Samaj of Northern California this year honored six members for social work. The award ceremony was conducted by Naranjibhai V. Patel, who commended recipients for their contribution and selfless social service.

This year's awards were presented to former NFIA president, hotel owner and social worker Hareshbhai Panchal, writer, poet and city council member Bharatbhai Desai, community ambassador Urmilaben R. Patel, social worker Vallabhbhai Patel, Gujarat Darpan-California edition bureau chief Subhash Shah and Pravin Desai, a freelance columnist and photographer for his media coverage of the Bay Area Gujarati community.