TAMIL CINEMA:
Engaging Entertainer: Pidichirukku

Director: Kanagu
Cast: V. Ashok Kumar, Vishaka, Saranya, Sampatraj, Kanja Karuppu


---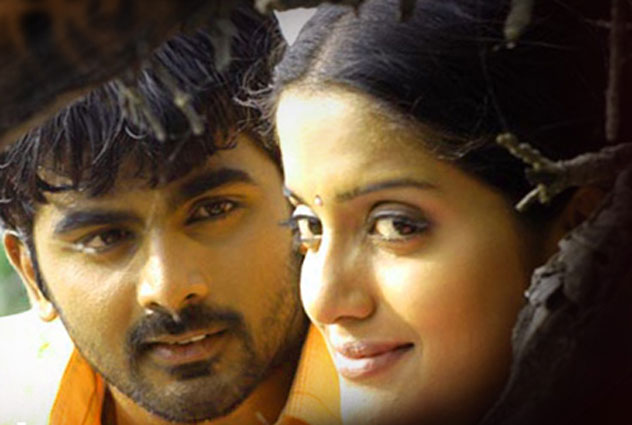 (Above): Scene from "Pidichirukku"

---
A sensitively narrated love story, with the script weaving in humor and interesting little scenes to depict the growing love between the lead pair, makes Pidichirukku an engaging entertainer. Director Kanagu (he apprenticed with Cheran) makes a mark with his very first film, as a director who has a fair grip on the medium. The freshness and charm of the lead pair and their screen rapport adds to the film's appeal.

It's Ashok's second film after Muruga, and the actor shows tremendous improvement. It's a role which gives him ample scope to act. Ashok plays Velu with perfect understanding bringing out the various nuances of emotion, as Velu goes through the joy of first love, and then the agony of separation. Debutant Vishaka's soft looks and cute expressions lends charm to the role of Manju.

It's not a very pleasant first encounter between Velu, who runs a trucking office in a congested lane, and Manju, a college student. But subsequent encounters turn to mutual attraction and love. The scenes of Velu trying to snatch some private moments with Manju, away from the prying eyes of his workers, and the hawk eyes of her dad, are engagingly sketched out and narrated with humor. Kanja Karuppu gets a meaty role as Velu's friend and provides some fun moments. Saranya and Sampatraj provide strong support as Manju's parents, with Saranya given an opportunity to show her stuff in the closing scene.

The film keeps you engaged for the most part, but meanders a little in the second half where Velu sets off to Pune to search for Manju. Scenes of Velu and his friend struggling to survive in Pune does touch a chord, but these episodes could have been trimmed.

The director gets back his grip soon, and steers his story to a satisfactory finale.

The lyrics of one song has each of its stanzas written in Tamil, Kannada, Marathi and Hindi, as Velu crosses the respective states in his truck. An innovative thought. Pidichirukku is a very promising effort from a debutant filmmaker. — Courtesy Chennai Online.