EDITORIAL:
Obama and South Asians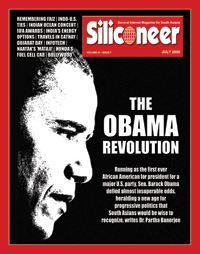 At the risk of being harsh, it does seem that the South Asian community, at least its so-called community leaders, have been caught somewhat flat-footed with the rise of what can only be called the Obama phenomenon, i.e., the remarkable rise of Illinois Sen. Barack Obama in the U.S. political horizon.

Just because he made it look easy doesn't make it any less incredible. A first-term U.S. senator, and an African American at that, took on the nationally known New York Sen. Hillary Clinton, heavily backed by massive financial clout and a large part of the party establishment, and came out the winner.

It's the way he did it that makes his conquest of the Democratic nomination for the November presidential elections so remarkable. With most of the moneybags on the side of Clinton, Obama fought back with grassroots fundraising that turned the usual rules of campaign financing on its head.

Raising small sums repeatedly from what became a funding base of over a whopping million people, Obama was alive and kicking while the fat cats maxed out.

What's more important is the motivation that spurred the funding.

Obama has managed to strike a chord with a polity that has become increasingly cynical about Washington, and for good reason. His brilliant campaign officials have crafted that support into an insurgent, grassroots campaign the likes of which this country has not seen in recent times.

South Asian Americans, at any rate the first generation folks, have been caught completely off guard. They thought they were being too clever by half when they backed what they thought was a sure thing — Sen. Clinton (in fairness, the Clintons have cultivated a warm kinship, too), and now are watching from the sidelines as the Obama campaign powers ahead.

They would be wise to take the cue of many of their own children, born and raised in the U.S., who have been keen Obama supporters. Human rights activist Partha Banerjee takes stock of the Obama phenomenon and ponders the best path open to South Asians.

Faiz Ahmed Faiz brought a much-needed contemporary social consciousness in Urdu poetry, with some of his work imbued with a profound awareness of the socio-cultural inequities of society. This was a breath of fresh air in the world of Urdu poetry that too often preferred to live in a refined, ethereal realm of love and romance.

For Faiz, the desperate circumstances of his fellow man — and what was or was not done to alleviate it — was as compelling a theme as any.

Thanks to the tireless efforts of a champion of Urdu literature in the San Francisco Bay Area, Urdu enthusiasts got the opportunity to reflect once again about the work, life and significance of this titan of Urdu literature.

Hamida Chopra helped organize Faizan-e-Faiz, and Urdu enthusiasts gathered at the Indian Community Center in Milpitas, Calif., to honor arguably the greatest Urdu poet after Ghalib. The added attraction was Professor Liu Shuxiong from Peking University in attendance, who delivered his lecture in Urdu.

Event sadr (president) Shuxiong has been a recipient of one of Pakistan's highest awards, the Sitara-i-Quaid-i-Azam, in 2006. He delivered his address exclusively in Urdu. "Faiz aik bahot azeem shayer the," he said. He said that Faiz had visited China and was known as a great friend of that country. He said that one of the key elements that showed in Faiz's writing was "Un ki zindagi say mohabbat…"(His love for life).

It's one of the more puzzling paradoxes in South Asian life. You will come across folks who have doctorates in the sciences from top U.S. schools, yet are assiduous fans of astrology, godmen and the like. And heaven help those who question this — for someone who have made brilliant careers out of meticulous adherence to the scientific method, many of these people reveal an odd blind spot when you question whether their fascination with the so-called paranormal can withstand the scrutiny of reason.

Playwright, filmmaker and theatre enthusiast Sujit Saraf has pondered this conundrum. A staunch rationalist, Saraf approaches the issue with his customary incisive analysis and provocative, take-no-prisoners, rapier wit, as he writes about the issue this month.

After confessing that he was completely at a loss at figuring out why otherwise sentient, reasoned people fall into the thrall of spiritual babas and matas, he decides the best way to give vent to his frustration was to go ahead and do something he really does well: To wit, write a play.

That's how we have Mataji, where Saraf casts a wry eye on this particular desi predilection, and one thing we shall say — if his play is nearly as witty as his essay, this promises to be a hilarious theatrical romp which nevertheless, will leave the viewer with considerable food for thought.