BOLLYWOOD | Hindi Film Review

Power Play: Sarkar Raj

Directed by: Ram Gopal Varma | Music: Bappi-Tutul | Starring: Amitabh Bachchan, Aishwarya Rai, Abhishek Bachchan, Tanishaa, Ravi Kale, Govind Namdeo, Upendra Limaye, Sayaji Shinde, Dilip Prabhavalkar and Supriya Pathak.

---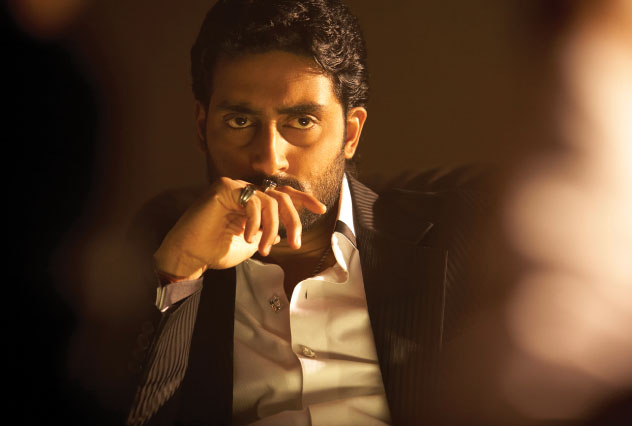 (Above): Abhishek Bachchan in "Sarkar Raj."

---
This, you have to admit, is a classic Bollywood quandary. Where else would you wonder whether some redeeming features of a sequel might prove to be its undoing?

Odd as it sounds, that might just be the case with Sarkar Raj. It lacks the mindless, sometimes sickening, violence of its predecessor, which is great. But you worry whether word-of mouth news of that will put off potential viewers, because a Ram Gopal Varma film without violence is like chhole bhature without bhature — that's why folks go to see a RGV film, right?

However, before going into the various flaws of the film — and the list isn't short — let's give credit where credit is due. RGV has made a film with an interesting storyline that seems to have had some thought lavished on it — a rare event in Bollywood, and there are some good performances. The quiet, mutually respectful and understated but deep kinship father and son feel for each other is etched powerfully by Amitabh and Abhishek, and for once, Aishwarya gives the duo a run for their money with her acting. In this film she is rather more than a pretty face.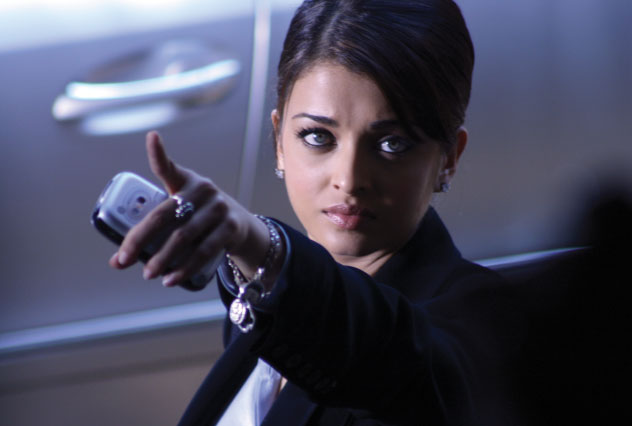 (Above): Aishwarya Rai Bachchan in "Sarkar Raj."

---
The challenge is elsewhere. Of course filmmakers, whether in Bollywood or Hollywood, are keen to make sequels as they see a cash cow in the name recognition of the original hit, but how do you use that and still produce something fresh? This is where the film falters, and RGV can learn a thing or two from Vidhu Vinod Chopra whose Munnabhai MBBS and Lage Raho Munnabhai both used the same premise and key characters, but the settings were so different that the second film was just as appealing (some said even more appealing) than the first one.

The storyline has some relation with reality — another novelty in Bollywood. Rumblings have been heard whether the film draws on the life of Bal Thackeray — vehemently denied by the filmmaker — also the issue it deals with, where an NRI (Victor Banerjee) tries to set up a massive power plant in Maharashtra and sends his daughter (Aishwarya Rai) to do it also has contemporary resonance.

The issue soon becomes a political football.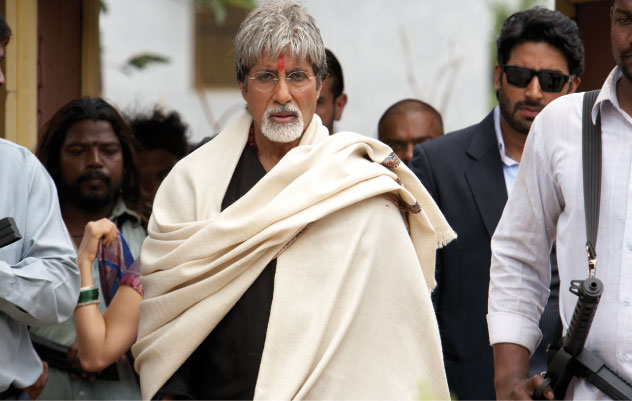 (Above): Amitabh Bachchan and Abhishek (r) in "Sarkar Raj."

---
A power plant being set up in rural Maharashtra becomes the cause of a political power struggle. Senior sarkar Subhash (Amitabh Bachchan) is dead against it, but his son Shankar (Abhishek Bachchan) feels it would be good for the state and manages to convince dad. As he tries to convince villagers, he needs to get a nod from ageing politician Rao (Dilip Prabhavalkar) and his grandson Somji (Rajesh Shringarpure), who rule the roost.

On the dark side are Hasan Kazi (Govind Namdeo), who has his own agenda, and Vora (Upendra Limaye) who wants to shift the project to Gujarat to make a fast buck.

One quick aside: Although RGV's attempt at verisimilitude is good as far as it goes, he commits an unpardonable error in giving a clean chit to a foreign-funded power project particularly when a similar Enron-proposed project in Maharashtra's Dabhol proved to be a disaster.

The film's music leaves something to be desired, and the story has several glaring holes.

Overall, it's good to see RGV to recover from the disastrous Ram Gopal Varma Ki Aag, but he still has a long way to go before he reaches the acme of his abilities he did in Bhoot (2003).


— Rating: 2 1/2 Stars | Average