CULTURE:
Ode to a Titan: Faizan-E-Faiz


Urdu enthusiasts gathered at the Indian Community Center in Milpitas, Calif., to honor arguably the greatest Urdu poet after Ghalib, with Professor Liu Shuxiong from Peking University in attendance, who delivered his lecture in Urdu, writes Ras Hafiz Siddiqui.
---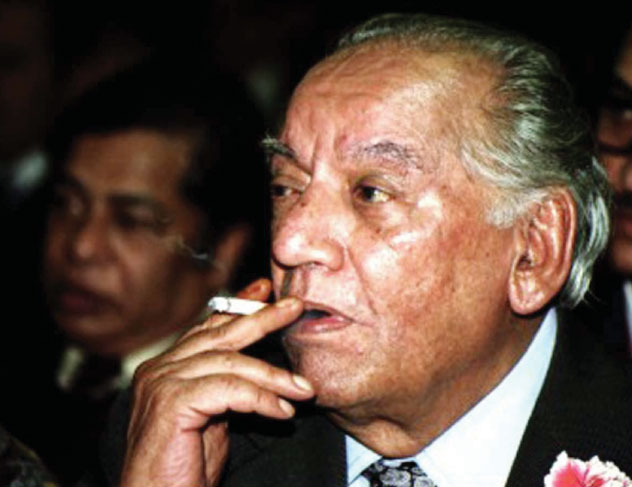 (Above): Faiz Ahmad Faiz at the School of Oriental and African Studies in London in 1983. (Amarjit Chandan photo)

---
Faiz Ahmed Faiz, according to some people from my generation, was the finest Urdu poet since Ghalib. That statement in itself shows not only admiration but some partiality from the viewpoint of the Left, but this reporter stands by it, not due to any mastery of the Urdu language, but with feelings of solidarity and support for oppressed humanity everywhere. The message of Faiz's life work was universal and continues to withstand the test of time.

The Urdu language is indeed a rich treasure chest which upon opening can easily produce many gems including a very long list of great poetry masters. The poet Iqbal is already well known as Ghalib's next in line for being the Urdu's finest, and his grave in Lahore is honored (at least it was during my last visit) with the presence of uniformed guards at the historic fort (such is his well-deserved official seal of endorsement).

But for us who are gulabi — novices of the Urdu language from the generation or two after Iqbal in Pakistan, Faiz Ahmed Faiz sahib and his writings have remained a beacon of light and hope especially as our awareness of societal wrongs became too difficult to ignore while we were growing up. Nobody could express our true feelings, our hopes and yes, our aspirations better than Faiz.

When the invitation came via email to attend the Faizan-e-Faiz event at the India Community Center in Milpitas, Calif., long before its scheduled June 1 date, it was noted as a day reserved. And I had a feeling that the organizers knew and expected us to be there for this one, even though we had been unable to attend other Urdu language gatherings at the ICC or the recently noteworthy Pakistani-American Cultural Center.

Little is hidden on how this interest in Faiz Sahib's writings started for many in my generation. For that we have to thank the late Melody Queen Noor Jehan and Mohtarma Iqbal Bano. For those of us who originate from the Pakistani side of the border, Noor Jehan's rendition of "Mujh se pehli si mohabbat, mere mehboob na maang" (Don't ask me to love again love, just not like our first love) from the film Qaidi remains a timeless classic. And right next to it in rankings is "Hum dekhayenge" (We shall see), immortalized by the voice of Mohtarma Iqbal Bano. Both of these were written by Faiz sahib. And if one wants to complete what I consider the three greatest vocal presentations to emanate from my cultural roots in Pakistan, the addition of the late Nusrat Fateh Ali Khan's "Allah Hoo" completes the all-time greatest list for me. But now let us move on to the event.

The entire proceedings of this afternoon program were in Urdu except for a couple of English sentences uttered after seeking permission. If anything is lost in translation here (much of it will be), my apologies in advance. Covering an Urdu language event in English certainly does present its own challenges!

Our host and program coordinator Hamida Banu-Chopra opened the event by introducing Faiz and chronicled his illustrious career quite meticulously. She informed us that "Lab band hain saqi, meri aankhon ko pila de" (The lips are sealed presenter of spirits, but please continue to serve my eyes) was his first line of poetry. She said that Faiz sahib was well aware of all of our problems. She added that he had truly read the pulse of our (South Asian ) people. She also welcomed Professor Liu Shuxiong from the Peking University (Urdu language and literature professor and vice dean of foreign languages) and invited him to preside over the event. Professor Shuxiong is currently a visiting scholar at the Center for South Asia Studies at U.C. Berkeley. Hamida sahiba next started with Faiz's "Chund roz aur meri jaan" and then quickly changed pace and read some of the poet's work on loneliness reflecting on his solitude. For those who may not be aware, Faiz was a Communist who spent some years in jail, accused of being a participant in the now infamous "Rawalpindi Conspiracy Case." For a while he was also threatened with a possible death sentence. But in spite of the threat, Faiz, the romantic, refused to give up as evidenced by our first presenter at this event, Arvind Kansal who presented his work "Kuch ishq kiya, Kuch kaam kiya" (I loved a little, I worked a little…).

Dr. Jyoti Dhamdhere next stole both our attention and our senses as she presented in tarannum (song) style, Faiz sahib's "Nahin nigah mein manzil to justujoo hi sahi" (If the destination is not in sight, let the struggle continue…"). Especially noteworthy were the lines where Faiz, without the bottle of spirits or a goblet asks his friends to at least make some noise and bring life to the party.

Hamida sahibah returned to present a more detailed biography of Faiz, the poet, the romantic, husband, father, political commentator, editor (of the Pakistan Times) and prisoner. Dunya mein kahin bhi zulum ho, Faiz ka dil tarap uthta tha (If there was oppression anywhere in the world, Faiz's heart used to become agitated and his pen converted that agitation into poetry), said Hamida Chopra.

Local resident Tashie Zaheer who had the honor of meeting Faiz sahib on two occasions, next presented his own work in honor of the great poet. In his "Nazre Faiz," Tashie Sahib wrote "Gulshan-e-yaad mein phir aaj mehak hai teri…" (In the garden of memories, still today, your perfumed thoughts are strongly present).

Anupama Dalal next sang a convincing "Dashtey tanhai" (The Captured Solitude) and another work of Faiz, and Khalidah sahiba followed describing Faiz as a modern Urdu poet who ended up rejuvenating the poetry-writing craft enriched by his acute sense of feeling and relating to events worldwide.

Professor Anil Chopra next described the true romance embedded in Faiz's work. He was also the only one to break the rules of the afternoon to say a few words in English. He thanked the event sponsors Ashraf Habibullah and his wife Shahida for their support for this effort.

Event sadr (president) Dr. Liu Shuxiong next delivered his keynote speech. Dr. Shuxiong has been a recipient of one of Pakistan's highest awards, the Sitara-i-Quaid-i-Azam, in 2006. He delivered his address exclusively in Urdu. "Faiz aik bahot azeem shayer the," he said. He said that Faiz had visited China and was known as a great friend of that country. He said that one of the key elements that showed in Faiz's writing was "Un ki zindagi say mohabbat…"(His love for life). Dr. Liu has visited Pakistan on more than one occasion and strongly supports the exchange of South Asian scholars, gestures that develop mutual goodwill as in the case of India and China. In closing, he offered his "Mubarakbaad" (Congratulations) to the organizers of this very successful Faizan-e-Faiz gathering.

Hamida sahiba returned and said that "Cheeni Bhai say Urdu sunnay ka aur hi maza hai" (Listening to an Urdu speech from a Chinese brother has its own charm). She ended on a note of hope for India-Pakistan Friendship for the future and a couple of more lines from Faiz before inviting Hiten Verma to present the closing deliveries on this great poet. Hamida Sahiba has recently put together a CD of Faiz Sahib's work titled "Faizan-e-Faiz" which can be obtained by contacting her.

Faizan-e-Faiz was a wonderful learning experience for a few people present and a trip down memory lane for many of the others. Faiz the poet, the humanitarian, the historian of suffering people around the world, and one of the finest writers of the 20th century in any language, did win the Lenin Peace Prize but not the Nobel which many feel that he richly deserved. His shortcoming was that he happened to be on the "other side" of political acceptability as described in a capitalist world. And that cost him not only the recognition that he deserved (he still lives in the hearts of many Indians, Pakistanis and even the Palestinians). He has been recognized by the Russians, Chinese and Cubans for his support for revolution but the official respect that he deserved at home has been sadly denied to him. Just how many roads in Pakistan are named after Faiz Ahmed Faiz?

This writer had a chance to visit Faiz Sahib's grave during the year 2004 in Lahore to show respect (and place some rose petals on it). People like me still feel dwarfed by his writing skills. If Faiz could not bring revolution to Pakistan's oppressed, he certainly made an earnest attempt via one of the most beautiful of language arts forms, his poetry. Our immense respect for him remains, especially for his stance against imperialism in all forms. But times keep changing and history marches on. In 2004 at his grave my thoughts were about the soul-stirring resolve of "Hum dekhayenge." But today, the plaintive urging "Mujh se pehli si mohabbat mere mehboob na maang" resonates much louder.

---

Ras Hafiz Siddiqui is a South Asian American writer who lives in Sacramento, Calif.
---