SUBCONTINENT:
India's Bio-Fuel Option?: Oil from Jatropha


Despite an energy crunch, India cannot risk a food shortage by opting for ethanol, so it's taking a close look at producing bio-fuel from the plant jatropha, writes Siddharth Srivastava.

---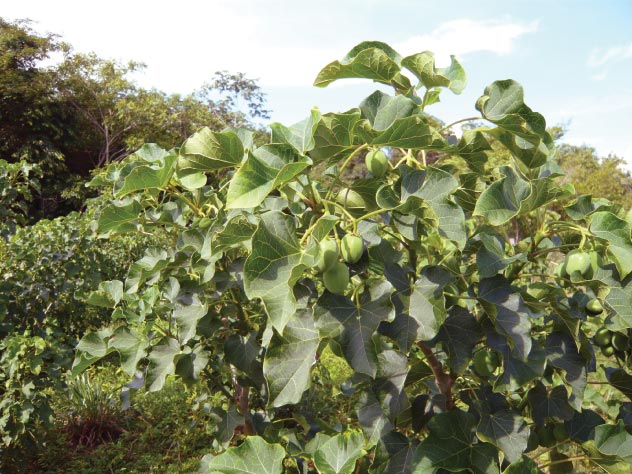 (Above): The plant Jatropha curcas. Jatropha oil is considered to be an excellent source of bio-diesel. The Indian government has identified 400,000 square kilometers (98 million acres) of land where jatropha can be grown, hoping it will replace 20% of India's diesel consumption by 2011.
---
With inflation in India crossing the 11 percent mark for the first time in three and a half years, the impact of bio-fuel production on food grain prices is under scrutiny in the country.

Recently Indian Prime Minister Manmohan Singh dismissed any talk of bio-fuels from food grains, insisting that the country would not follow the example of Brazil to deploy sugar for bio-fuels.

India is the world's second-largest sugar producer after Brazil and last year federal Agriculture Minister Sharad Pawar had said that production of ethanol will benefit farmer incomes immensely.

However, faced with unprecedented inflation food grain shortages, high crude oil prices and a general election scheduled in a year's time, a clearly concerned Singh said bio-fuels from food grains will worsen the already dangerous inflation crisis.

Singh cited three adverse circumstances for India and other developing economies: the global food crisis, worsened by diversion of food crops to bio-fuel in developed countries; the cartelized rise in crude oil prices and the sub-prime banking crisis in the U.S.

India's Finance Minister P. Chidambaram also recently criticized conversion of crops into bio-fuel as "the single biggest reason why we are facing this (food) crisis. To put it mildly, (converting food crops to bio-fuels) is foolish; to put it strongly, it is a crime against humanity."

Though Chidambaram censured the U.S. for actively backing corn-based ethanol, he also singled out for criticism bio-fuel from palm oil, an Asia-centric industry based mostly in Malaysia and Indonesia.

His words were echoed by Jean Ziegler, UN special rapporteur on the right to food who recently said that the U.S. and the European Union have taken a "criminal path" by contributing to an explosive rise in global food prices through using food crops to produce bio-fuels.

Some experts have warned that, unless monitored, in the next three to four decades almost half of the winter- harvested oilseeds in India, a leading vegetable oil importer, could be used for bio-fuels.

Food and Fuel

This is, however, not the end of the road for India's quest to develop alternate fuel, especially in the wake of runaway crude oil prices.

The Prime Minister's Council on Climate Change is preparing a strategy for sustainable development known as the National Action Plan on CC. Though due in November last year, it should be finalized by the end of this month.

The focus of the plan is going to be on extending incentives to renewable sources while improving production efficiency standards which will not be legally binding. Solar energy is one area where the government has already begun to extend incentives with some good results being reported.

According to Vilasrao Muttemwar, India's minister for non-conventional energy, "The government is concerned that food grain is not used for producing ethanol or any bio-fuel even if we are facing an energy crunch. We cannot afford any diversification from traditional cultivation."

Muttemwar said that focus will instead be on growing bio-energy plants such as jatropha in waste lands. "India possesses around 35 million hectares waste land that can be used for cultivation of such plants.''

Muttemwar spoke about the Philippines model, which could be successfully applied to India. The Philippines' bio-fuels program, he said, promotes plants such as jatropha, which is not a food crop and does not substitute agricultural land. The Philippines National Bio-fuels Board only allots fallow land to plant bio-fuel crops.

New Delhi is in the process of formulating a national policy on bio-fuels and the setting up of a National Bio-fuel Development Board, which will likely follow the Philippines approach.

Jatropha incentives are a part of India's goal to achieve energy independence by the year 2012. Jatropha oil is produced from the seeds of the Jatropha curcas, a plant that can grow in wastelands across India. Jatropha oil is considered to be an excellent source of bio-diesel.

The Government of India has identified 400,000 square kilometers (98 million acres) of land where jatropha can be grown, hoping it will replace 20 percent of India's diesel consumption by 2011 This can provide much needed employment to the rural poor of India and also serve as a means to energy independence to India.

Indian Railways has started to use oil (blended with diesel fuel in various ratios) from the jatropha plant to power its diesel engines with significant success. Currently the diesel locomotives that run from Thanjavur to Nagore section and Tiruchirapalli to Lalgudi, Dindigul and Karur sections run on a blend of Jatropha and diesel oil.

Andhra Pradesh has entered into a formal agreement with Reliance Industries for Jatropha planting. The company has selected 200 acres of land at Kakinada to grow jatropha for high quality bio-diesel fuel. Kerala is planning a massive Jatropha planting campaign.

Unlike the U.S., India need not use crops like maize to produce bio-fuel, leading to global food scarcity and price rise, a senior government official recently said.

Federal Commerce Minister Kamal Nath has recently reiterated that it is time to end the subsidy for converting food into fuel and called for exploring new and more environment-friendly sources. "The solution lies in promoting food and fuel and not food or fuel," he said.

Politics of Bio-fuel

Given that millions in India continue to live at or below subsistence level, no federal or state government can risk a rise in food prices. The political backlash can be severe.

Food security is at the top of the political agenda in Asia as governments have struggled to buffer the effects of inflation and soaring grain prices.

"High food inflation is politically explosive. This year, we've already seen many incumbent governments in Asia losing elections," Deutsche Bank Private Wealth Management recently advised. "The fact that Indonesia and India will have elections next year means governments there are very concerned about the impact on people's wallets."

Food prices were a significant issue that was played up in the recent elections in the south Indian province Karnataka. Elections are due in other crucial states like Madhya Pradesh, Chhattisgarh and Rajasthan this year, to be followed by national elections in a year.

The Food and Agricultural Organization has estimated that out of the 854 million undernourished population in the world in 2001-03, 830 million resided in developing countries including India.

Some observers, however, say that the issue of bio-fuels affecting food prices may have been exaggerated in India. The bigger culprit, they say, is food wastage due to absence of adequate supply chains, storage facilities and lack of refrigeration.

Be that as it may, the issue of bio-fuel will need to be tread carefully given the increasingly politicization of the issue, ensuring a fine balance between energy saving and food availability.

---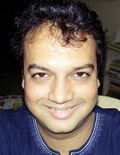 Siddharth Srivastava is India correspondent for Siliconeer. He lives in New Delhi.

---