BOLLYWOOD | Guftugu:

Probe Ordered into Sanjay-Manyata Marriage | Sanjay Bhansali Off to Paris to Direct an Opera | Germans Crazy | Con the Don | Married of Not? | Separated at Birth? | Ministerial Pot Shots |
Mani-fold Alliance | Andhra Awards | April Release


---
Probe Ordered into Sanjay-Manyata Marriage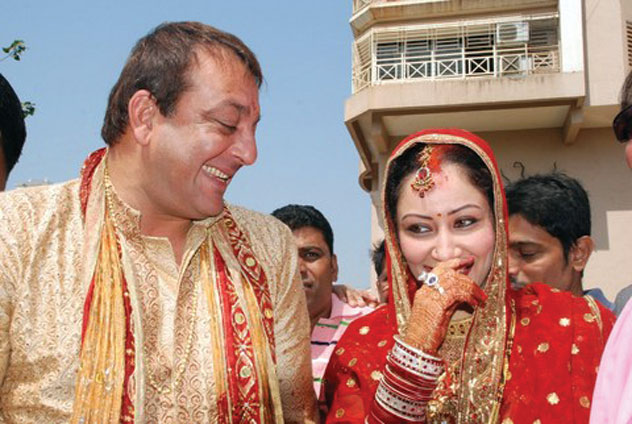 Sanjay with newly-wed wife Manyata.

Poor Sanjay Dutt. The dark cloud over him doesn't seem to move. The court marriage of Bollywood actor Sanjay Dutt and Manyata in Goa is under the scanner with authorities ordering an inquiry into the couple's entire marriage registration process.

The probe was ordered by the South Goa District Collector with sources saying the collectorate has taken to task a local panchayat talathi (government officer), who had issued a residence certificate to Manyata, sources said after questions were raised about the document provided by her.

The couple, who had a court marriage Feb. 7, had submitted their declaration of marriage to the Sub-Registrar's office in Salcette in Margao. Though the marriage was registered, the final signature of the couple is awaited for it to be made legal.

An inquiry has been ordered into how a certificate was issued to Manyata when she is not a Goa resident, an official said. In this case, Manyata has submitted a declaration by a former government servant, who has certified that she was staying in his flat at Aquem, a suburban locality of South Goa's Margao city, sources said.

For any marriage to be registered in Goa, either of the applicants has to be a Goan resident and the relevant document has to be certified by the local authorities.

Sources said the state authorities are also inquiring into how the declaration was accepted when Manyata has not attached a decree of her divorce along with the affidavit filed.

Sanjay and Manyata later got married in accordance with Hindu rituals at a simple wedding that took place at his friend Pradeep's residence at Versova in Mumbai Feb. 11.

|TOP|


---
Sanjay Bhansali Off to Paris to Direct an Opera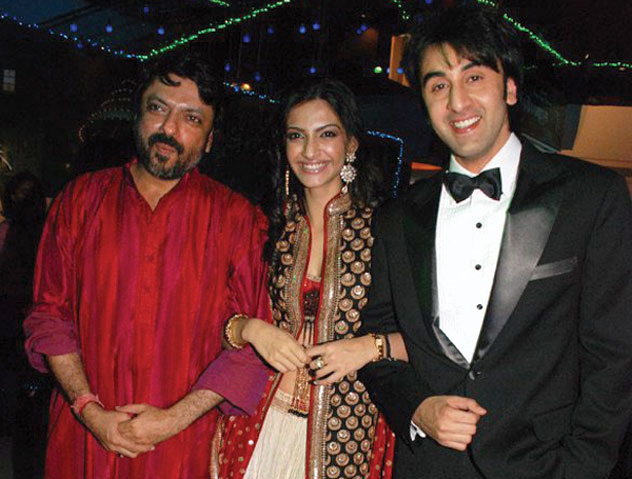 Sanjay Leela Bhansali (l) at the premiere of "Saawariya."

Oh la la! Filmmaker Sanjay Leela Bhansali is off to Paris, did you know. But why, you ask? To direct an opera, no less.

Select filmmakers from the world-over have been invited by what's considered the world's most prestigious opera company to direct for the Theatre du Chatelet. Among filmmakers, invitees include Hong Kong's Yimou Zhang of "The House of Flying Daggers." Woody Allen is also expected to direct an opera for Theatre du Chatelet in 2008.

A unique honor for an Asian filmmaker and the honor is given to Sanjay because of the operatic language that he applied to Sarat Chandra Chatterjee's "Devdas."

Speaking from his three-bedroom villa in Paris that the repertory has given to the director as his home for the next two months, Sanjay said, "After Saawariya, this is just the break from making movies that I needed. I feel any artist needs to grow beyond home turf. And the opera has always been one of my favorite forms of musical expression. When the Theatre du Chatelet offered me a chance to direct an opera long before the release of Saawariya, I was in two minds. My entire focus was on the film. But the team from Paris was gentle and persuasive, very soon I was hooked."

Theatre du Chatelet offered him a chance to select his own story for the opera, though the all-French cast was pre-given by the repertory. Sanjay handpicked his team which included his old art-director Omung Kumar, costume designer Rajesh Pratap Singh and choreographer Tanushree Shankar, daughter-in-law of the legendary dancer Uday Shankar and wife of the late choreographer-dancer Anand Shankar. Sanjay was convinced that she was the right person to bring alive the vibrant colors and passion of Rajasthan in the French idiom.

|TOP|


---
Germans Crazy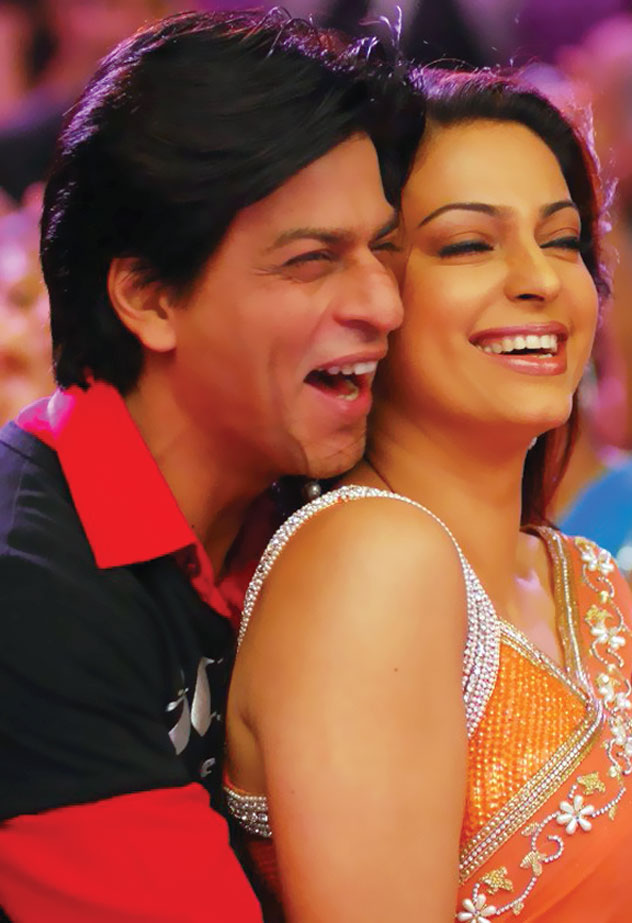 Shah Rukh and Juhi Chawla in "Om Shanti Om."

This piece of news has to gladden the heart of every masala movie lover. If a Bollywood film can make the dour Germans smile, it's gotta have something pretty big going for it.

Tip your hat to recent Bollywood blockbuster Om Shanti Om starring Shah Rukh Khan, which  created a sensation among the film enthusiasts at the 58th Berlin International Film Festival, with tickets for all the three screenings already sold out ahead of its German premiere in Berlin Feb. 8.

Come again? The snooty film festival types rushing to watch a Bollywood film that wears its masala on its sleeve?

Yes, it's true. There has been a big run for the tickets for the film's premiere and two subsequent repeat screenings in the Berlinale Special section since the ticket sales for the public was opened three days earlier.

No other film at the outset of the 11-day Berlinale created such a big interest as the Indian entry, festival organizers responsible for ticket sales told PTI.

Tickets for all the three screenings have now been sold out, he said.

Public demands for the German premiere has been so great that even many accredited journalists were denied permission to attend the event, something which rarely happens at the Berlinale, they said.

Berlinale officials said the public interest for Om Shanti Om, directed by Farah Khan, has been amazing because the film enthusiasts are not only interested in watching the film, but also to get a glimpse of Shah Rukh Khan, who is scheduled to answer questions from the audience after the premiere.

Om Shanti Om was given a very enthusiastic reception by the media representatives covering the Festival at a press screening held here last night.

Film critics praised the film In her directorial debut, choreographer Farah Khan "has fashioned a dazzling love letter to the great Hindi spectacles of the '70s that fans out, via a hokey tale of reincarnation, into a celebration of the same values in a contemporary Bollywood envelope," leading international film magazine Variety wrote in a review on the film.

|TOP|


---
Con the Don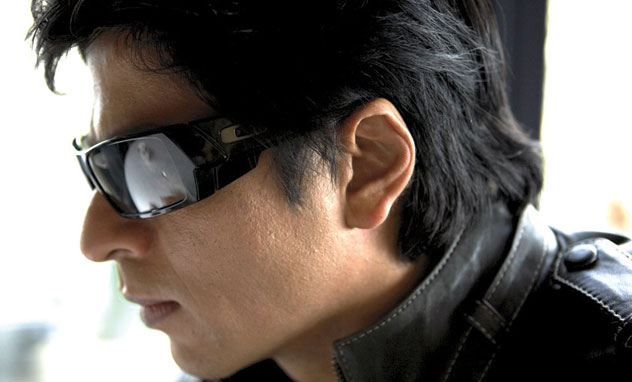 Shah Rukh in "Don."

This is the sort of think that makes you shake your head in bewilderment and wonder, what the heck were these guys thinking?

Three geniuses in Mumbai had the bright idea of using a stolen credit card to go on a shopping spree. There was a teeny weeny problem: The card belonged to Bollywood superstar Shah Rukh Khan starring in the recent remake Don.

Vinay Tambe, James Perenal and Shekar Jadhav were arrested in the north-east suburb of Mulund Feb. 11 when they attempted to make purchases using Shah Rukh's credit card at a mall there, police said.

"The three persons, who are all unemployed, have claimed that they found the credit card lying on a road in suburban Santacruz a few days earlier and took it to the mall to buy some clothes," a senior police officer at the Mulund police station told PTI.

At least give the three stooges the credit for thinking big.

The trio purchased clothes worth approximately Rs.25,000 and one of them produced the Bollywood star's credit card at the time of paying for the garments, police said.

The sales executive, who saw the transaction slip bearing the name of Shah Rukh Khan, realized something was amiss after having a good look at the signature signed by one of the men.

The bank concerned was alerted and in a matter of hours the three men grimly saw their shopping splurge morph into a rather less exciting trip to a police station.

|TOP|


---
Married of Not?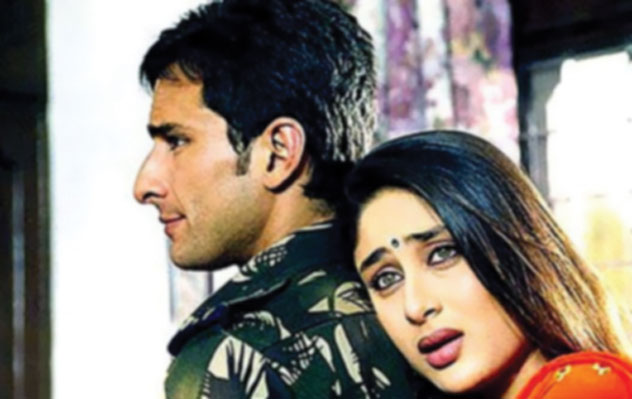 Saif and Kareena in "LOC Kargil."

What's up with Saif and Kareena? Are these guys married or not?

As rumors flew thick and fast about their "secret" marriage, Bollywood actor Saif Ali Khan Feb. 8 denied reports that he had married actress Kareena Kapoor.

The 37-year-old actor wondered from where such reports were originating and said that marriage was not on his agenda for the next few years as the "most important" issue in the lives of both Khan and Kareena was their career.

"First of all, I would just like to say it (media reports) is rubbish, completely untrue. We are not married, we are not engaged and we are not living together," Khan told CNN-IBN.

He also said the rumors were "upsetting" their families.

Asked about his marriage plans, Khan said, "Not for a few years at least, because right now the most important thing in our life is our careers and there is no time really to think about anything."

Khan entered into a relationship with the 27-year-old actress about three months ago after her split with actor Shahid Kapoor.

Media reports had claimed that Khan married Kareena at his new house in Laview Patni in Mumbai's posh Bandra locality in the presence of a mullah.

However, rumors of his marriage, to paraphrase Mark Twain, were greatly exaggerated.

|TOP|


---
Separated at Birth?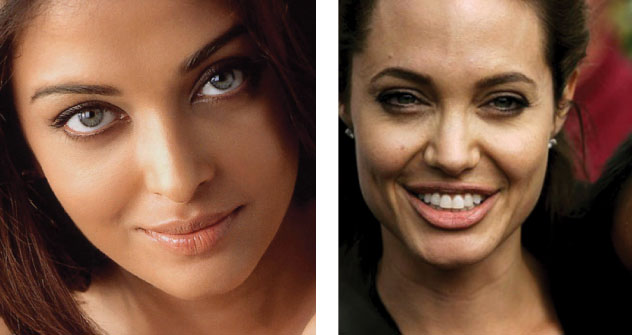 Aishwarya (l) and Angelina Jolie: Cousins?

Top film stars Aishwarya Rai and Angelina Jolie may have common ancestors, if research is to be believed. According to scientific research, all people with blue eyes can trace their ancestry back to one person who probably lived about 10,000 years ago in the Black Sea region.

Scientists studying the genetics of eye color at the University of Copenhagen found that more than 99.5 percent of blue-eyed people who volunteered to have their DNA analyzed have the same tiny mutation in the gene that determines the color of the iris. Professor Hans Eiberg of the university said he has analyzed the DNA of about 800 people with blue eyes, ranging from fair-skinned, blond-haired Scandinavians to dark-skinned, blue-eyed people living in Turkey and Jordan.

"All of them, apart from possibly one exception, had exactly the same DNA sequence in the region of the OCA2 gene. This to me indicates very strongly that there must have been a single, common ancestor of all these people," he said.

The study reported in the journal Human Genetics indicates that the mutation originated in just one person who became the ancestor of all subsequent people in the world with blue eyes.

"From this we can conclude that all blue-eyed individuals are linked to the same ancestor. They have all inherited the same switch at exactly the same spot in their DNA," Professor Eiberg was quoted as saying by The Independent daily of Britain.

But before you get too excited, remember that recent research has also shown U.S. presidential candidate Sen. Barack Obama, D-Ill related to U.S. Vice President Dick Cheney. And it's hard to think of two people who take less pleasure in each other.

|TOP|


---
Ministerial Pot Shots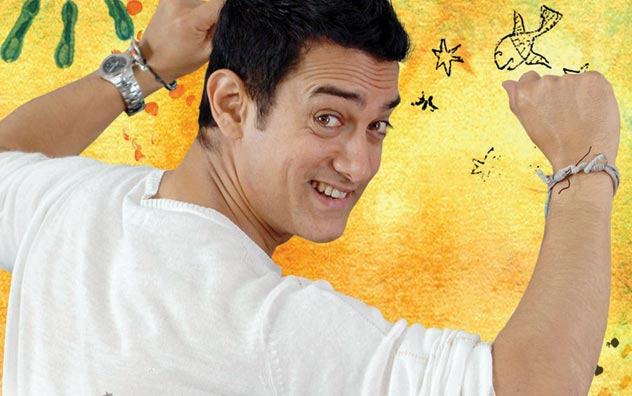 Aamir in "Taare Zameen Par."

Pity film stars. These days it's not just poison pen columnists who go after actors. Politicians consider them fair game do, if recent remarks by Union Health Minister Anbumani Ramadoss are any indication.

He recently took pot shots at Shah Rukh Khan, while praising Aamir Khan to the high heavens.

Going after Shah Rukh, Ramadoss said public icons who passed off smoking on screens as "creative liberty" should take a leaf out of the book of actors like Aamir Khan how to use the artistic tool.

"Creative liberty should be used to improve society and not kill mankind", Ramadoss said in response to a query on public icons supporting smoking on screen as their right to creative liberty.

"Look at 'Taare Zameen Par,'" he said, saying the film has helped in changing the mindset of thousands of teachers and parents in looking at the problem of dyslexia.

"That is what creative liberty should do," he said.

We don't know how Aamir has reacted, but he is likely to be pleased with the growing admiration he has drawn for this film.

In the meantime, Shah Rukh, the writing is on the wall. The Indian component of the Global Youth Tobacco Survey indicated that nearly 10 percent of Indian high school going students used tobacco products. You better clean up your act, boss.

|TOP|


---
Mani-fold Alliance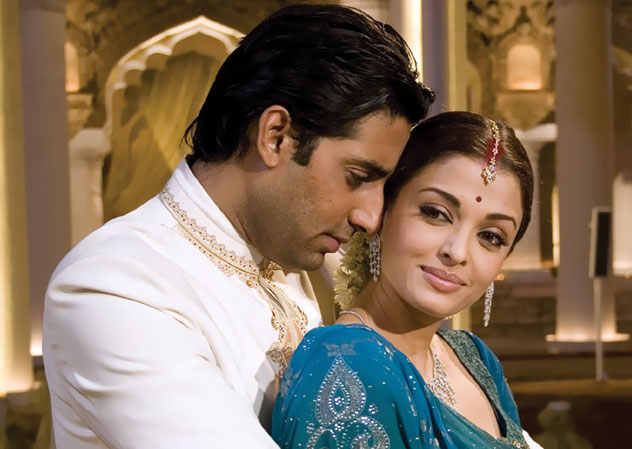 Abhishek and Aishwarya in "Guru."

They are back again with blockbuster filmmaker Mani Ratnam. After Guru, Ratnam, was bound to return to his favorite actor. It comes as no surprise to know Abhishek Bachchan and Mani Ratnam will team up again for their third film together.

After the terrific tuning that they shared during Yuva (which Abhishek describes as his career's first turning-point) and Guru (which he acknowledges as his second turning-point), it doesn't require much calculation to see the creative and commercial viability of the Mani-Abhishek pair. Abhishek's better-half, too, is back in the Mani-fold.

Coming out of his bereavement — Mani lost his brother earlier this year — Mani Ratnam is all set to announce a supple romantic film featuring filmdom's foremost married pair. Abhishek and Aishwarya Rai-Bachchan will come together in Mani Ratnam's film that starts shooting in September.

According to a source very close to the project, "It's going to be a very intense love story. Where Guru was more a bio-pic with a cavalcade of characters claiming screen space, this film will focus primarily on the romance. It's a very intense film. Mani's most romantic film to date. And yes, it's again based on real life characters."

|TOP|


---
Andhra Awards

Popular actor Nagarjuna and Nandita Das bagged the Best Actor and Best Actress awards in the annual Nandi awards for Telugu films announced Feb. 13 by the Andhra Pradesh government for 2006.

While Nagarjuna won the award for his performance in the role of an ardent devotee of Rama in the film Sri Ramadasu, Nandita Das got the award for her poignant portrayal of the role of a Lambada woman in the offbeat film Kamli.

Bommarillu, directed by debutante Bhaskar, bagged the Best Feature Film award, Sekhar Kammula was adjudged the Best Director for his film Godavari.

K.M. Radhakrishna won the Best Music Director award for Godavari.

Noted singer Jesudas got the Best Playback Singer award, while Sunitha won the Best Female Playback Singer award.

Bhaskar also won the Best Debutant Director's award.

Godavari and Ganga were the second and third best feature films, chairman of the selection committee for the awards, M.S. Reddy, told reporters.

Prakash Raj was the Best Supporting Actor and Eswari the Best Supporting Actress.

Popular actor Kota Srinivasa Rao got the Best Character Actor award and Venu Madhav the Best Comedian. Sai Kumar was adjudged the Best Villain.

Abburi Ravi was given the Best Dialogue Writer award for Bommarillu and Andesri the Best Lyric Writer.

Bharathi was given the Best Children's Film award. Raghava and Sri Divya bagged the Best Child Actor and Best Child Actress awards.

|TOP|


---
April Release

Kamalahasan's much-awaited film Dasavatharam, in which he is doing 10 different roles, is expected to be released in early April. The movie was originally slated for a release on Pongal Jan. 15. "The post-production work is still on and it may take some time... the film is expected to be released April 10," (three days ahead of the Tamil New Year), sources in the film unit told PTI.

The actor, who also speaks ten different dictions in the film, has decided to keep away from the media till the release of the film, the sources added.

The actor has penned the movie's screenplay and dialogue, too. The Tamil audience will also get to see Bollywood star Mallika Sherawat in the film.

Though she had earlier done an item number in Mani Ratnam's Guru, it was only a dubbed version, and Dasavatharam could well mark her first direct entry into Kollywood. The film is directed by K.S. Ravikumar, who had earlier directed Kamal in the rib-tickler Panchathanthiram. Dasavatharam, which means the ten incarnations of  Vishnu, also marks the Kollywood debut of Himesh Reshammiya, on whose tunes Bollywood has been swinging for the past few years.

Kamal, as he is fondly called, has tried many an experiment with the looks of his characters, especially the old man in Indian (Hindustani in Hindi) the old woman in Avvai Shanmugi (Chachi 420 in Hindi) and the "I-met-with an accident" face in his critically acclaimed Anbe Sivam, directed by Sundar C.

A hero who never shies away from experimenting both with script and looks, Kamal did the same thing with Virumaandi, his home production.

|TOP|