TAMIL CINEMA:
Confusing Vendetta: Kaalai


Director: Tarun Gopi
Cast: Silambarasan, Vedika, Lal, Sangitha, Seema, Santhanam, Tarunchatriya

---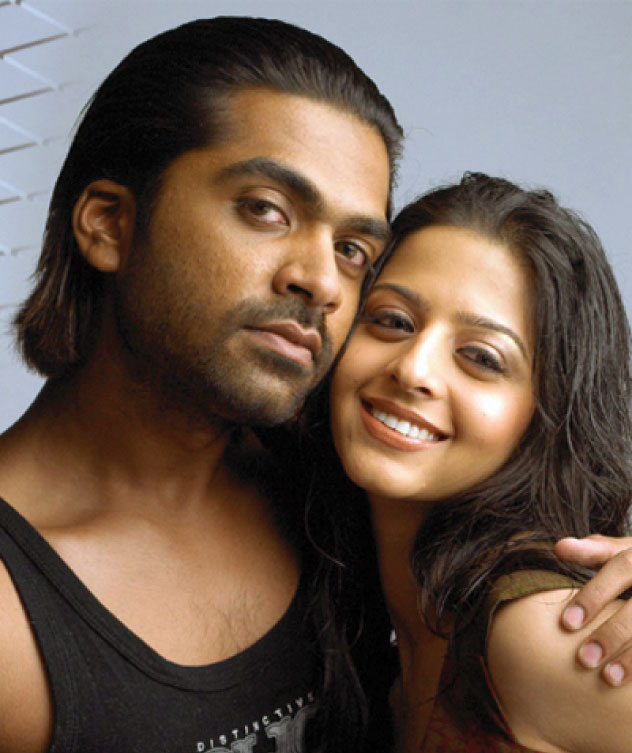 (Above): A scene from "Kaalai."

---
Kaalai, Tarun Gopi's second directorial venture after the successful Thimiru, shares some similarities with the director's debut film. The film has a similar narrative style, and has almost the same treatment in the suspense element he creates around his protagonist and in the etching of the gutsy female characters.

The film presents a complicated scenario in the earlier part. An air of suspense is created to confuse the viewer. Various characters appear on screen in quick succession, the audience is left wondering about their identity and motive and their mutual relationships.

"I want Jeeva," thunders a woman constantly on the phone, to what seems like a bunch of hoodlums pushing through a crowd, in search of Jeeva. There being three Jeevas around, one a police officer Jeevandam (Lal), the other a thug's wayward son Jeeva (Tarunchatriya), and the third our hero Jeeva (Simbu) who takes cudgels against those harassing women, it's all a bit confusing. It continues till we get to unravel the puzzle in the second half, when the film goes back to the past to gory happenings in a remote village lorded over by a woman (Seema) who his revered by her people.

Now we learn about the hero Jeeva's motive for his vendetta against policeman Jeevanandam. We learn why Jeeva kidnapped the cop's daughter Brinda (Vedika), feigning love to her; why the thug advises his son to backtrack from harassing Brinda; and why the woman (Sangitha) screams instructions mixed with expletives at the men on Jeeva's track.

While it's commendable that the female characters like Seema and Sangitha have been given more footage and prominence, unfortunately their activities are limited to screaming. Simbu's energetic performance would have benefited from a bit of guidance to help smoothen the rough edges. Vedika provides the romantic angle. Nila comes in a dance number.

After the initial confusing scenario, the director cleverly knots up all the seemingly loose ends, and put backs the pieces of the puzzle into a coherent whole. But the complicated earlier part and the attempt to decipher it is an onerous task that exhausts the viewer. He could have adopted a more simplistic narrative style for this vendetta story.


— Malini Mannath/Chennai Online.